Dreamy, beautiful Tuscany is where we're headed today for this elegant, achingly romantic, autumnal celebration, filled with lovely details and post-ceremony photos in the spectacular setting of a ruined medieval abbey.
Come with me for the wedding of elementary school counsellor Ulrike, to her love Joshua, a government contractor. This lovely couple make their home in Washington D.C and were married on the 21st October 2019 at Villa il Noceto, near to the village of Montalcinello in the idyllic Tuscan countryside. Images were captured by Lucrezia Senserini Photography.
Lucrezia Senserini Photography

+ Follow
Inside, an elegant table was set for dinner with classic white linen, simple glassware and candles in hurricane jars, with a long garland of greenery.
Ulrike and Joshua opted for downloadable stationery designs from Etsy shop Pearly Paper Design, and Ulrike added feathers to the menus.
Ulrike's champagne hued sandals were from Ann Taylor, and Consuelo from Your Wedding Beauty Team took care of make-up and hair, which included a beautiful braided chignon for Ulrike, adorned with a comb of dried honesty, eucalyptus and pearls from Wild Rose and Sparrow, one of her favourite bridal finds during the planning of the day.
The dress Ulrike chose was an ethereally beautiful, sleeveless design by Justin Alexander, with delicate lace and pearl embellishment, under which she wore a monogrammed garter, and a matching bracelet and earrings from Olive + Piper.
"I loved the dress because it has a romantic vintage feel to it with the beading and lace. I also have a strong affinity for low back and backless dresses, and this dress has a beautiful low back."
"I did wear a veil and I found it at my wedding dress tailor, Tang's Bridal in Virginia (US). Tang helped me pick out a veil with a lace border to complement the dress and add to the classic romantic feel."
Joshua wore a smart suit from a local tailor in Washington D.C (no further details provided) and also wore his family signet ring, too.
"We live in the Washington, D.C. area and while Joshua's family lives in the US, my family lives in Germany and England."
"We wanted a small, intimate wedding and I have always pictured a wedding in Italy."
"We also got engaged in Italy, so it was special to also get married there. Since everyone would be travelling for our wedding, we thought it would be best to find a villa that everyone could stay in for the week and also have the ceremony and reception there."
"We looked on AirBnB and found Villa il Noceto. It's a beautiful villa with a separate small house on the property that Joshua and I were able to stay in and have some privacy."
"A few days after getting engaged, we were at my parents' home near Bodensee in Germany."
"On a whim, my Mom and I went into a bridal boutique, Hochzeitshaus Konstanz, to get a first look at wedding dresses."
"I wasn't planning on necessarily trying anything on, but of course, once I got in there I did find a few dresses I really wanted to put on."
"The store associate was great and I quickly narrowed it down to two dresses. Before I knew it, I was walking out of the store with my wedding dress in hand."
"I'm glad I found it that day because my Mom was with me, and I wouldn't have been able to have the same experience once I returned to the US."
"The quotes we got back from the florists were quite high, and even though I love flowers, we needed to budget a little tighter."
"The wedding planner said she would be able to provide us with what we pictured within a reasonable budget. I just wanted simple greenery for the chairs and tables."
"For my bouquet I wanted mostly greenery with some neutrals."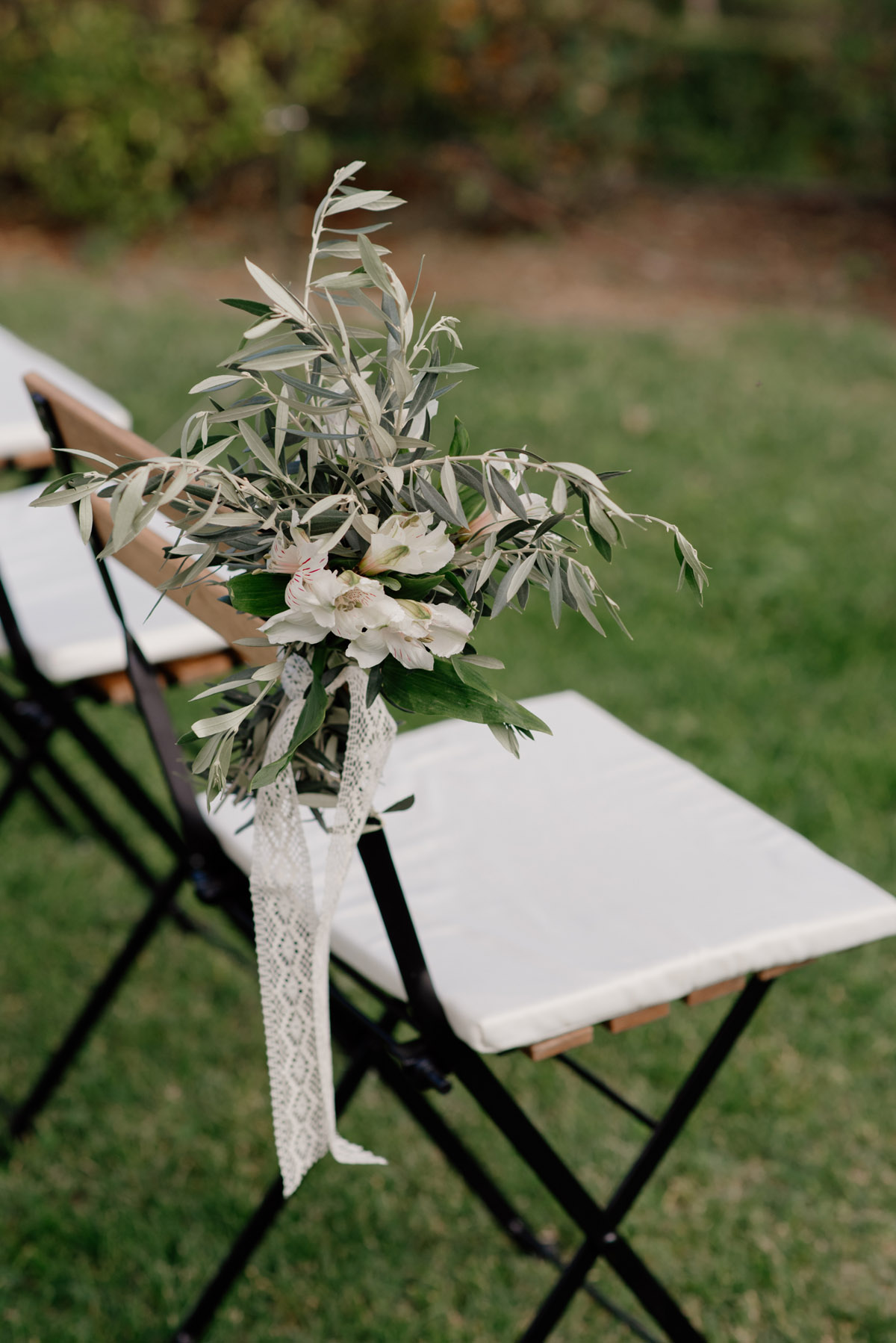 Ulrike's sweet niece was her flowergirl, and wore a pretty white dress chosen via Amazon, along with a flower crown in her hair.
Ivory and pink tinged roses, and stems of eucalyptus and astilbe made up the lovely bridal bouquet.
This, and the other floral arrangements for the day were created by the couple's planner Stefania Zen from the Italian Wedding Company.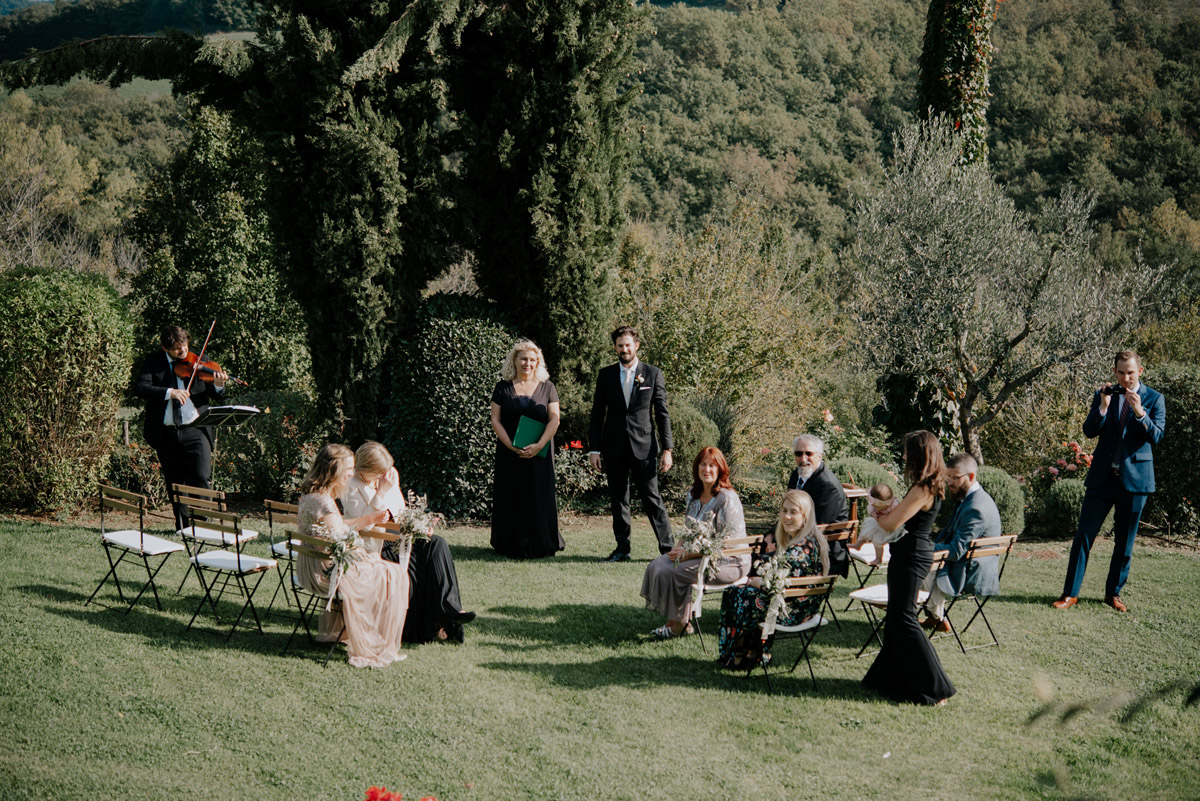 The couple chose to hold their ceremony in the gardens of the villa, on a beautiful lawn overlooking the Tuscan hills.
Ulrike walked with her father from the terrace to the garden and down the aisle, choosing What a Wonderful World by Louis Armstrong as her entrance music – a song she remembers listening to with her Dad when she was a child.
"Jo Bertolino from Tuscan Pledges officiated our wedding. She did a symbolic ceremony for us and prepared a terrific personalised ceremony."
"Josh and I did a combination of some traditional vows and wrote some of our own."
Ukraine's oval engagement ring was from Brilliant Earth, and when looking for just the right wedding band, she wanted something delicate that would complement the shape, which she also found at Brilliant Earth.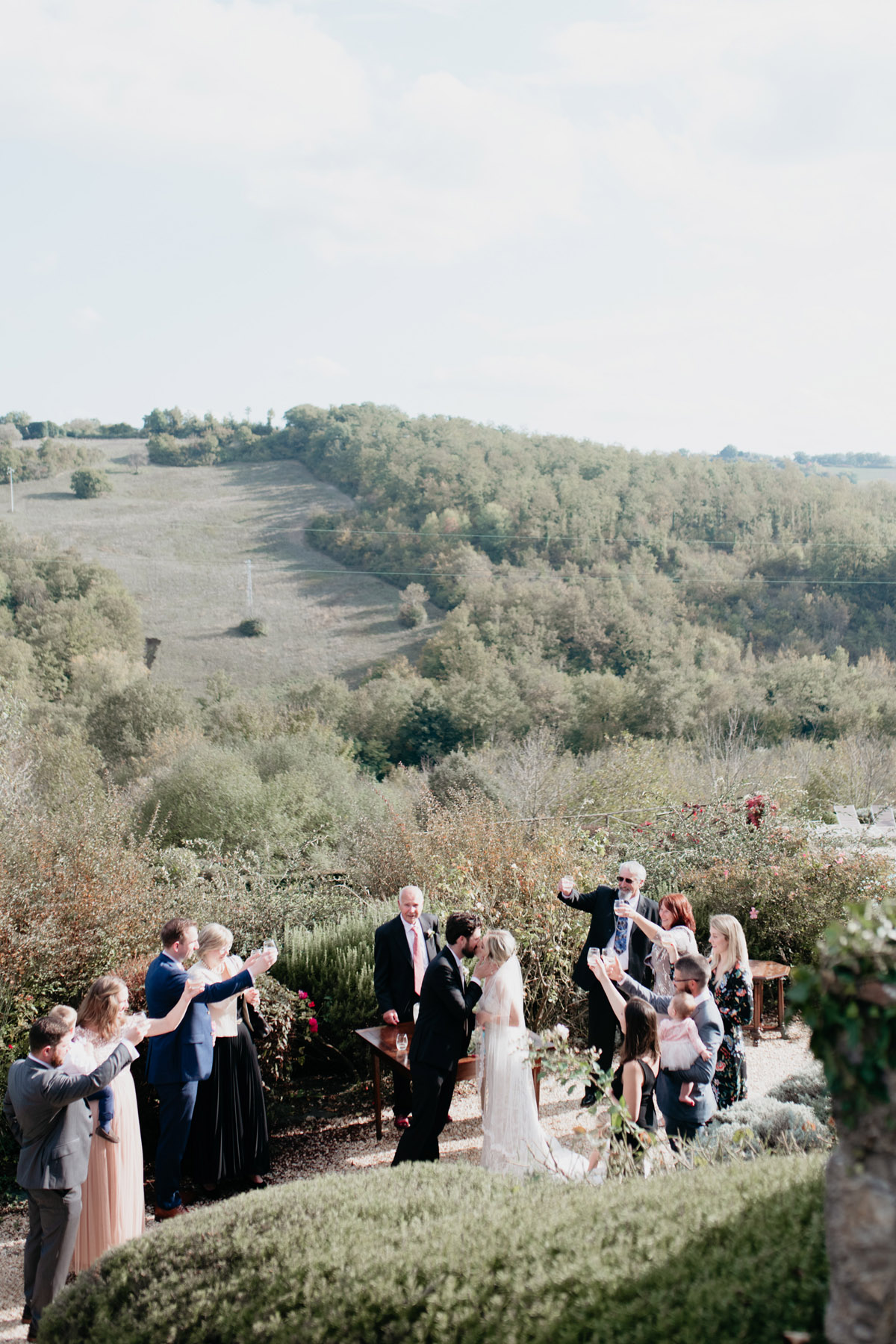 "We bought Josh's wedding band in Germany at Bartels Trauringe in Ravensburg the week after our engagement."
"He wanted a classic yellow gold band and it was special to buy it in Germany from one of the oldest jewellers."
Explore many beautiful wedding readings here on Love My Dress
As a tribute to Ulrike's German heritage, her Father read Johann Wolfgang von Goethe's poem, Ihr seid nun eins (You Are Now One).
"My favourite part of the day was immediately following the ceremony after we had our confetti exit. We had just a couple of minutes to ourselves and they stood out to me."
"I love the pictures the photographer got from a distance of that moment, before our guests joined us for a toast."
We have Lucrezia Senserini to thank for these gorgeous images, and she was chosen by Ulrike and Joshua after they fell in love with her natural, candid style.
"She has a great eye for capturing wonderful, authentic and candid moments, and we both preferred the special in between moments as opposed to a lot of staged and posed photos."
"Despite the language barrier, she made us and everyone else feel at ease on the day and we would highly recommend her to anyone else!"
These pictures included time spent at the breathtaking San Galgano Abbey; a ruined Cistercian monastery, where the quality of light was completely magical.
"Josh and I met through a mutual friend one evening over a drinking game. We instantly liked each other and kept in contact, and shortly thereafter met up again for drinks and then dinner."
"We fell head over heels and both realised that we were serious about each other fairly quickly."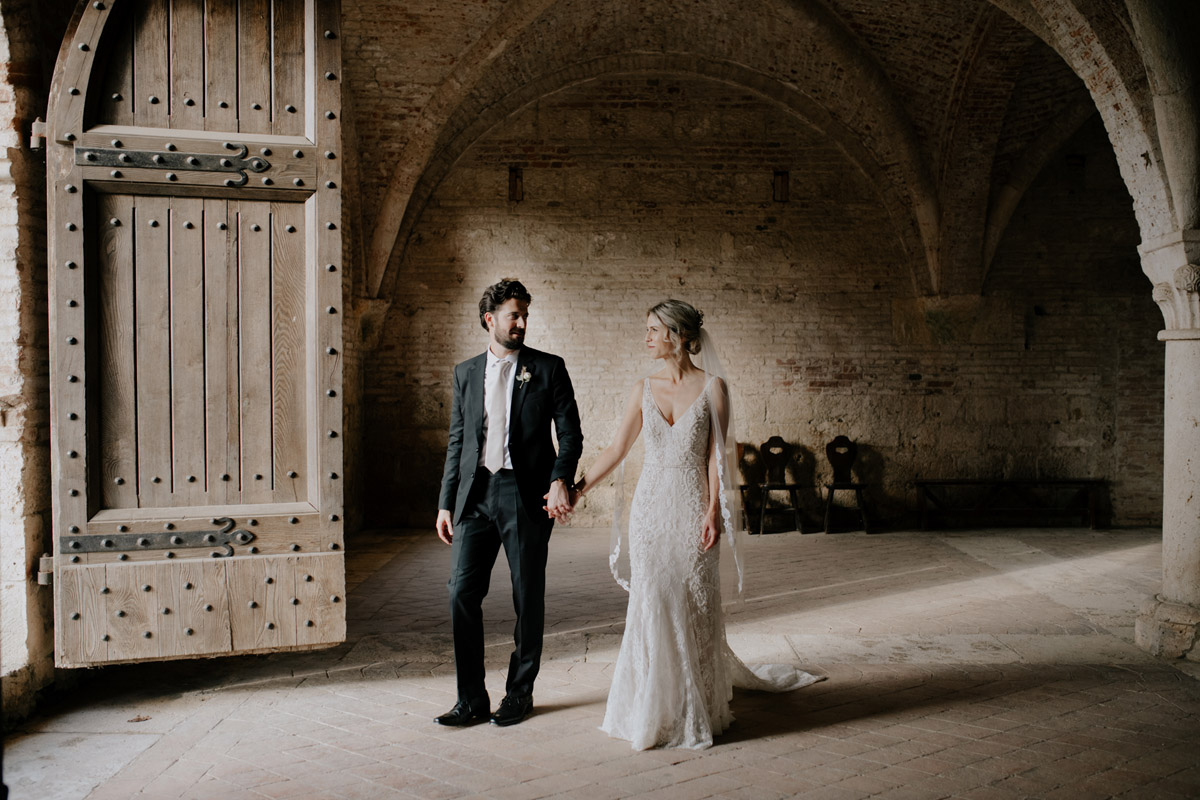 "We travelled to Europe a few times over the course of our relationship (because my parents and sister live there) and again in early August of 2019 to visit my family and to see Lake Como."
"On one of our walks exploring Bellagio, Josh stopped to set up a self-timed picture in front of a fountain."
"As we were posing for the picture, Josh suddenly dropped down on one knee and asked me to marry him."
"It was all a blur, but I was ecstatic. We both agreed that we wanted to get married quickly and keep it small."
"I looked at my school break schedule and in October I would have a week off. We decided then to see if we could plan a small wedding within a short timeframe and set a date of October 21st."
Back at the villa, there were delicious aperitifs  and cocktails served on the villa terrace, with music from a folk duo booked through Music & Co. Entertainment.
"For our indoor dinner, we wanted some string lights on the ceiling to create a soft romantic atmosphere."
"Our wedding planner recommended someone, and he did a great job with the lighting. He also put some lights up outside for the cake-cutting"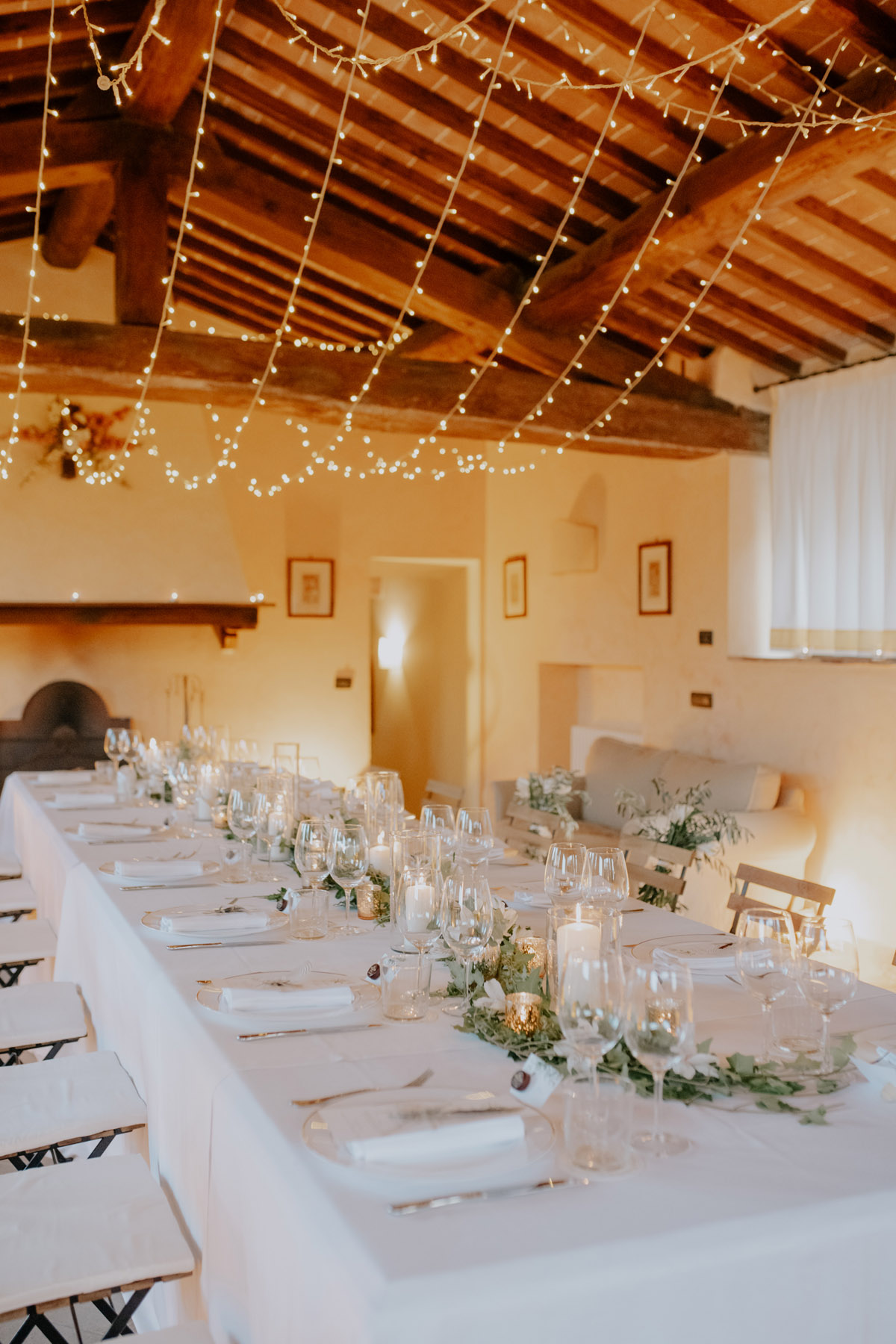 "We had personalised wine stoppers made for our guests that I used as part of the place cards, also found through Etsy at a store called Etchey."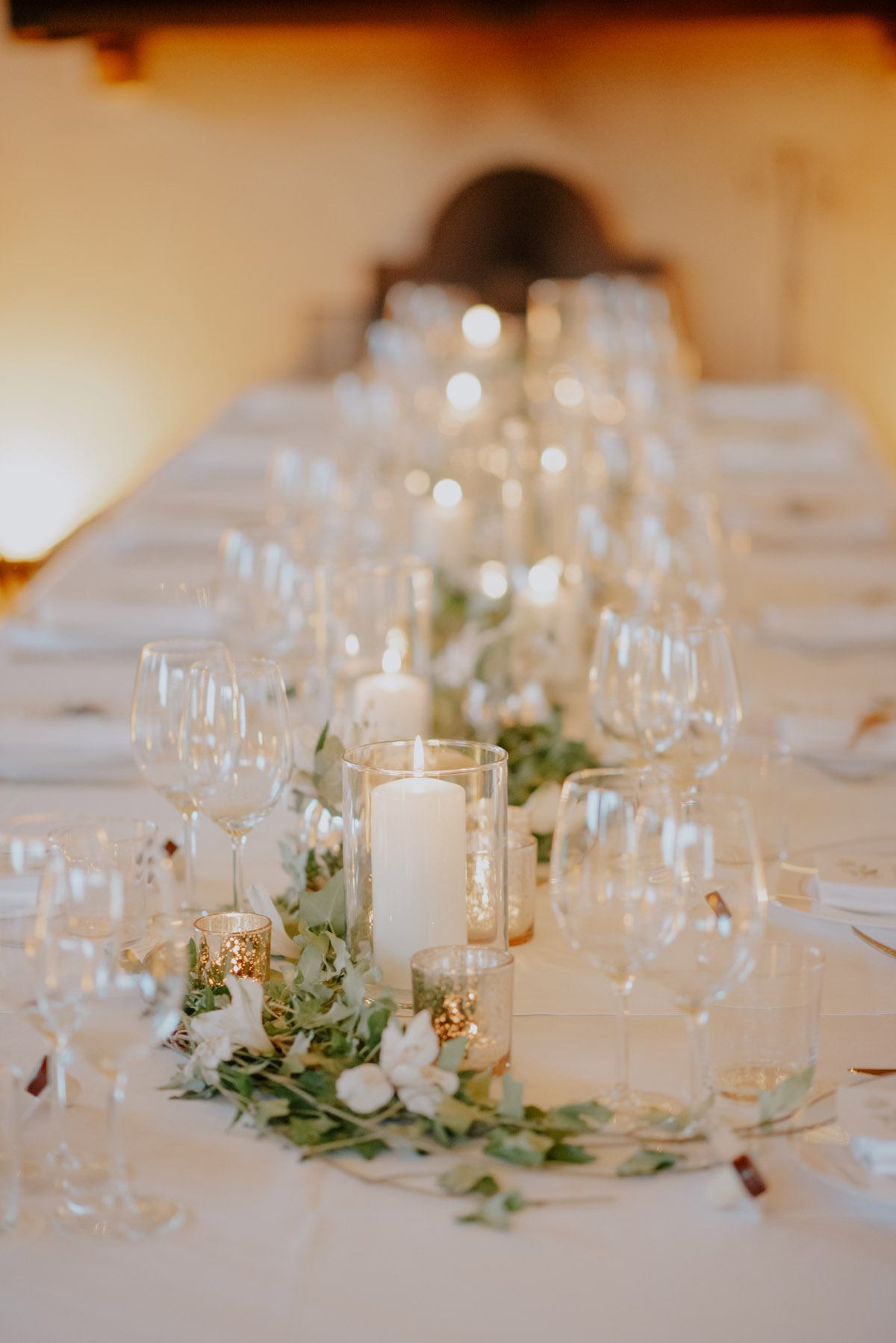 "We picked Leon Bridges' River for our first dance. The first summer we spent together, we had only been dating for a few months and discovered Leon Bridges album Coming Home."
"We were playing the record on repeat for months. It was in the background while we were really falling for in love with each other, so we liked the idea of playing one of the songs from that record for our first dance."
Ristorante I Vecchi Amici prepared a marvellous feast for the couple and their loved ones, which included a wonderful, traditional Italian wedding cake of millefoglie decorated with fresh fruit and flowers.
"They were amazing! Some of the best food we've had in Italy. I found them after looking at wedding blogs from other people who had gotten married in the area."
"The menu they put together for us (from the aperitifs to the main courses, to the cake) was fantastic and the staff was so lovely, kind, attentive and good-humoured. Highly, highly recommend!"
Words of Wedded Wisdom
"It's not easy to plan a wedding in a short amount of time! However, with so many resources online, it was not as difficult to plan a wedding overseas as I would have thought. Our vendors were very responsive and helpful. I would recommend you be as clear and specific as possible with your vendors about what you want or don't want. If you're not sure, ask them for their professional opinion based on their prior experiences."
"If you're planning a wedding abroad, consider renting a place (like a villa) that you can use as a venue and have everyone stay at as well. It helped a lot with logistics."
Stay in the know – join our mailing list.
"This might be a no-brainer, but if you're on a budget, do as much of the little stuff yourself if you can. I made our menus, wedding programmes and place cards at home using a template. I made the confetti cones and also brought some things (like charger plates I ordered on Amazon) with me to Italy. We went shopping for wine and liquor upon arrival so we cut the alcohol cost from the caterer."
"Follow your gut. For example, I got mixed feedback on whether or not hiring live musicians for such a small wedding would be a hit or a miss, but I had a feeling it would be a good touch. I am so glad we went with it, because when you have a small wedding, it's nice to have a focal point added to something like the cocktail hour."
What a wonderful virtual trip to Tuscany that was! Thank you Ulrike and Joshua and many congratulations. Huge thanks also go to Lucrezia Senserini for these beautiful images.
Love, Laura x