Fashion Buyer Frances married Recruitment Director Paul on 7th June this year at  Chelsea Old Town Hall, London.
The pandemic threw the couple's original plans to tie the knot in a luxury Ibizan villa into disarray, but the super cool London registry office wedding they had instead was no less special. The couple and their guests ramped up the glamour and went for it with a 20 person celebration that pulled out all the celebratory stops. These gorgeous images by the super skilled and talented Rebecca Searle tell their story.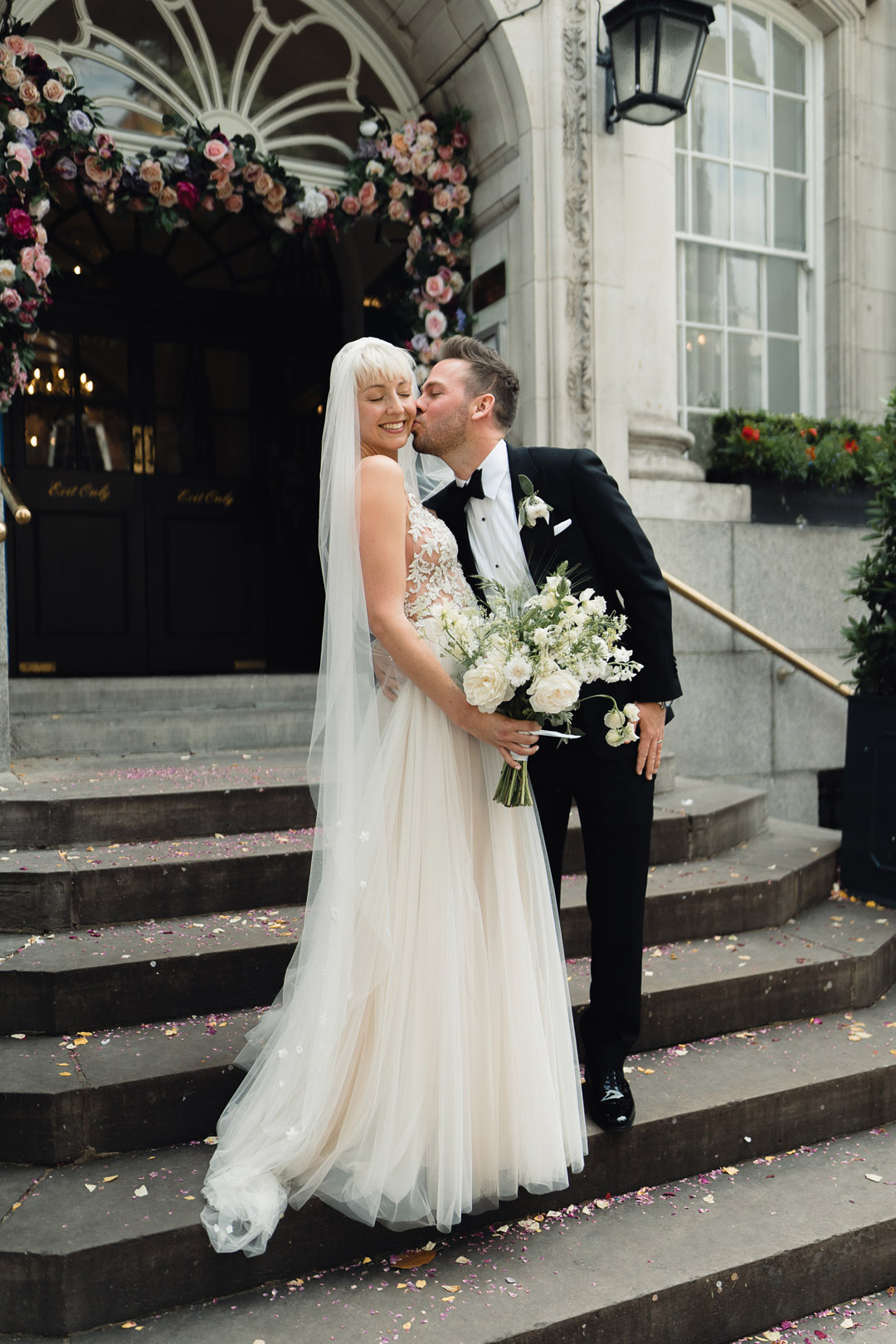 "Like so many of us COVID has thrown a huge curve ball to absolutely everything we had planned. It's funny how things work out really – if you had told me right at the beginning we would be having a micro wedding in central London on a Monday morning at 11am, with no party, I think I would have laughed in your face!"
"Nothing about our wedding went to 'plan' but it turned out just perfectly for us. Plus we get to do it all over again in Ibiza 2022."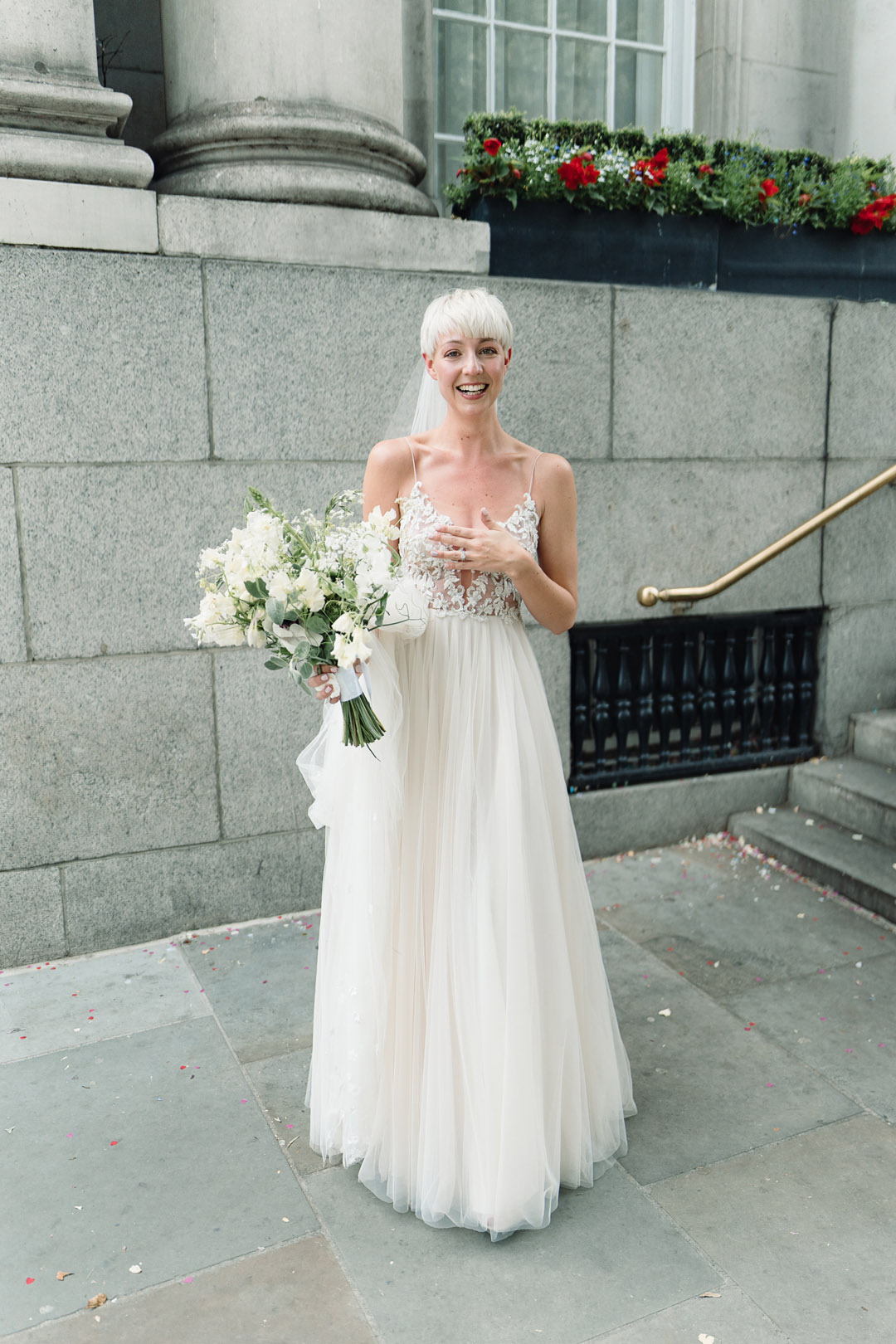 "We should have been married in Ibiza in July 2020 – spending four days in the most amazing villa with all our favourite people – but thanks to COVID we have had multiple date and plan changes.
"It's been such a rollercoaster."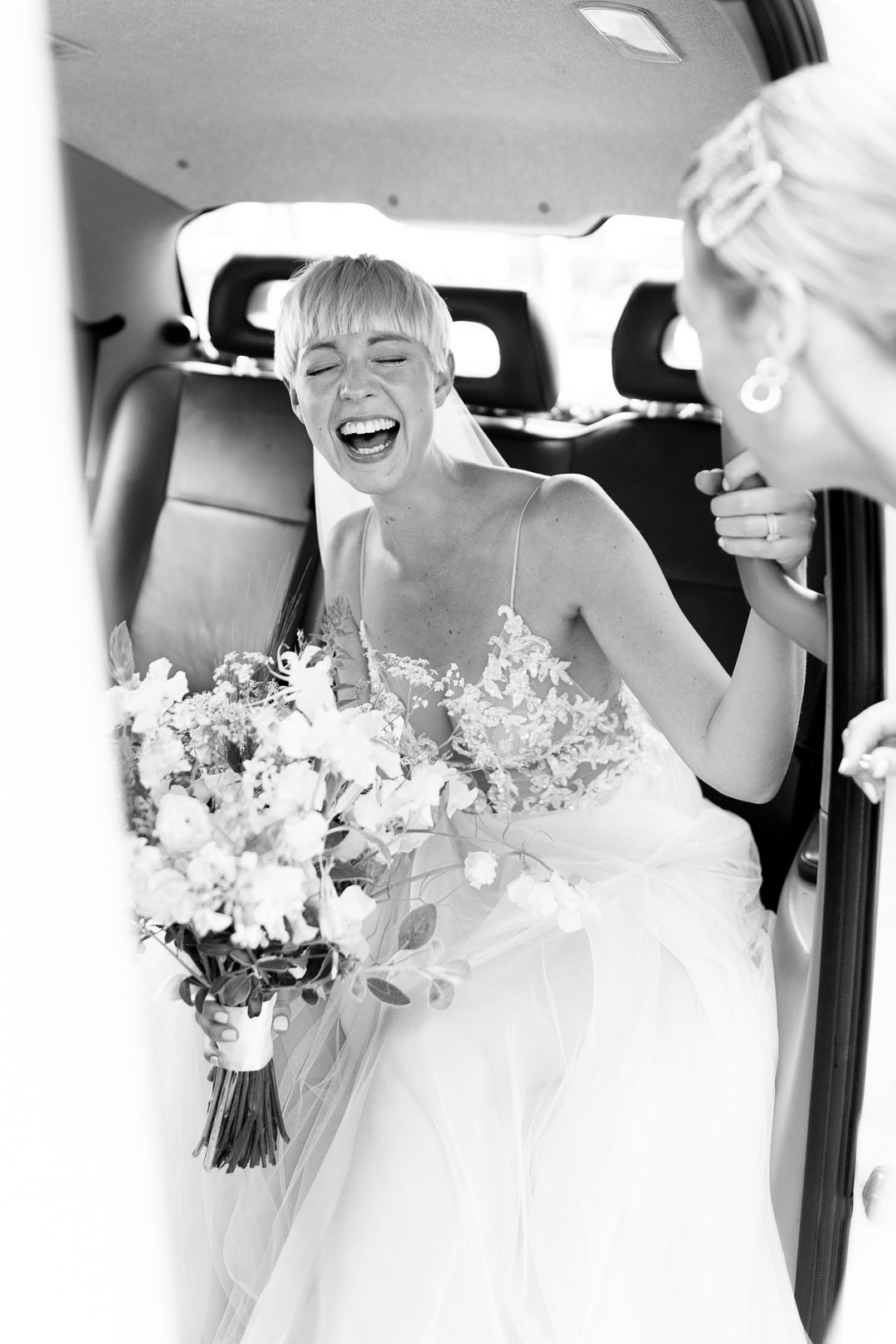 "The plan vs reality of our wedding day, were total opposites. As our London wedding was so last minute we really just wanted a fun, stress free, COVID proof day with a touch of city glam!"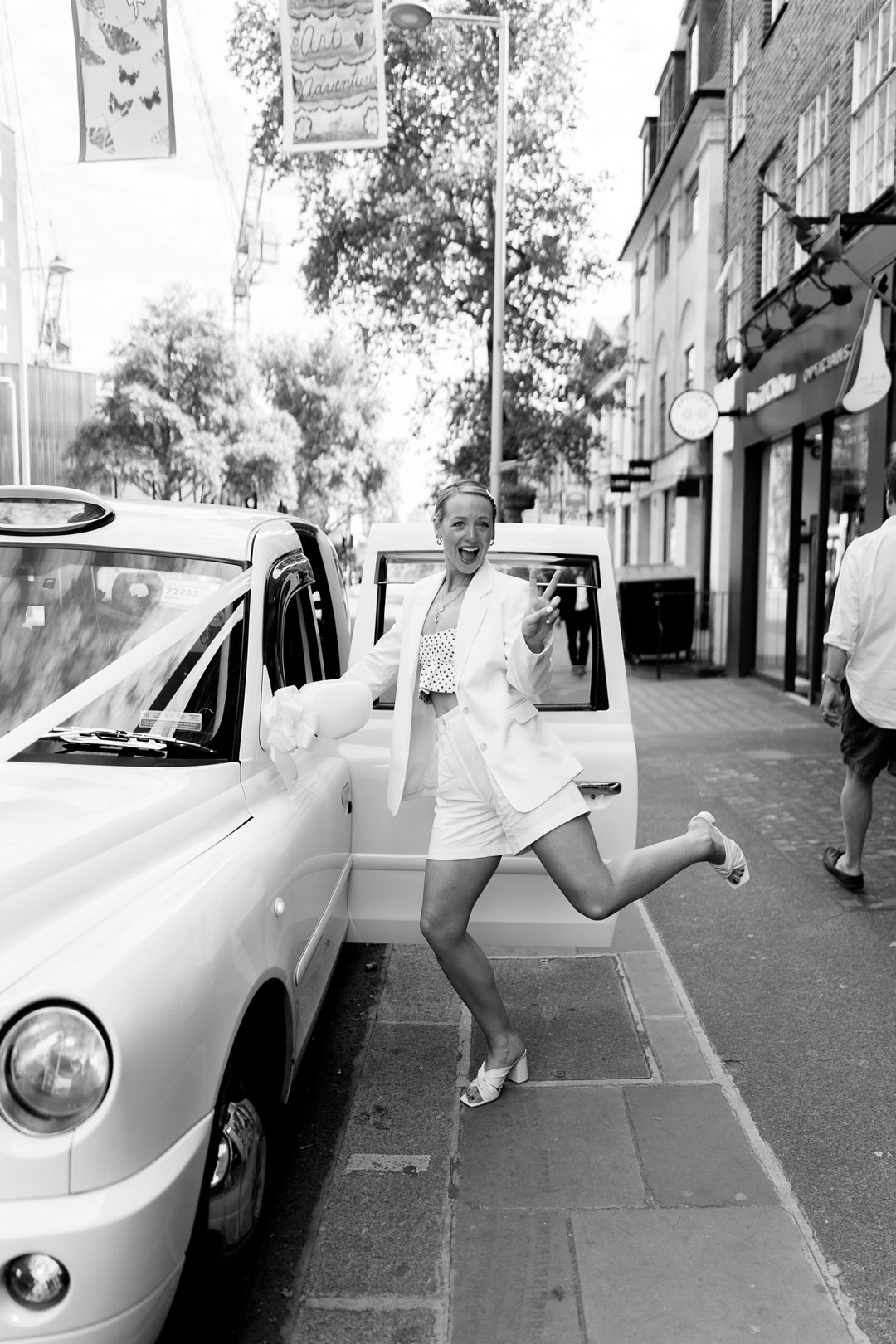 "Bill, our taxi driver was a hero. My sister exploded a bottle of champagne in the taxi on the way to Chelsea Registry Office, drenching us ALL! Bill saved the day."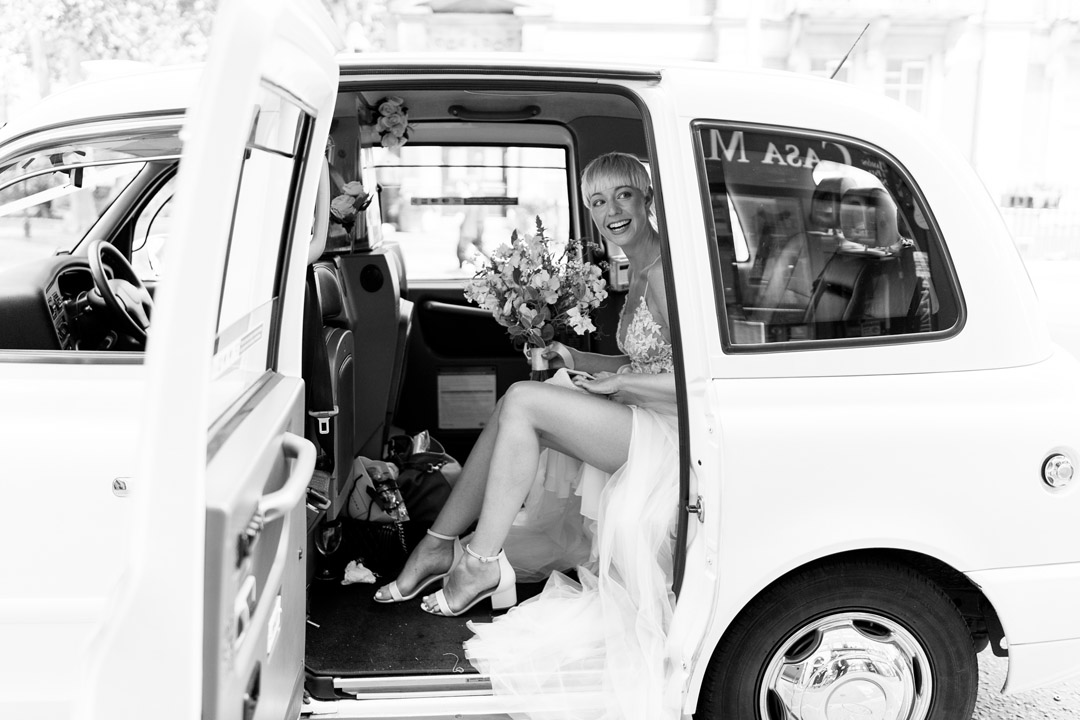 "Following the first lockdown we postponed Ibiza from July 2020 to June 2021, being naively optimistic that COVID would be well behind us by then."
"When the news came that Ibiza was remaining on the Amber travel list in May 2021 we made the difficult decision to postpone again until June 2022."
"It would have been unfair of us to expect people to travel when everything was still so uncertain and we knew it wouldn't have been the wedding that we wanted and waited patiently for."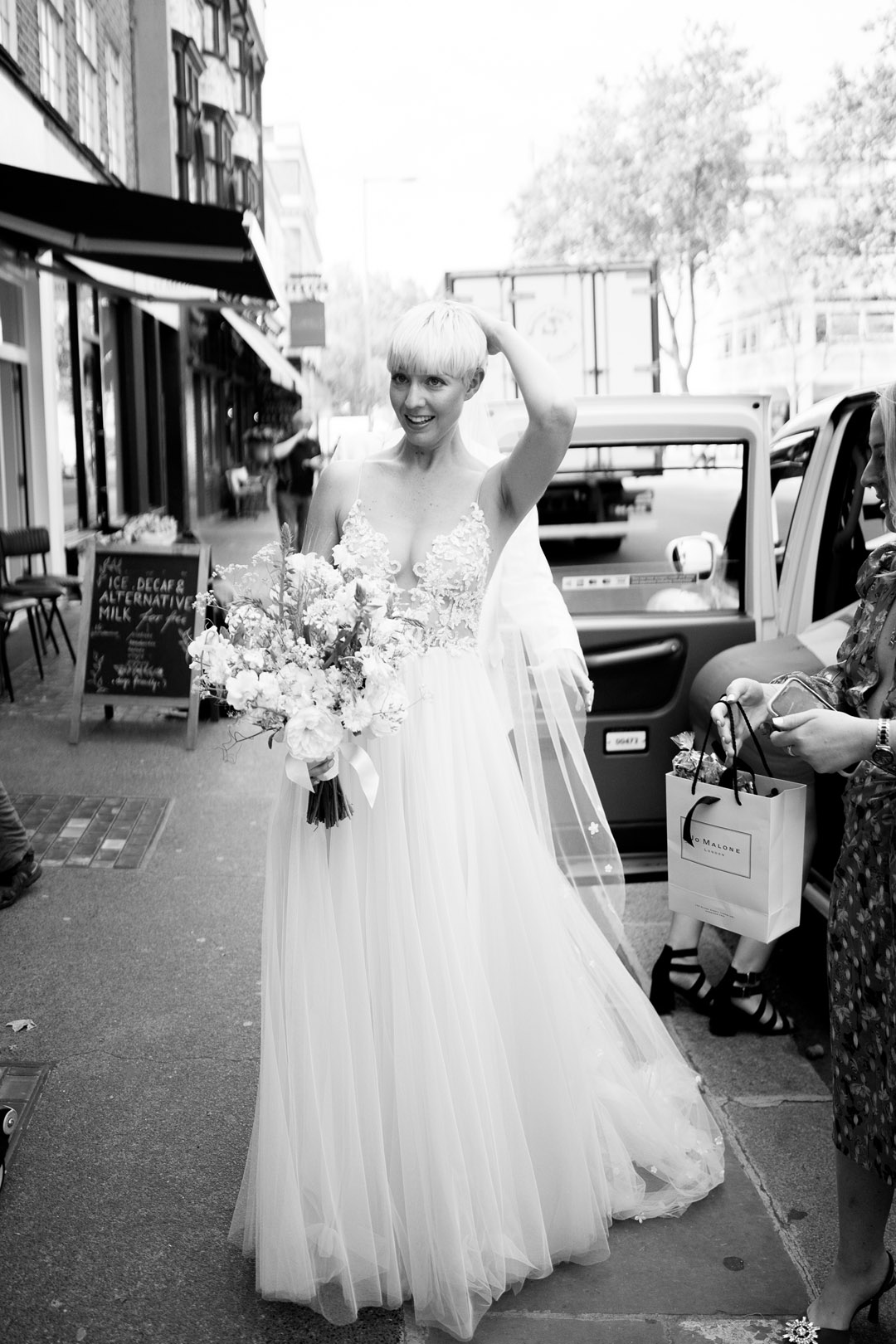 "We were so disappointed we had to go through the whole process of postponing everything for the second time but knew it was the right thing to do."
"To be honest, second time around has been much more of a challenge re-organising as there are now two summers of postponed weddings and only so many Ibiza dates available."
"We have been so lucky that all our suppliers have been such a dream to work with and our family and friends have been so supportive."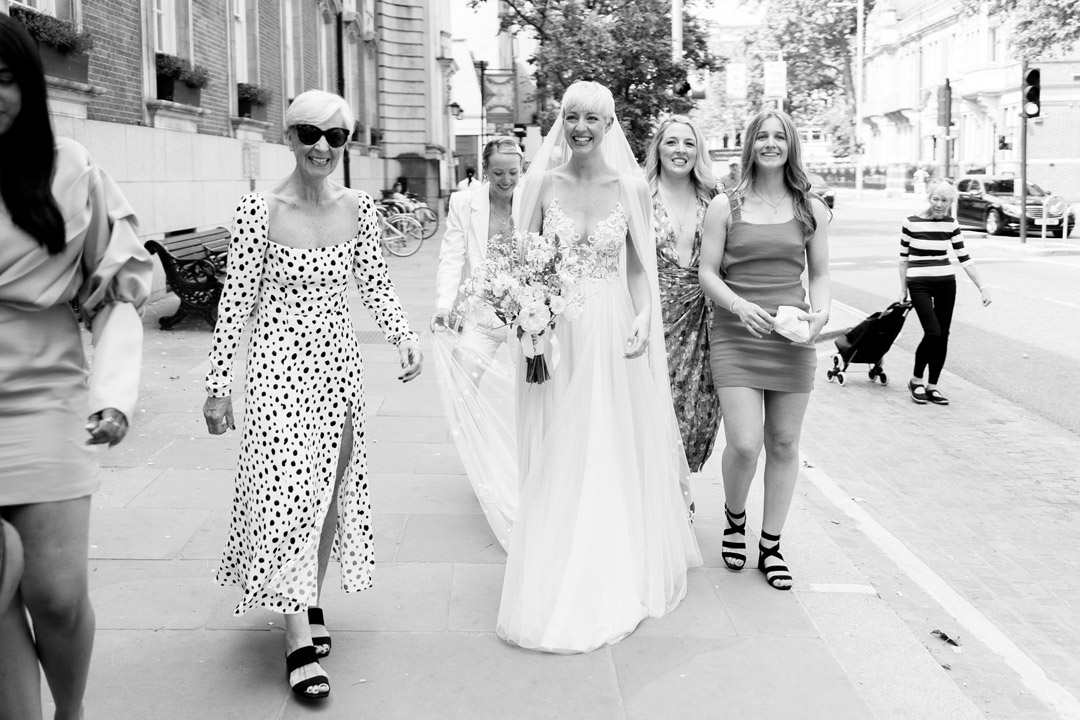 "We did originally plan to have our legal ceremony in London in June 2021, then host our 'big' wedding in Ibiza the following week."
"We didn't have any plans to do anything for the legal wedding but when we had to postpone Ibiza for the 2nd time it changed everything, We decided to go for it and arrange what we could in about 2 weeks."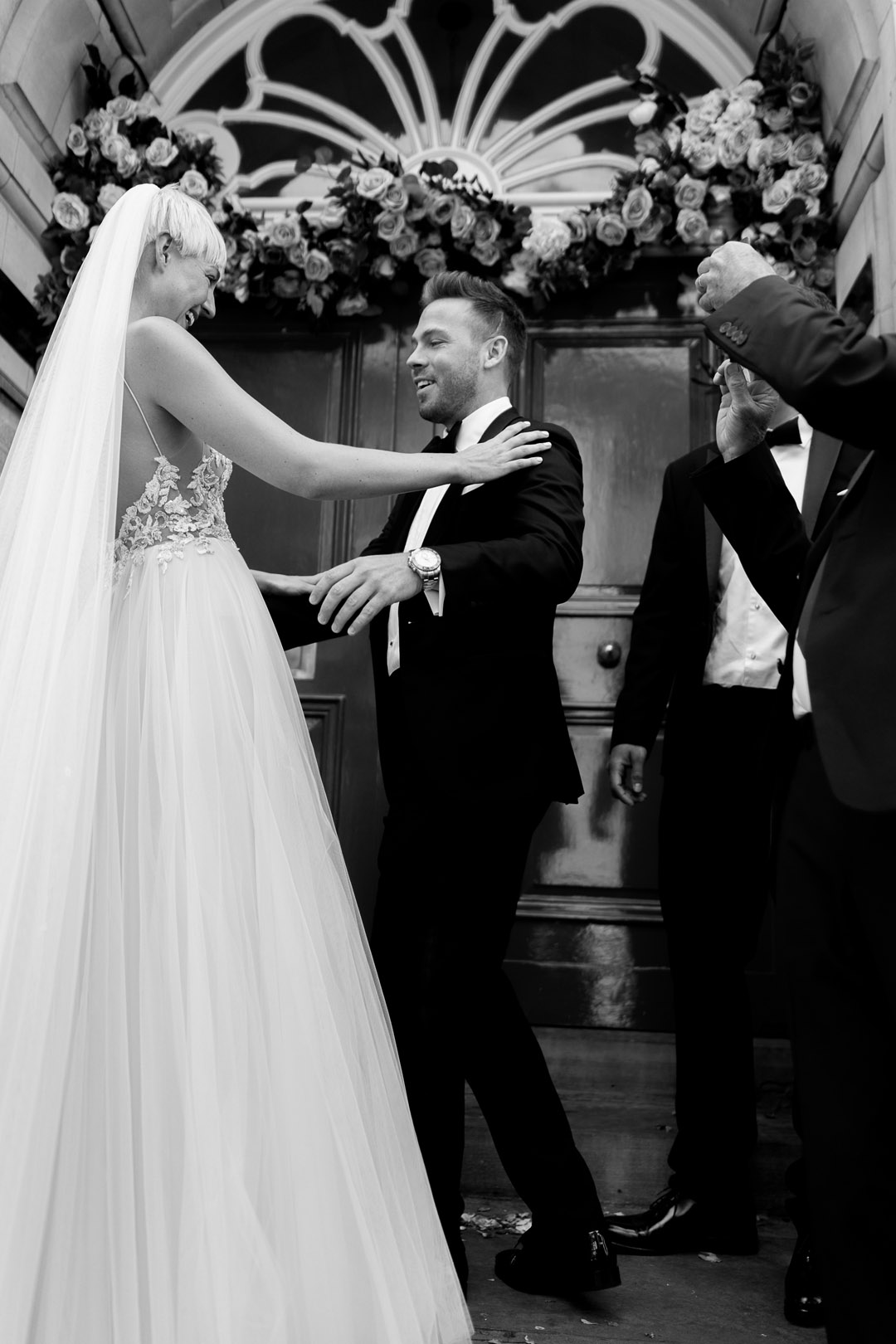 "The only brief we set ourself was to have fun and to ensure it was COVID PROOF. We only invited our closest, closest family – 22 people in total – as we still had COVID restrictions."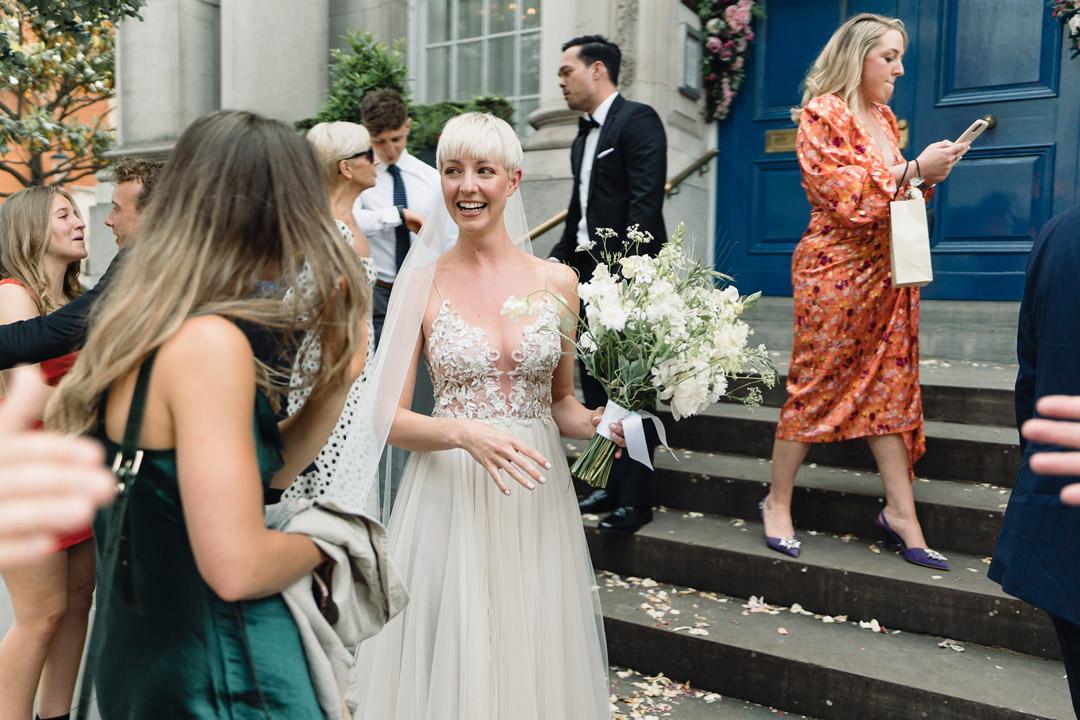 "Eating outside was limited to 30 and the registry office was limited to 18. All guests had to wear face masks during the ceremony but luckily Paul and I didn't."
"I was SO happy because my mum was able to walk me down the aisle and we were able to have Rebecca Searle, our photographer in with us to capture the special moments."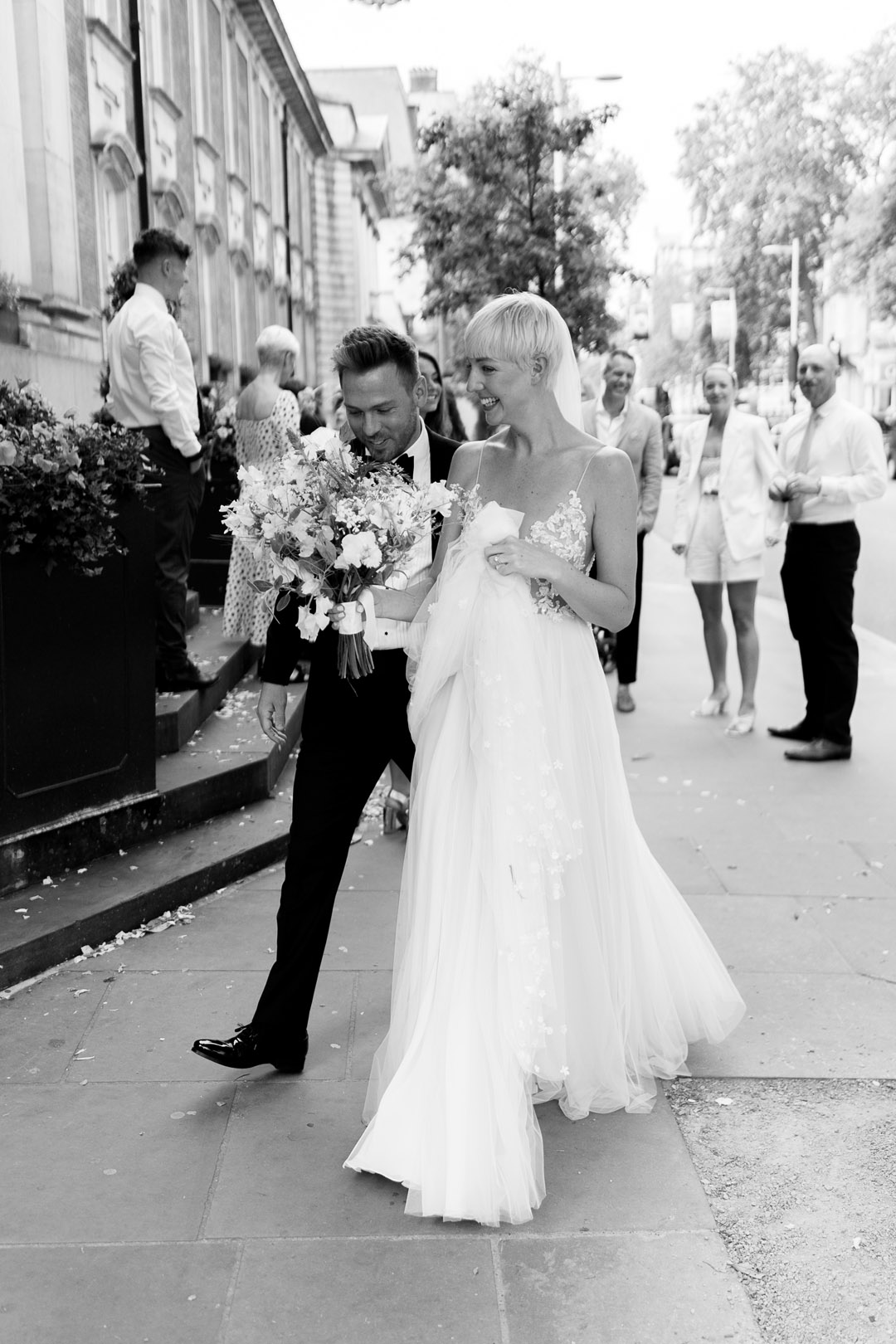 "We chose to get married at the Chelsea Old Town Hall. I've always loved this building it's iconic with the beautiful steps, right in the hustle and bustle of everyday London life. It just suited us."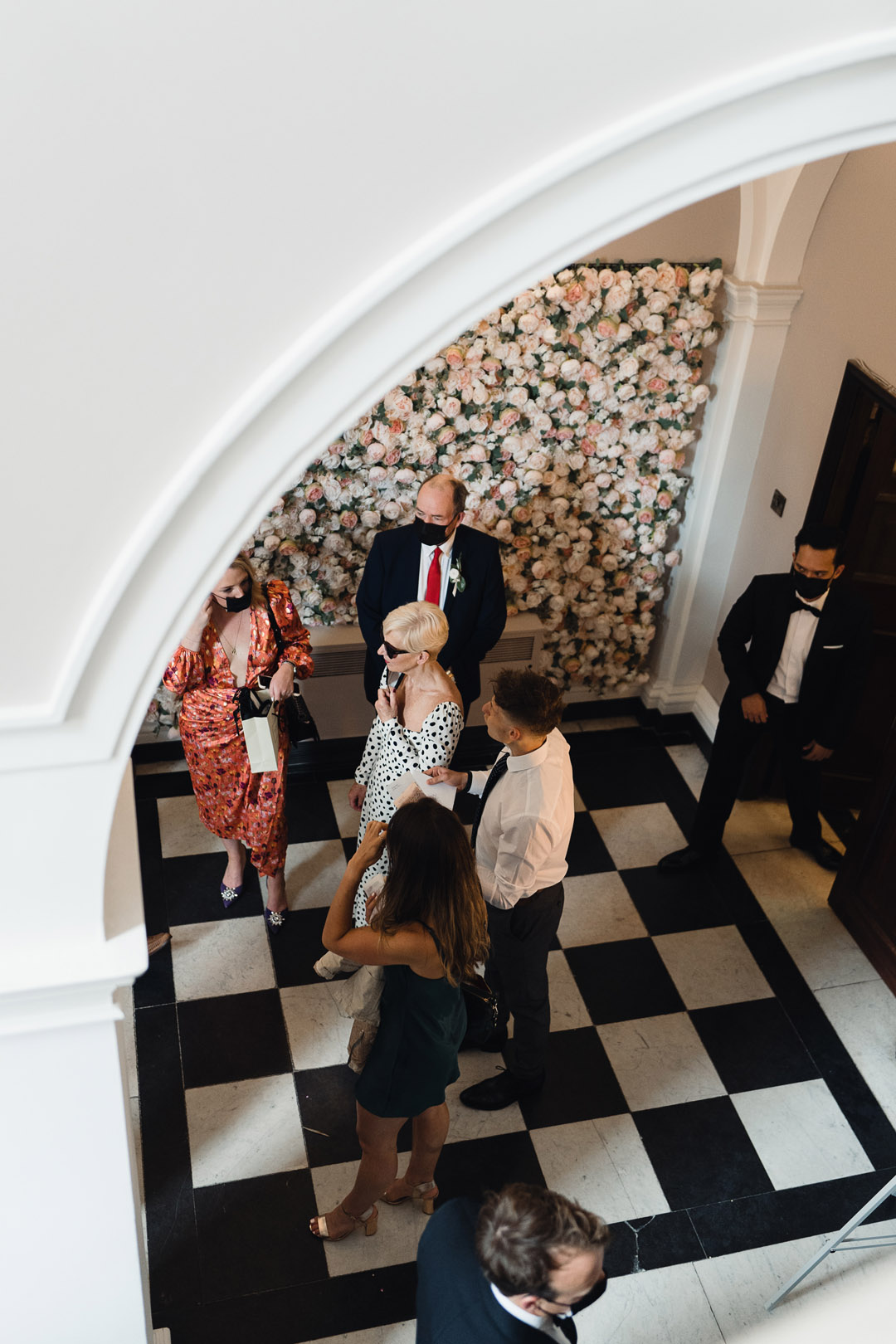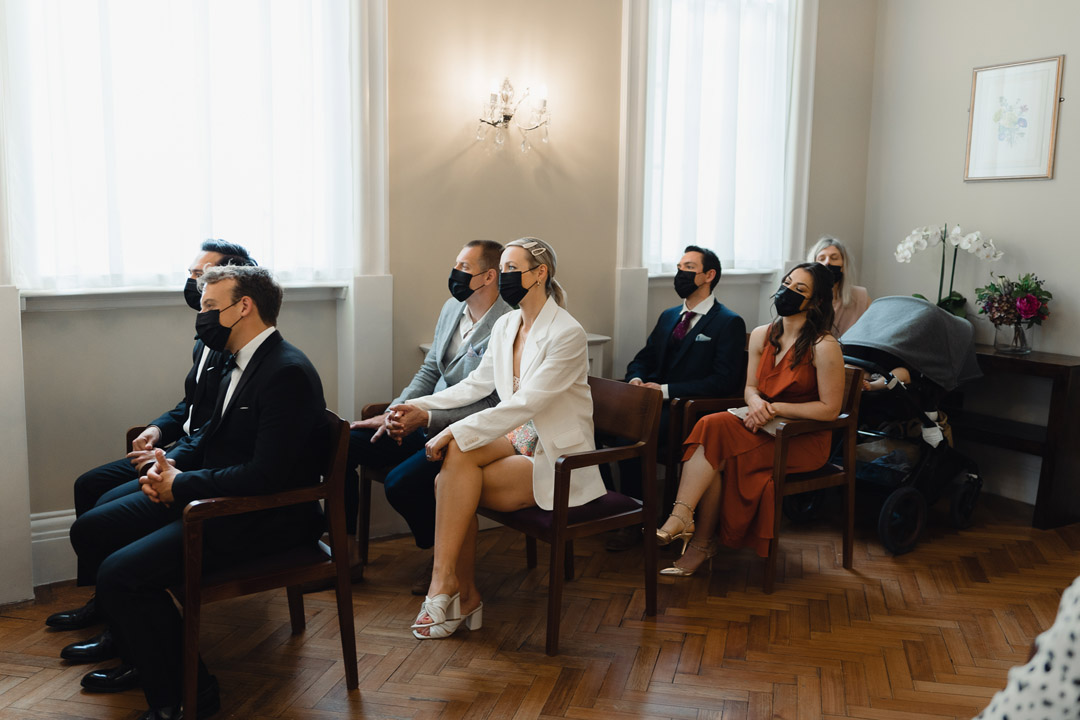 "My mum walked me down the aisle and it was so special. We walked down the aisle to 'Can't help falling in love with you' and left with 'you've got the love'."
"Doing our vows was so surreal and emotional."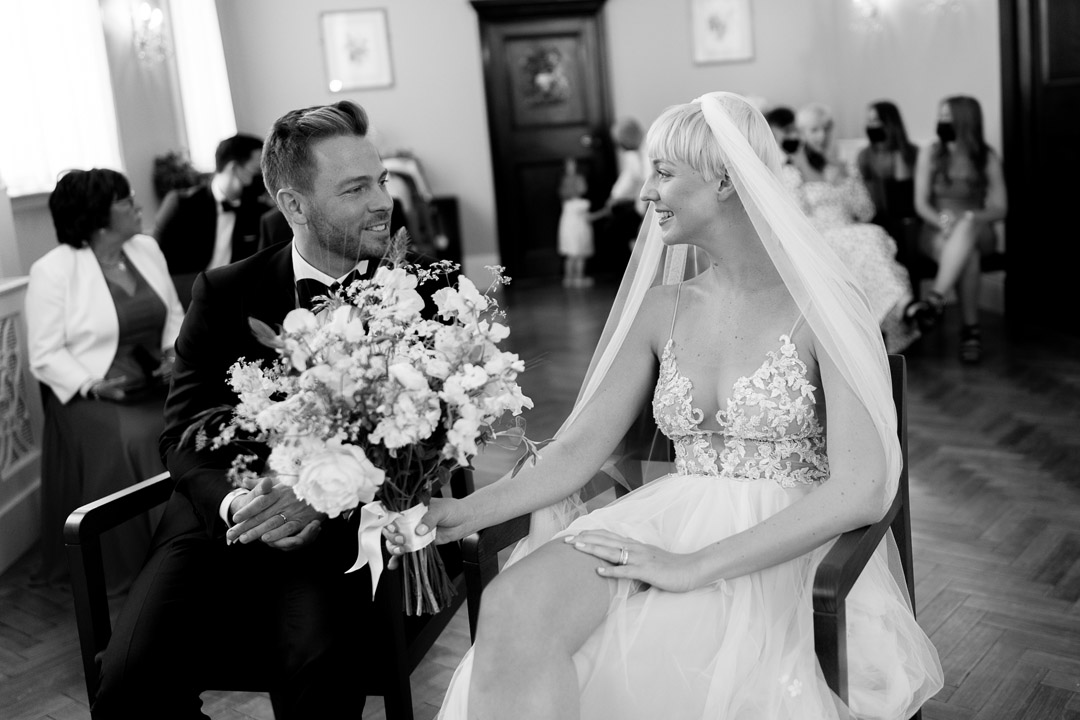 "We got our wedding rings made by a brilliant independent jeweller in Hatton Garden called Jennie The Jeweller."
"Jennie helped Paul design my engagement ring which is so special, so we couldn't imagine anyone else making our wedding rings."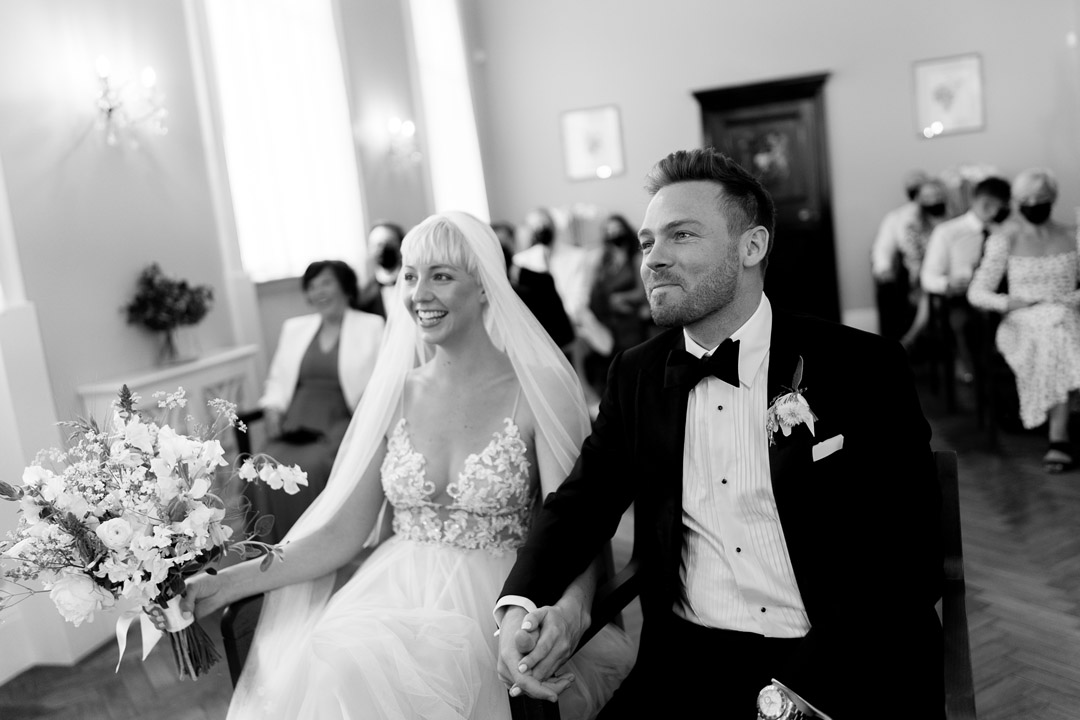 "Paul went for a platinum band and I got a diamond platinum band which sits perfectly with my engagement ring."
"We also got our date engraved, so Paul can't forget our anniversary!"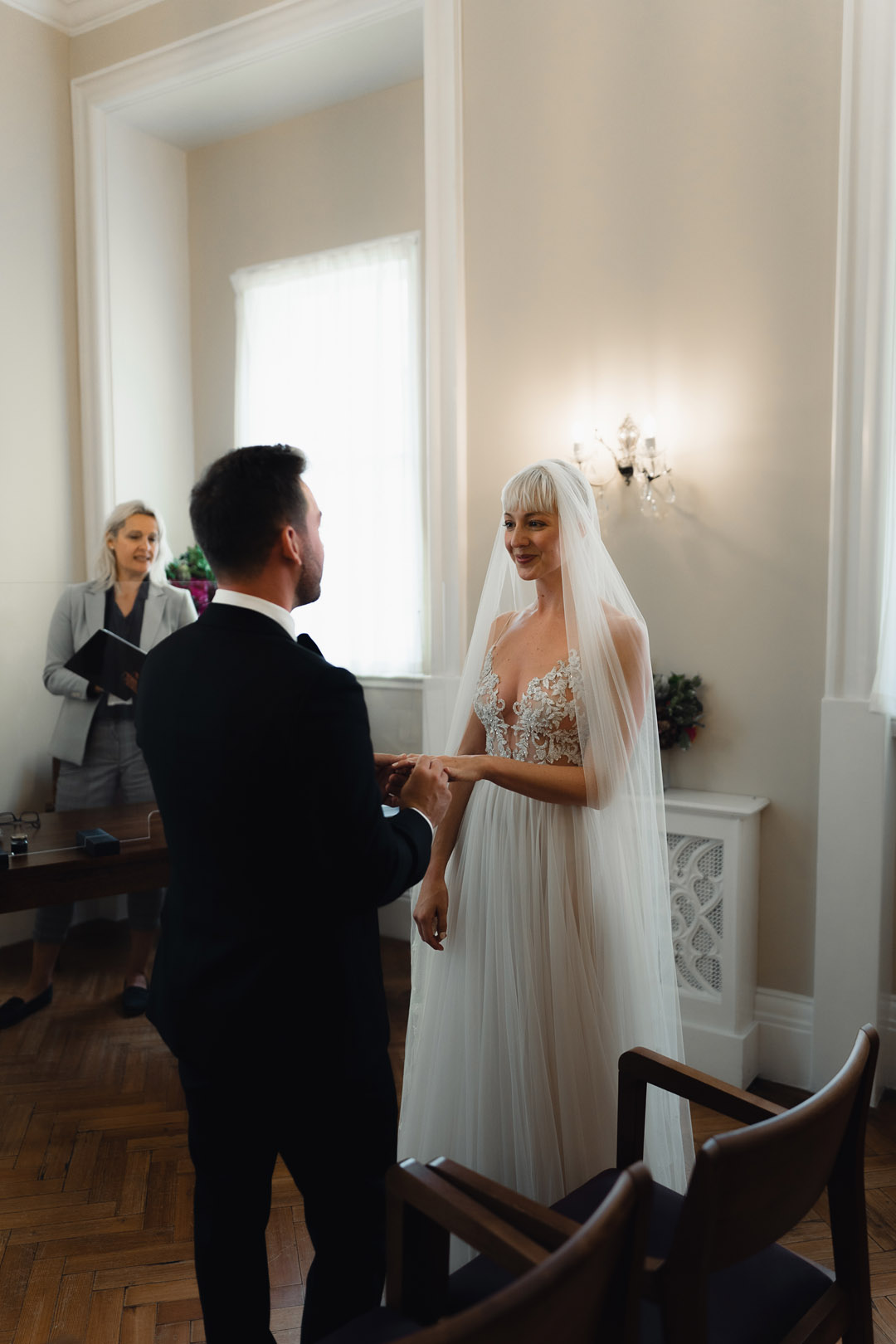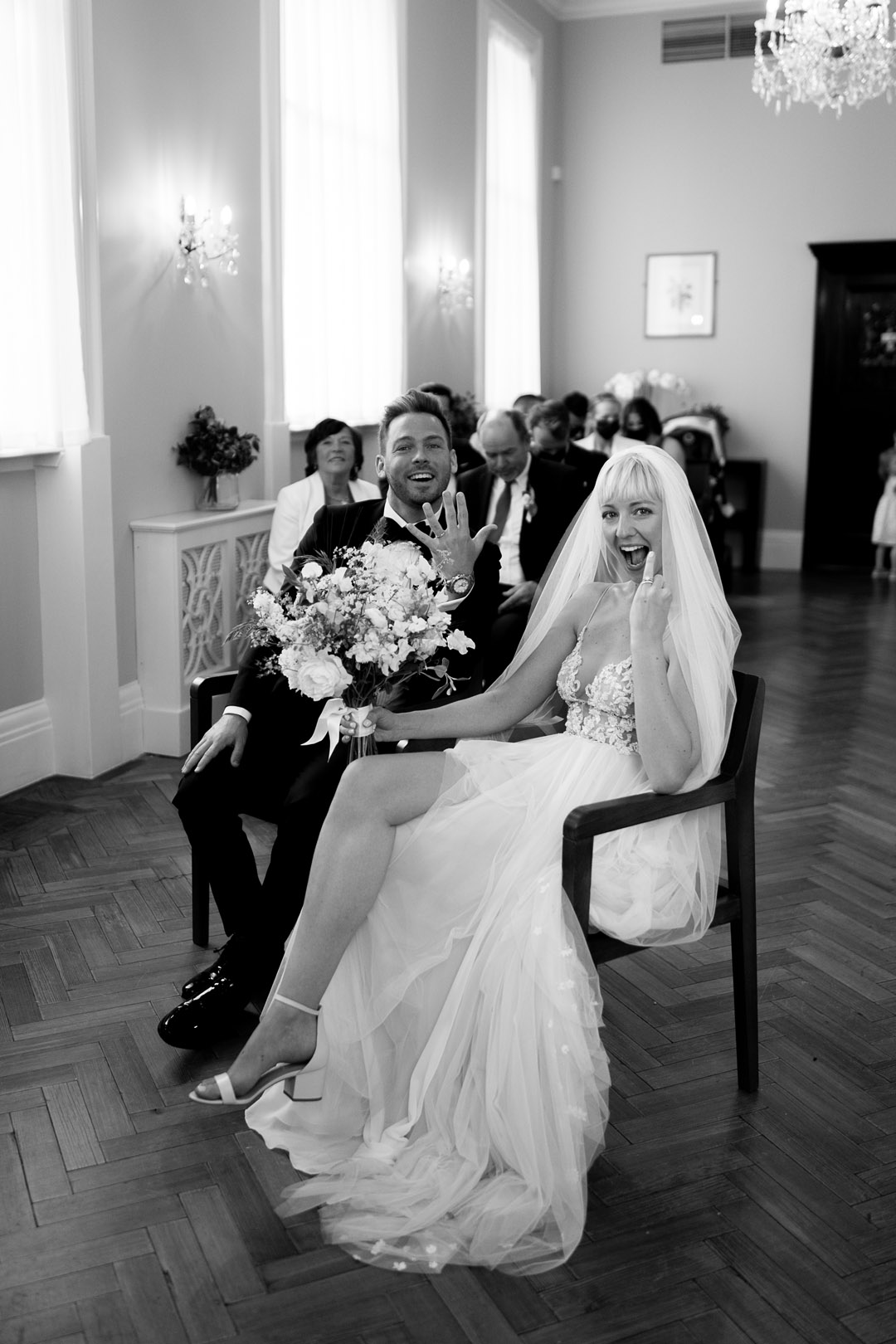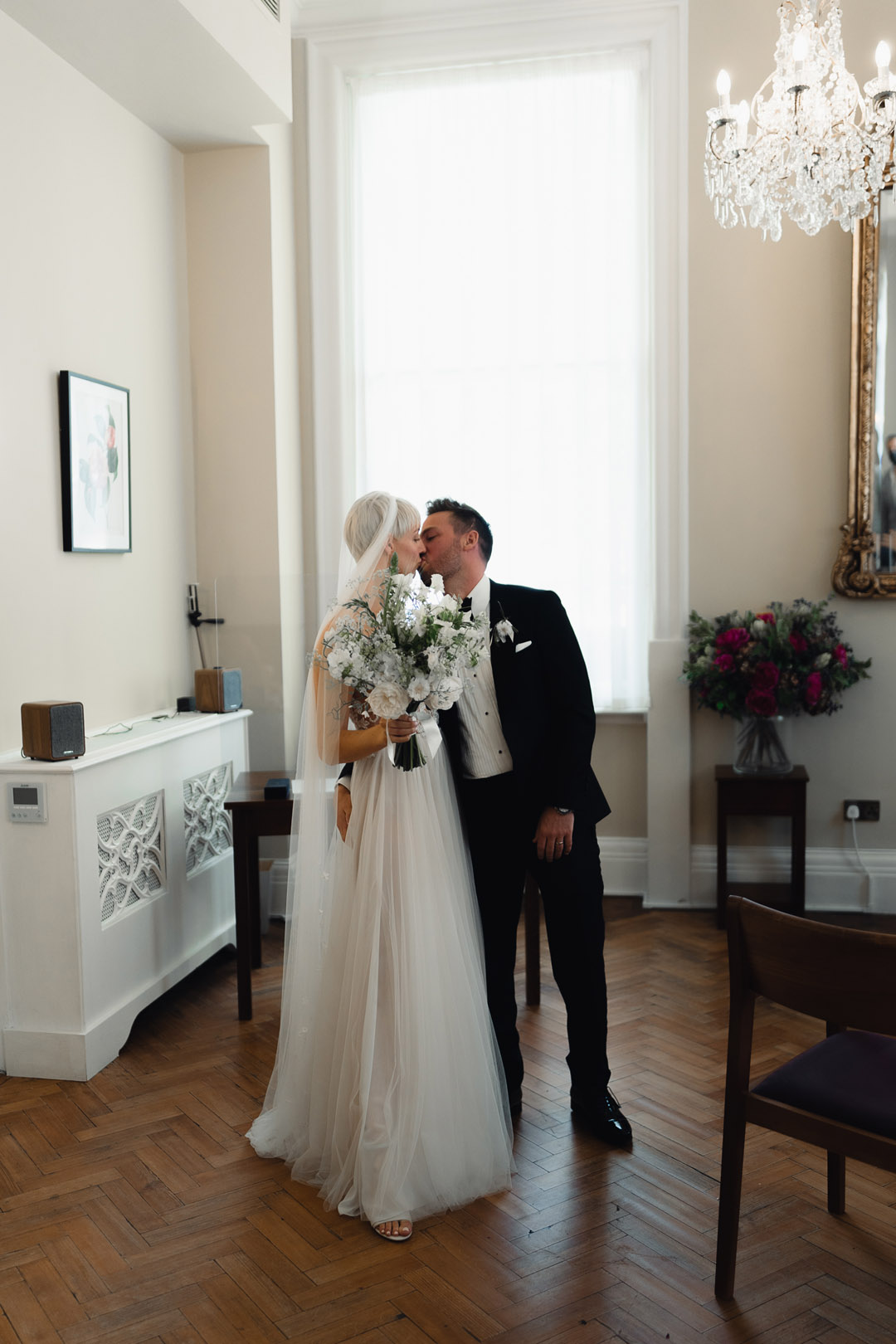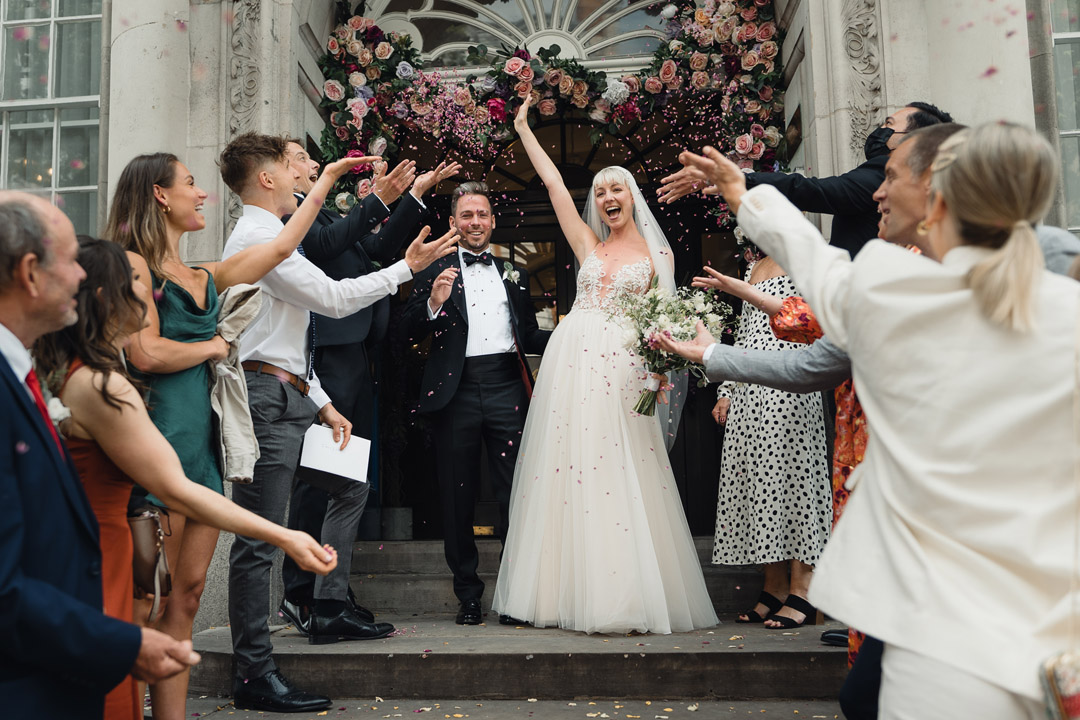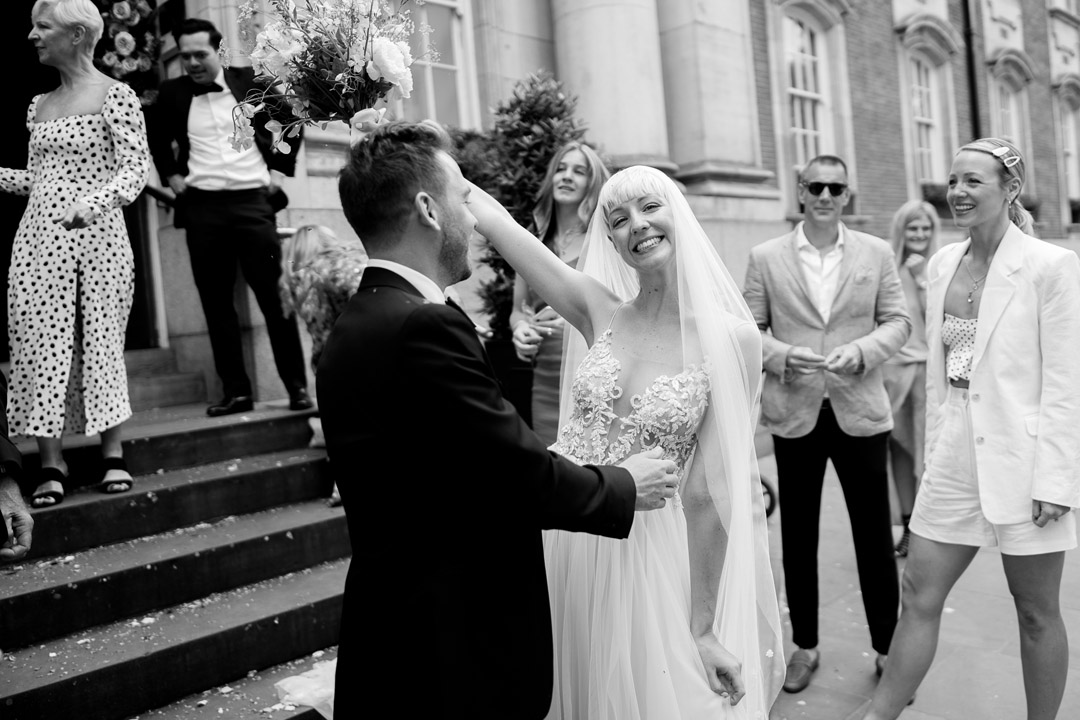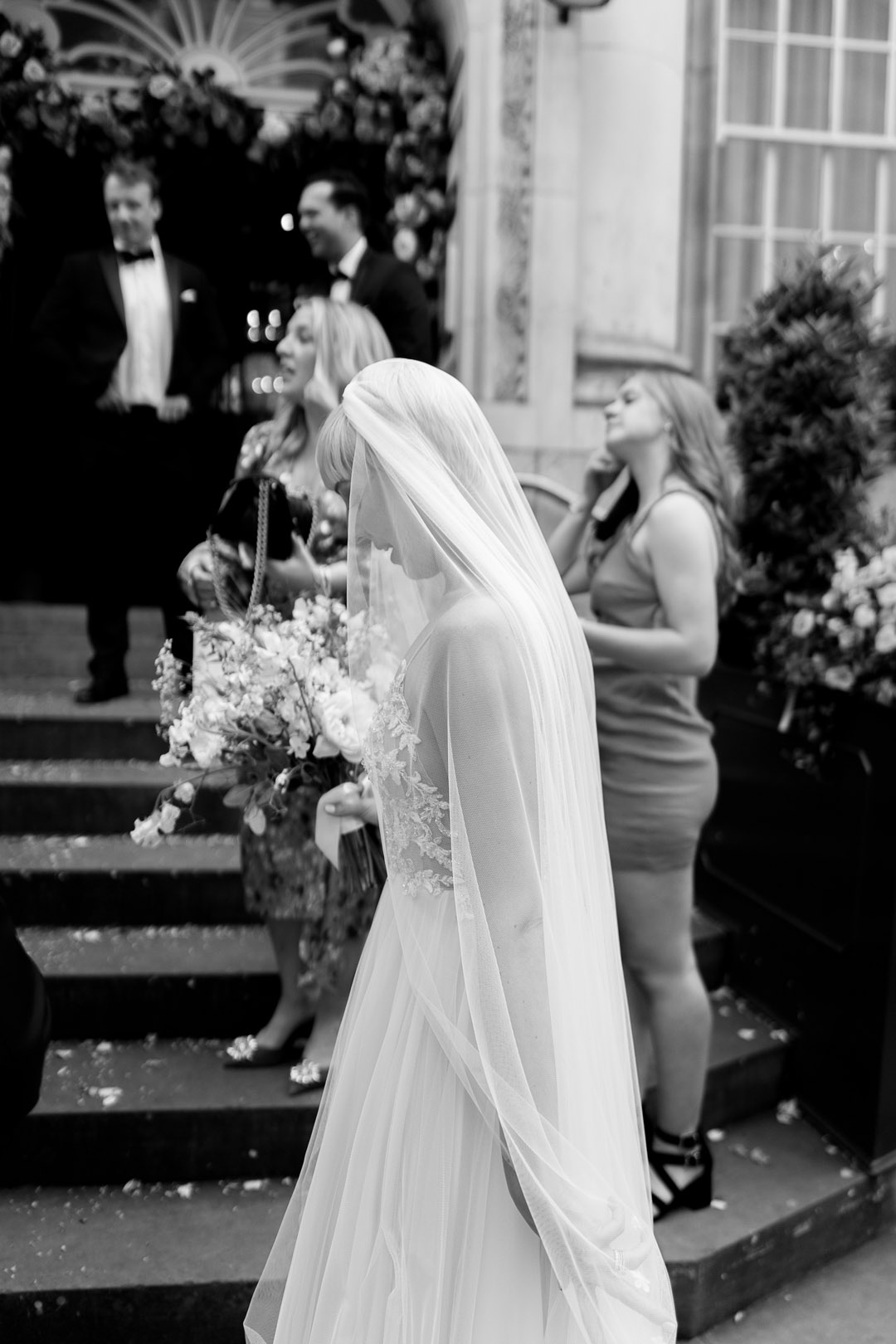 The couple hired Blostm Botanicals to supply Frances's beautiful modern bridal bouquet.
"These guys really took my limited flower knowledge and created most perfect bouquet – it was so delicate and beautiful but had so much movement. It contained sweet peas, cornflowers, roses, barley, foxgloves, meadow grasses, ranunculus."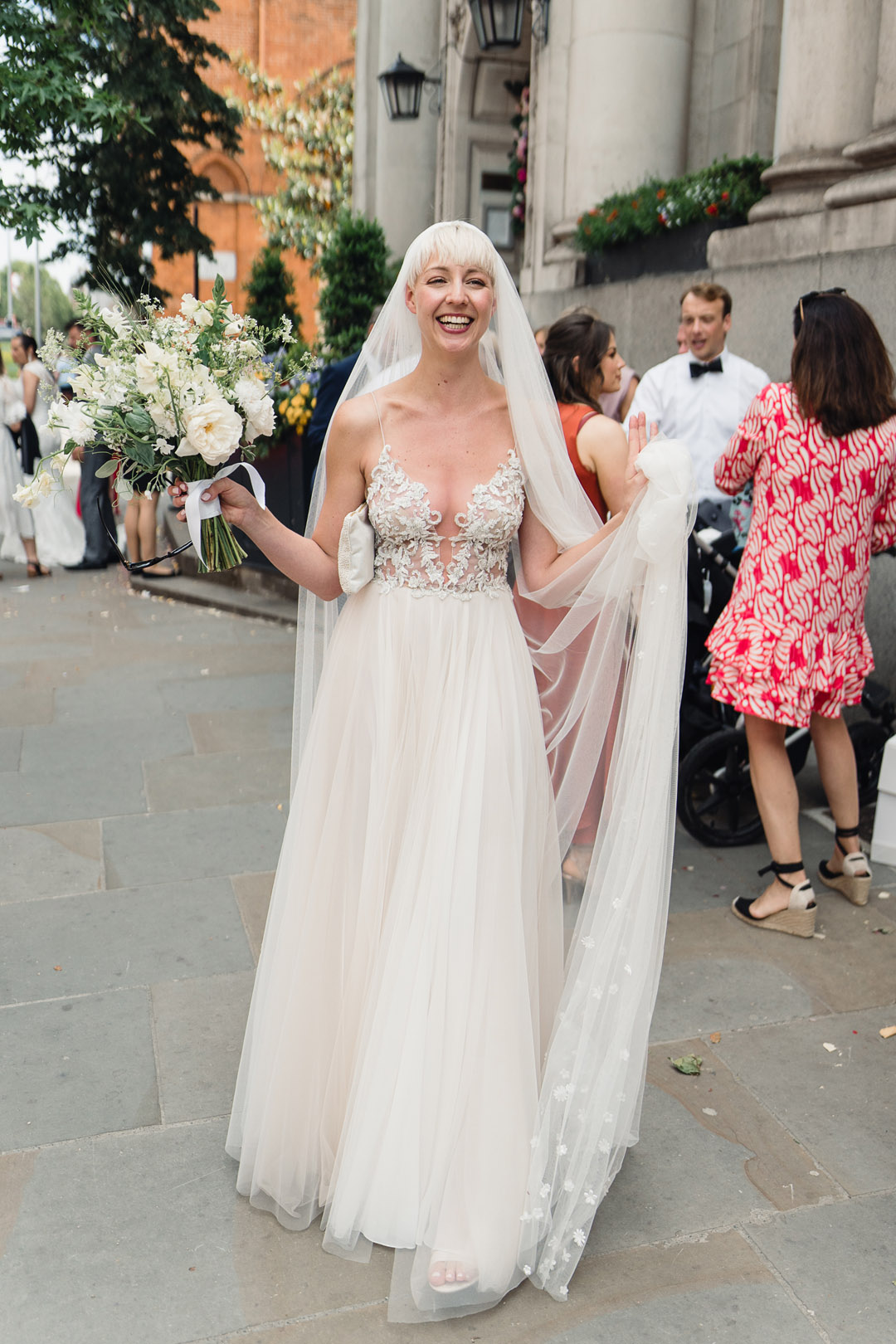 "Angelica Bridal was the first place I went as I had my heart set on a Liz Martinez dress."
"I had such great experience from start to finish – both Rose and Emma were incredible throughout the whole journey and instantly made me feel comfortable and confident."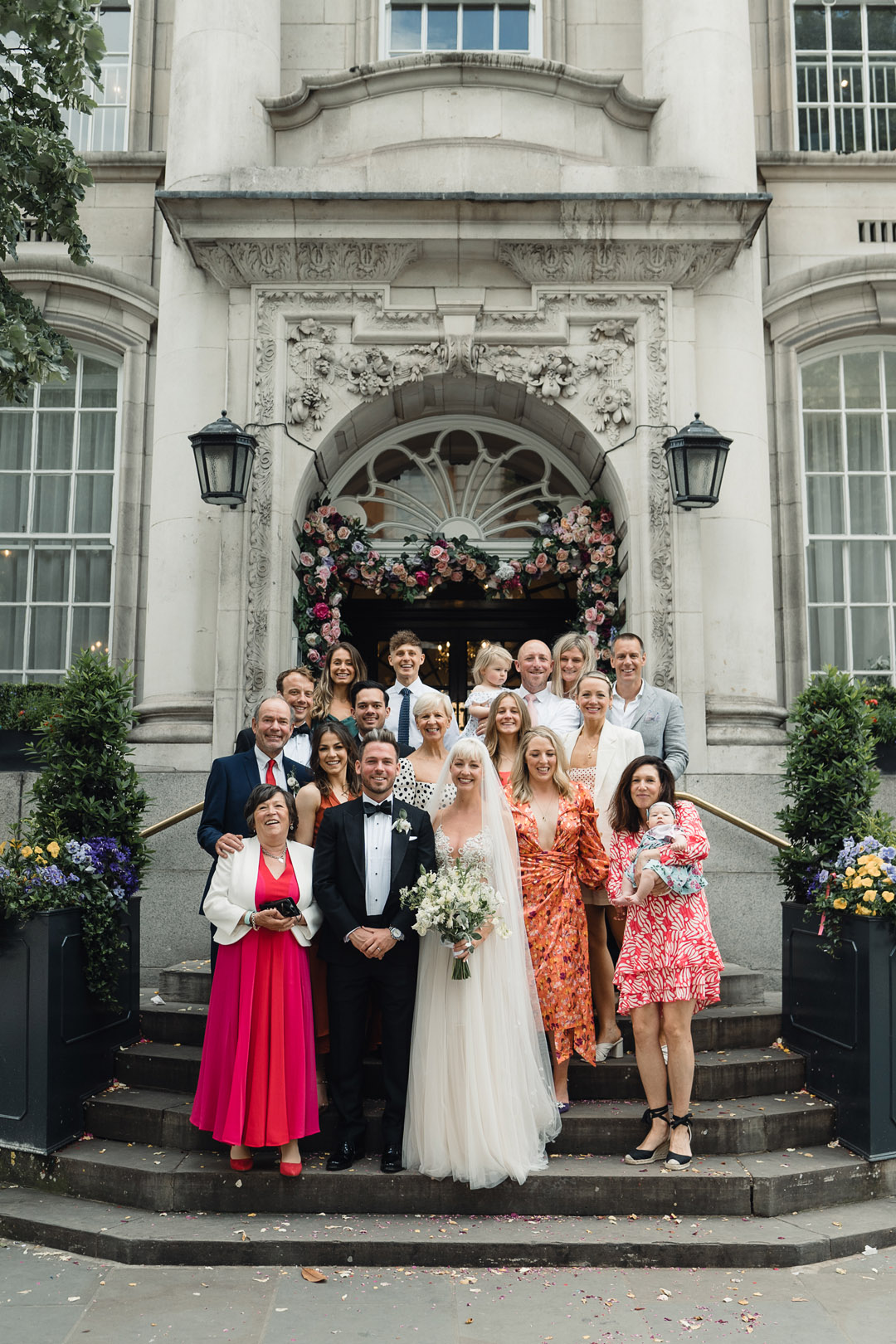 "They really made the experience even more special. I bought the dress back in 2019 (PRE COVID) for the original 2020 wedding date."
"When COVID hit they were so flexible with rearrange dress fittings and offering support through multiple date changes. They also helped with creating my own veil. Would highly recommend."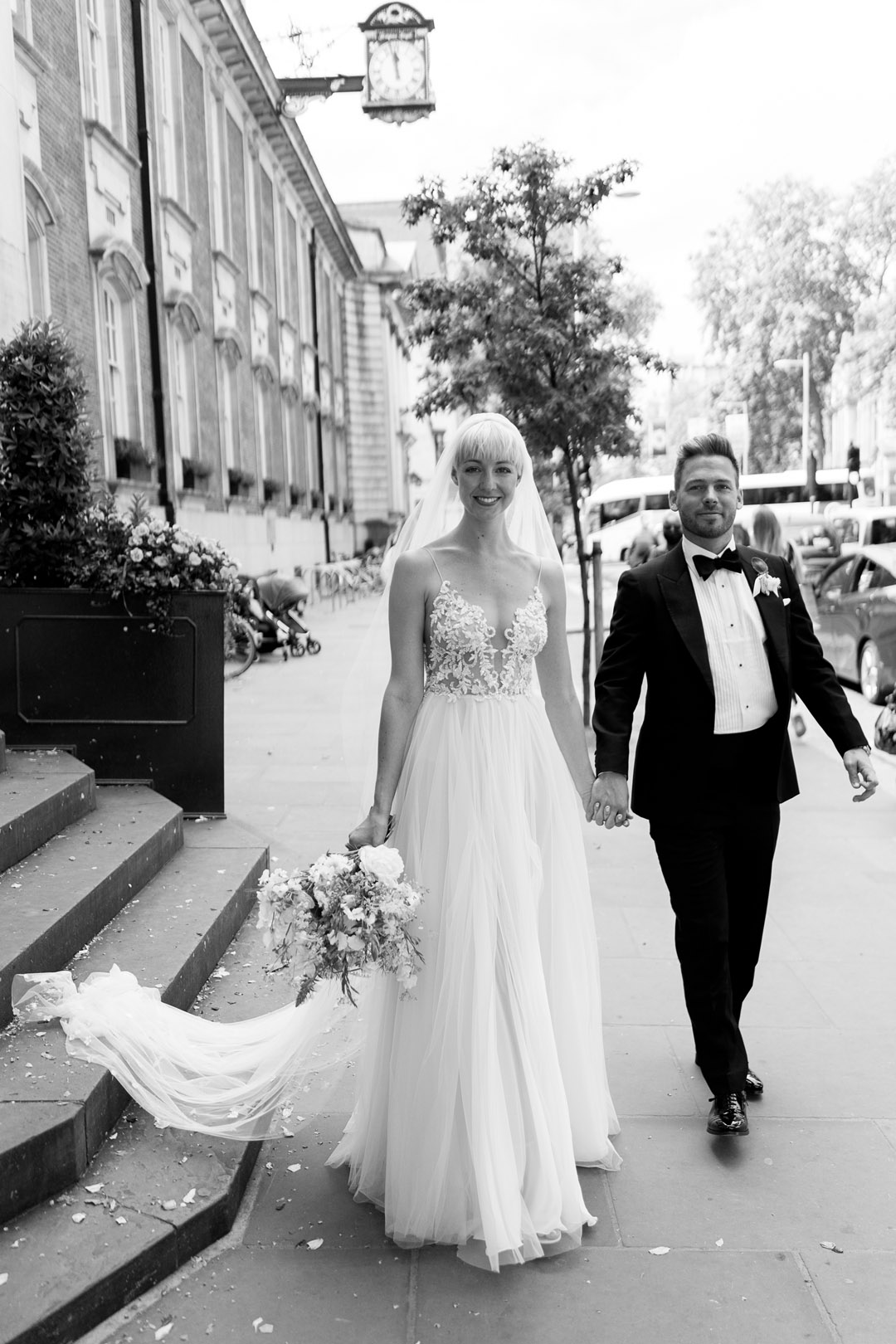 "Before I even tried a Liz Martinez dress on, I knew I was going to wear one of her dress for my wedding – just everything about her collections are a DREAM!"
"I was never going to wear anything super bridal. I wanted to feel like a bride but also feel confident and sexy."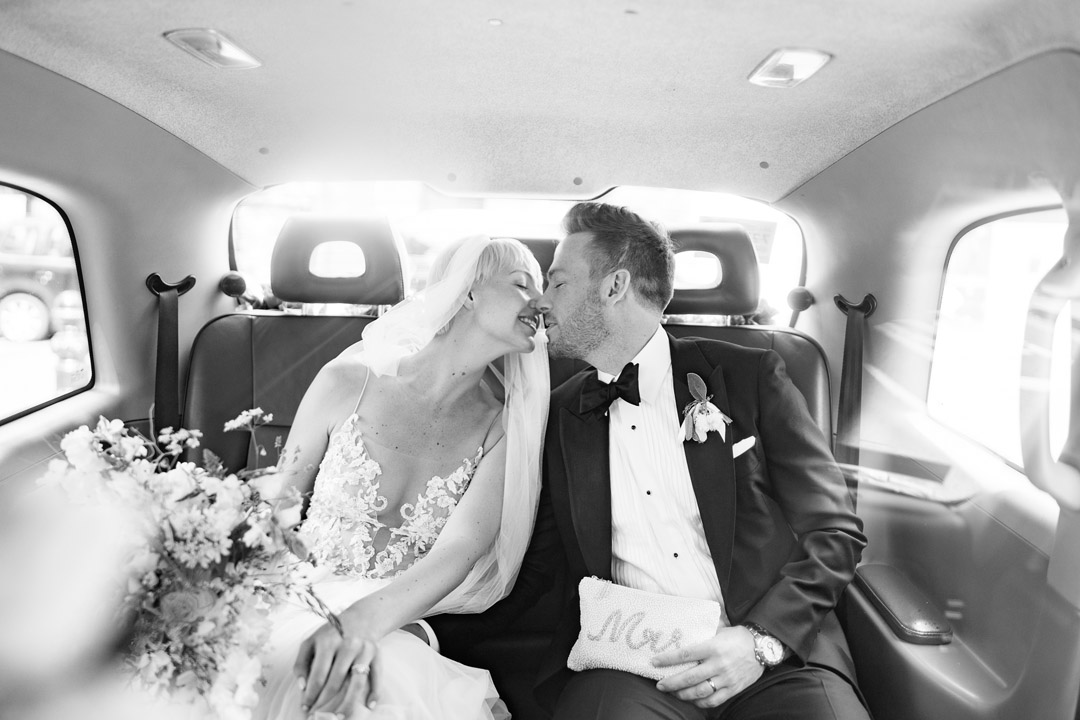 "When I found mine it really was love at first sight. The details especially around the bodice and everything about it was perfect and it fitted like a glove."
"It instantly made me feel special and the reactions on my mum and sisters face said it all. It ticked every single box – sexy yet romantic, elegant and unique in every way."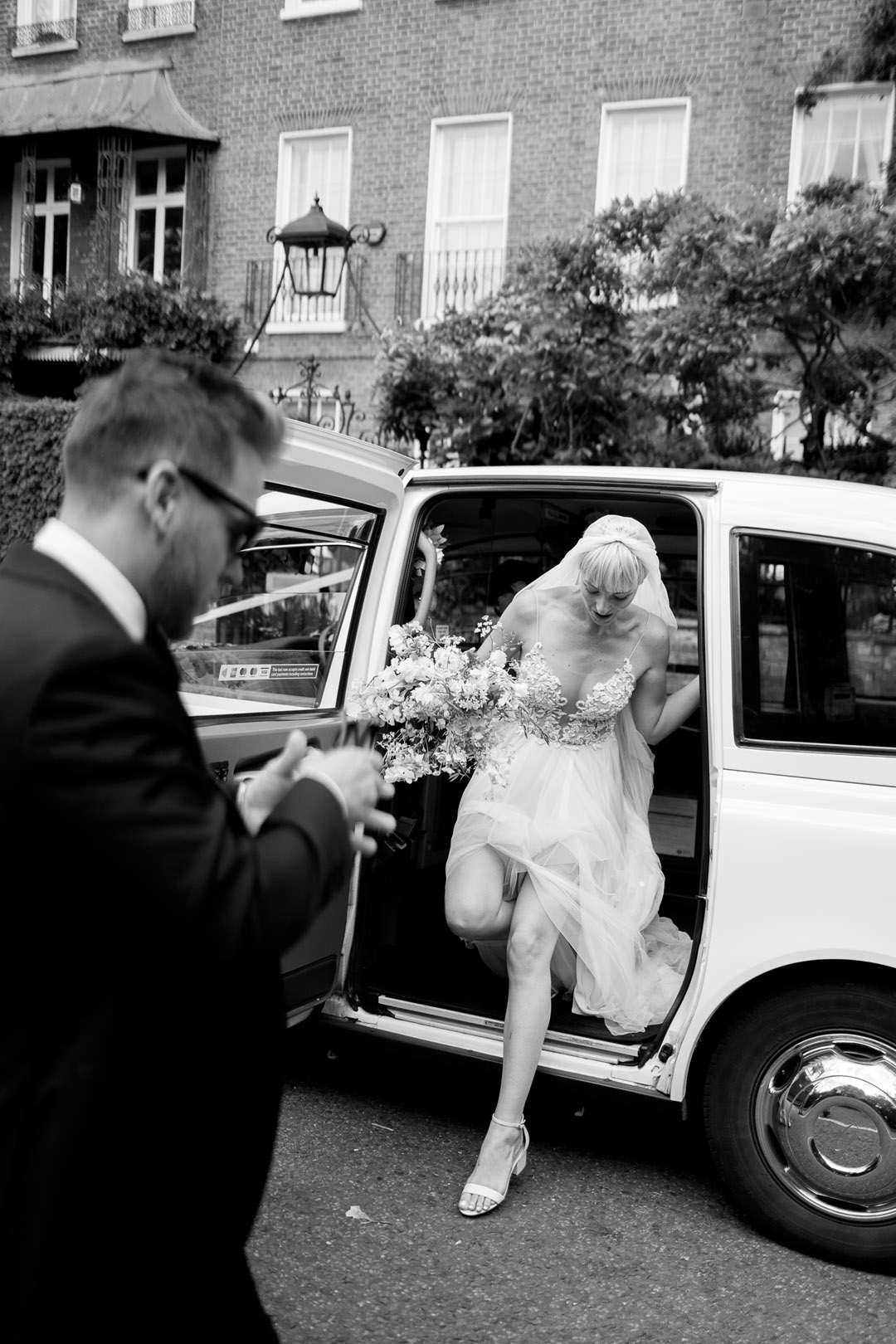 "When we knew our Ibiza wedding was postponed for another year Paul decided he wanted to switch it up and wear a black tuxedo and bow tie from Suit Supply."
"He looked SO handsome and it suited both my dress and the whole day perfectly."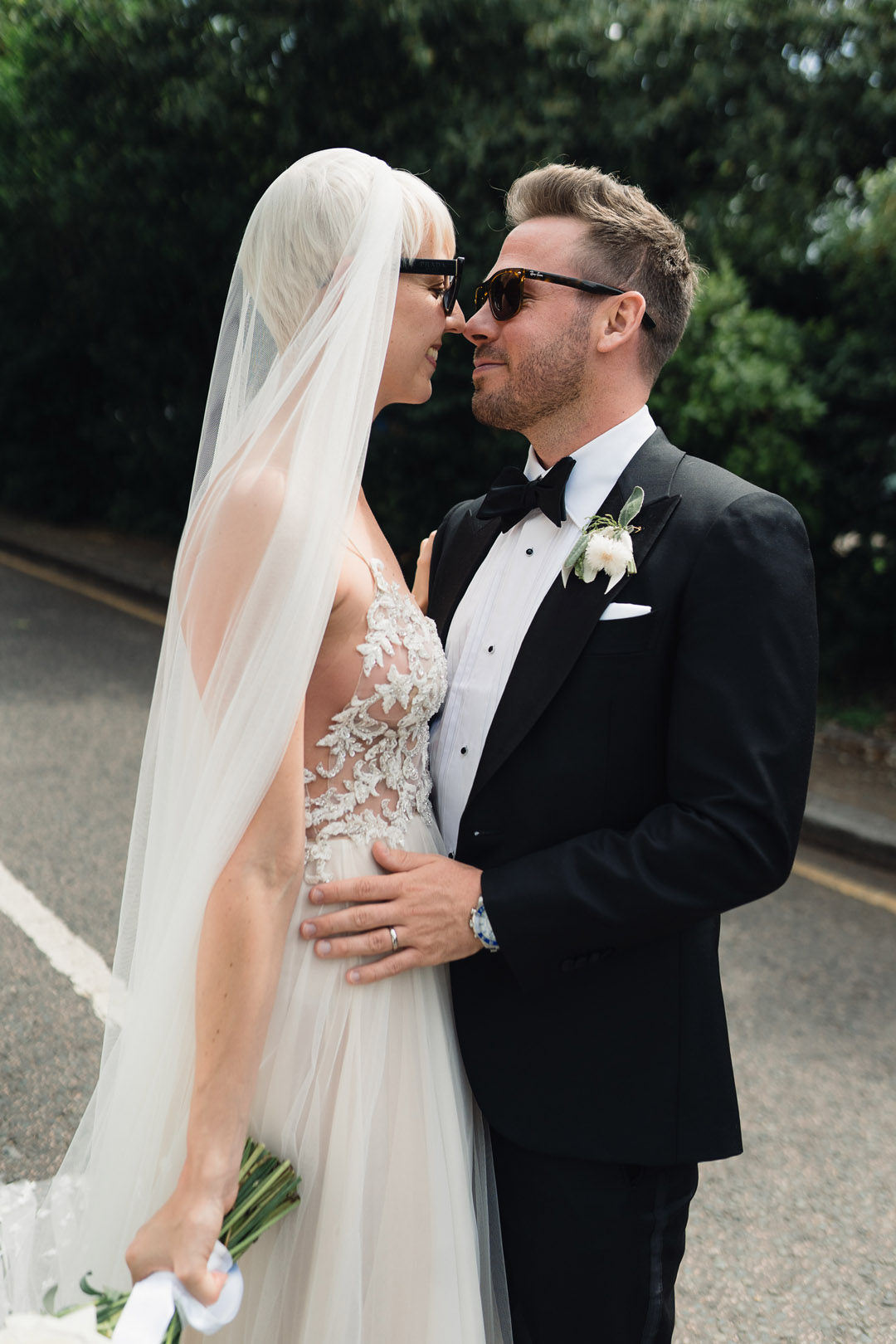 "I think because I have short hair, I always wanted a long veil. It made me feel a bit more girlie."
"I couldn't really find a veil 'off the rack' that complimented my dress the way I wanted, so the amazing tailors at Exclusive Alternations made me one and it was perfect."
"It was delicately detailed, the perfect champagne colour and went with my dress so well."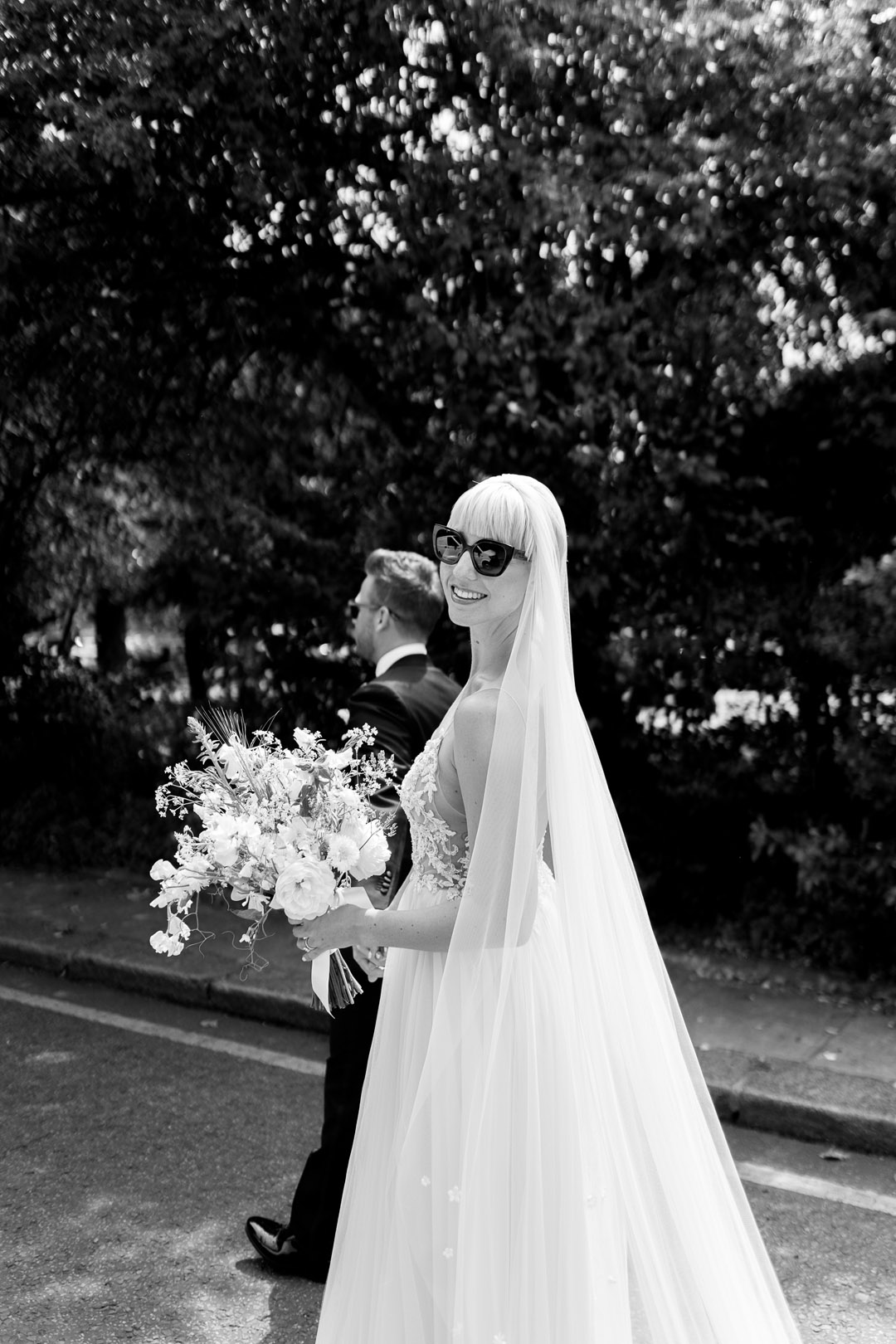 "We both grew up on the Isle of Wight and actually met there in the summer of 2011. In 2012 we went on our first date and we continued to date for the next two years – never quite deciding if we liked each other or hated!"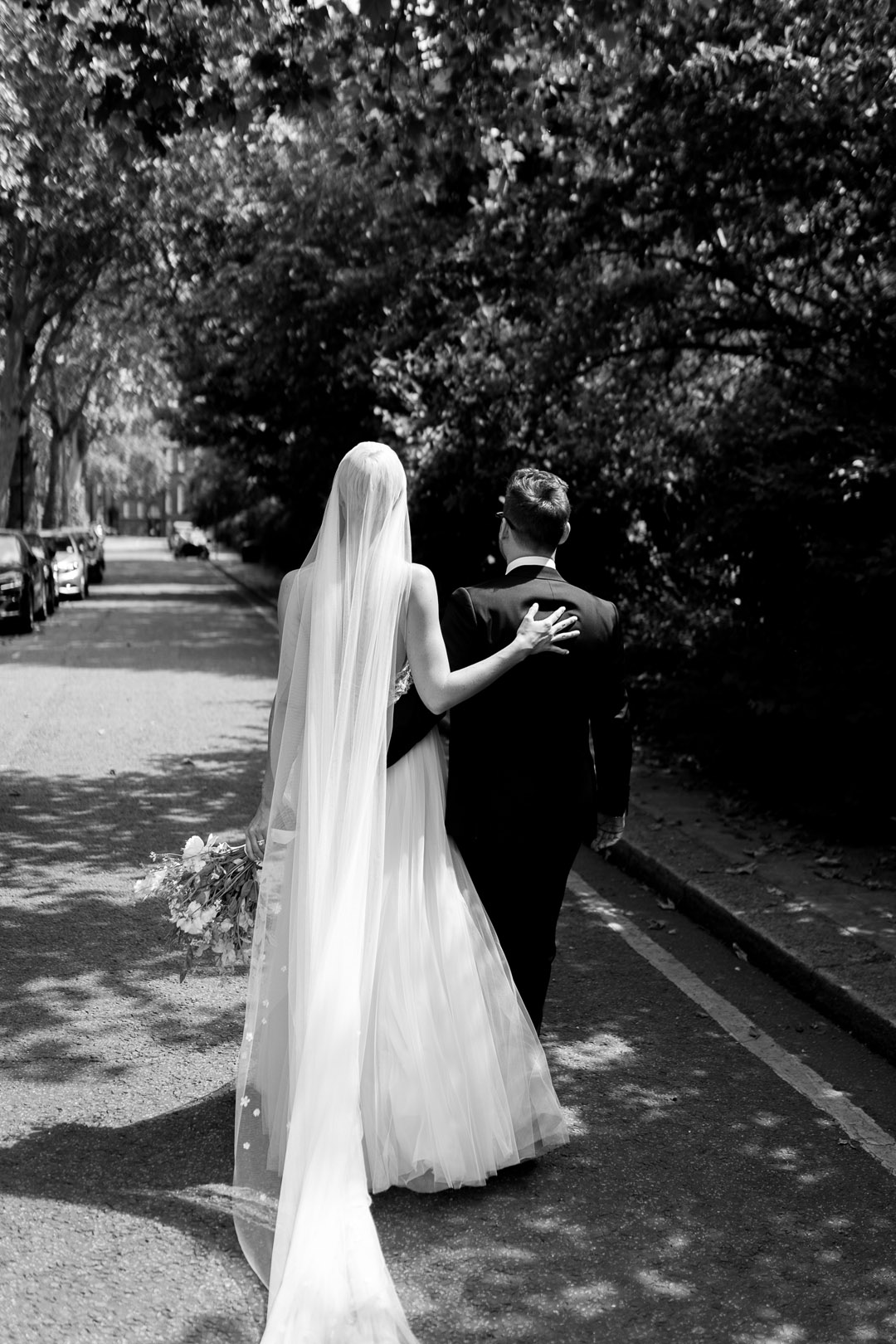 "After a year apart, we returned together in 2015 and started to take our relationship a little bit more seriously."
"In 2018 we moved to Berlin together and we grew stronger and stronger – so much so Paul (finally!) got down on one knee in NYC in November 2018. My favourite city in the world."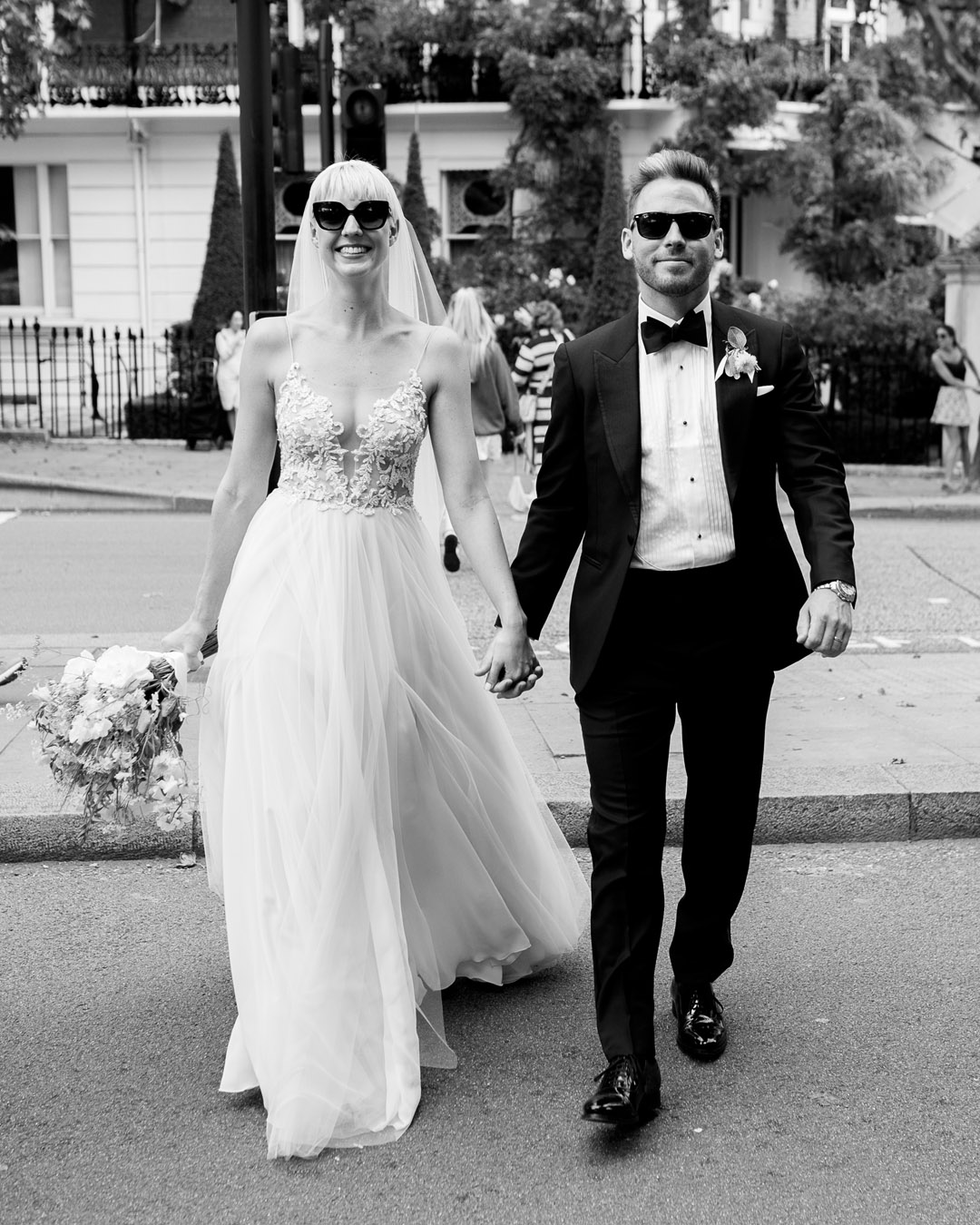 "We were in New York celebrating Pauls 30th Birthday. We had literally just landed and got to our hotel when Paul demanded we went for a walk straight away, despite a pizza stop, a wine stop and an argument (that he was walking so fast) we ended up in Times Square."
"The proposal was the most public but amazing thing ever. I turned around and he was down on one knee in the middle of the red steps."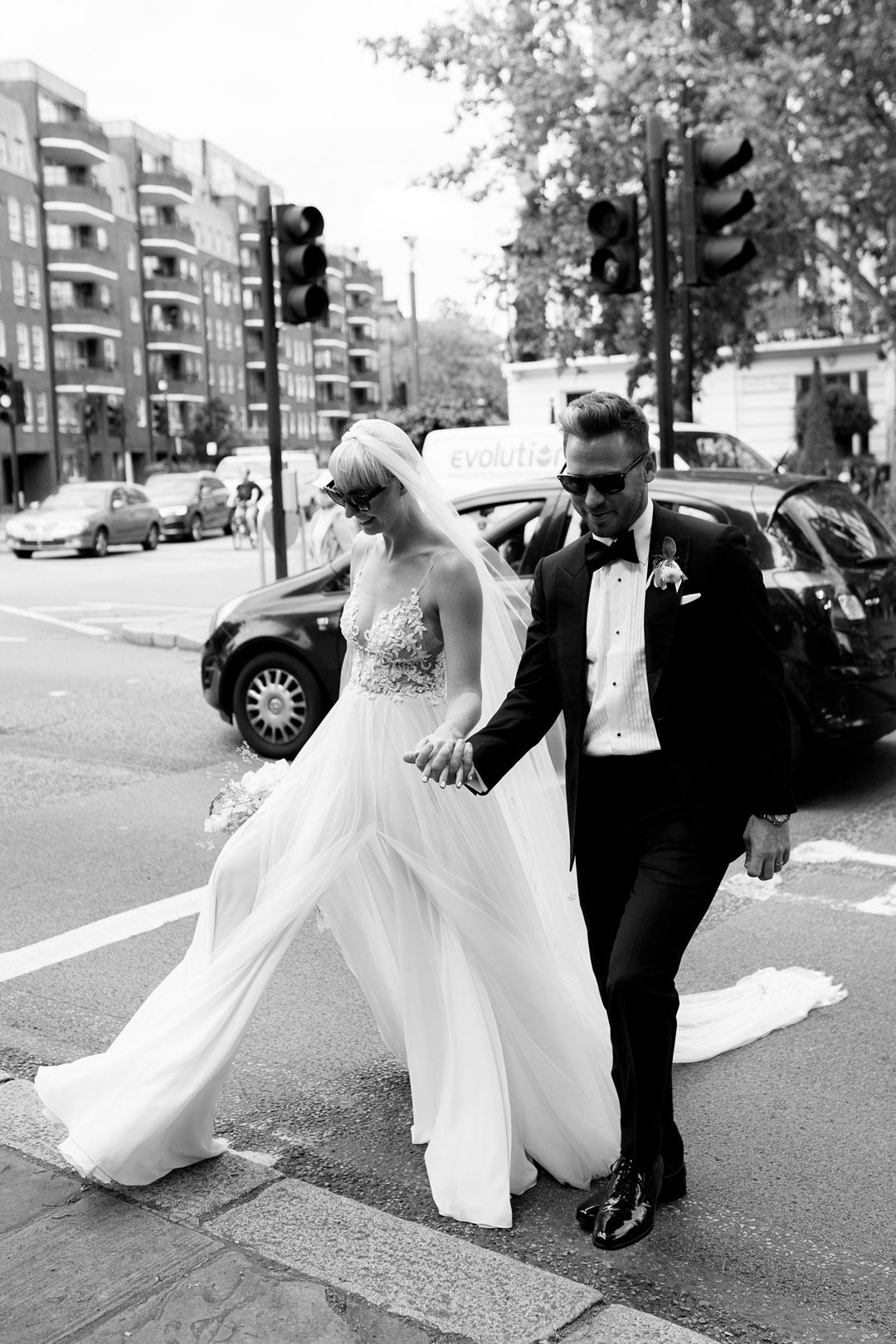 "I thought it was all one big joke until I saw the ring. Paul is notoriously bad at keeping secrets so how we managed to keep this a surprise is beyond me!"
"We should have been married July 2020 but thanks to COVID we got married in June 2021 – so engaged for around 2.5 years."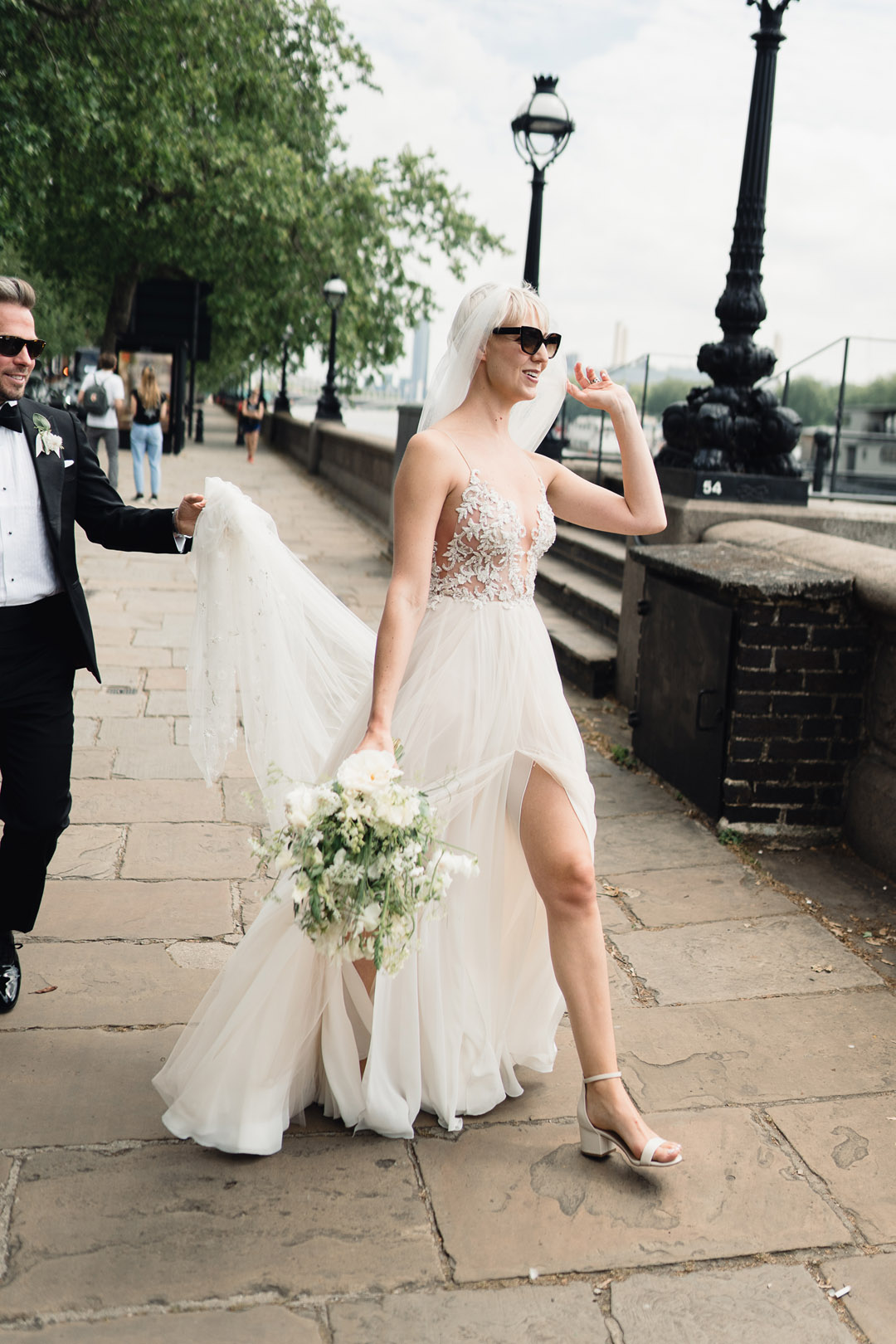 "We when we decided to go ahead with London in June 2021, Rebecca Searle was basically the first person I spoke too."
"To find out she was free so last minute was a silver lining. I was so happy!"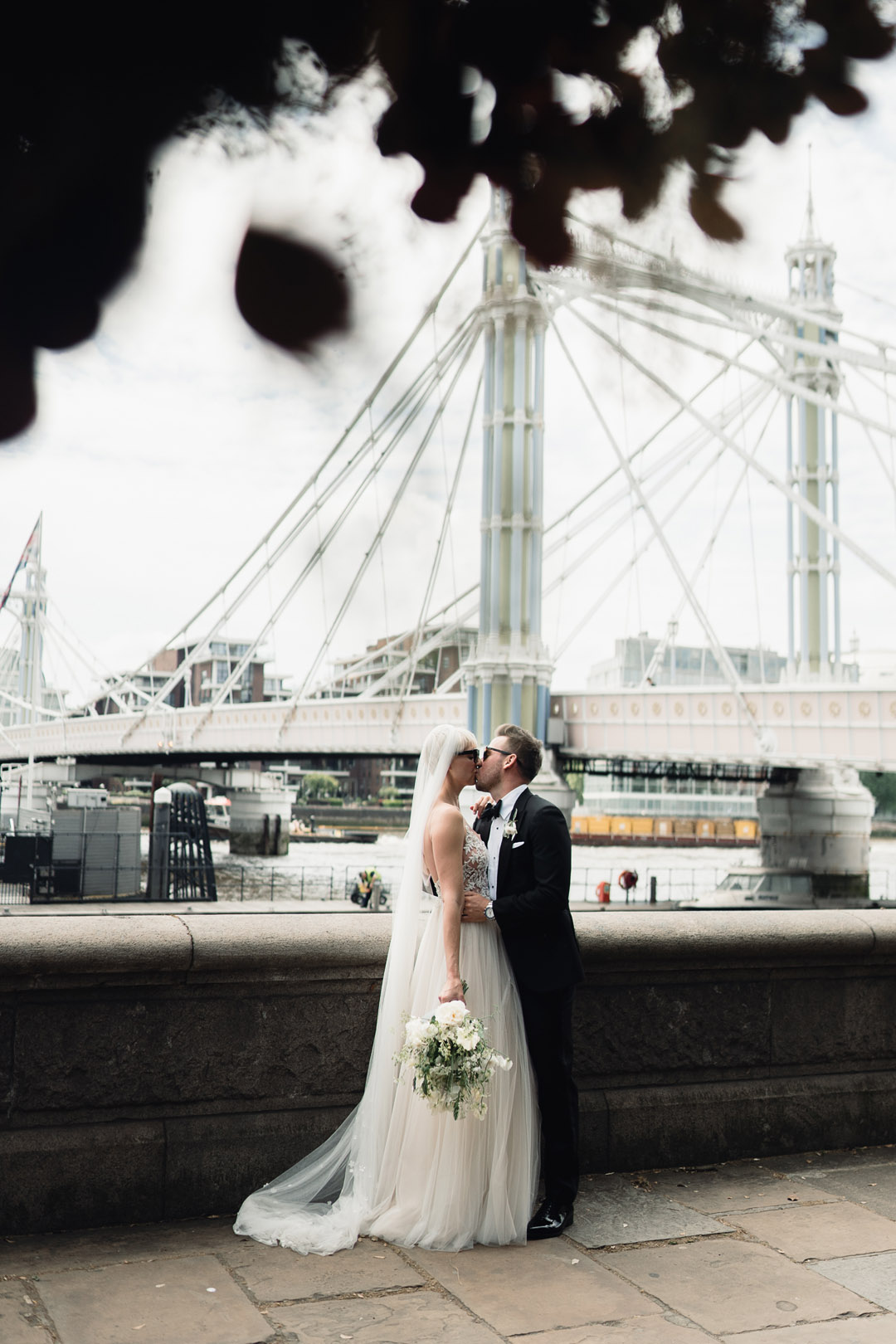 "From the second we spoke we were instantly on the same page. It was like she could read my mind.""
"I loved the editorial edge to her pictures, the detail and how they were so romantic, raw and playful at the same time."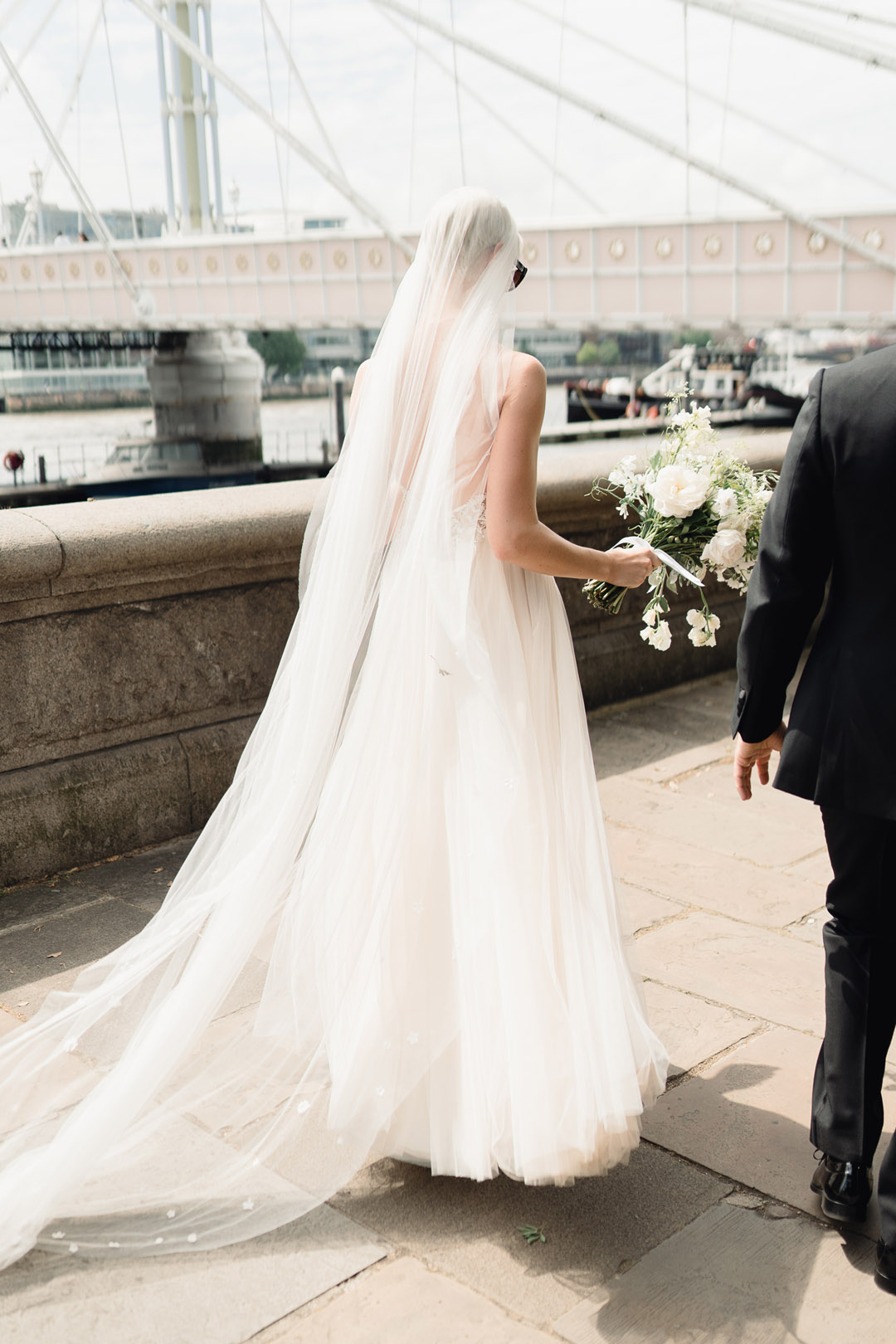 We knew we didn't want anything traditional and boring, it just didn't suit us."
"Becca was a total dream on the day – she was part of the family. We fully trusted her to do whatever she wanted and she guided us through the whole day."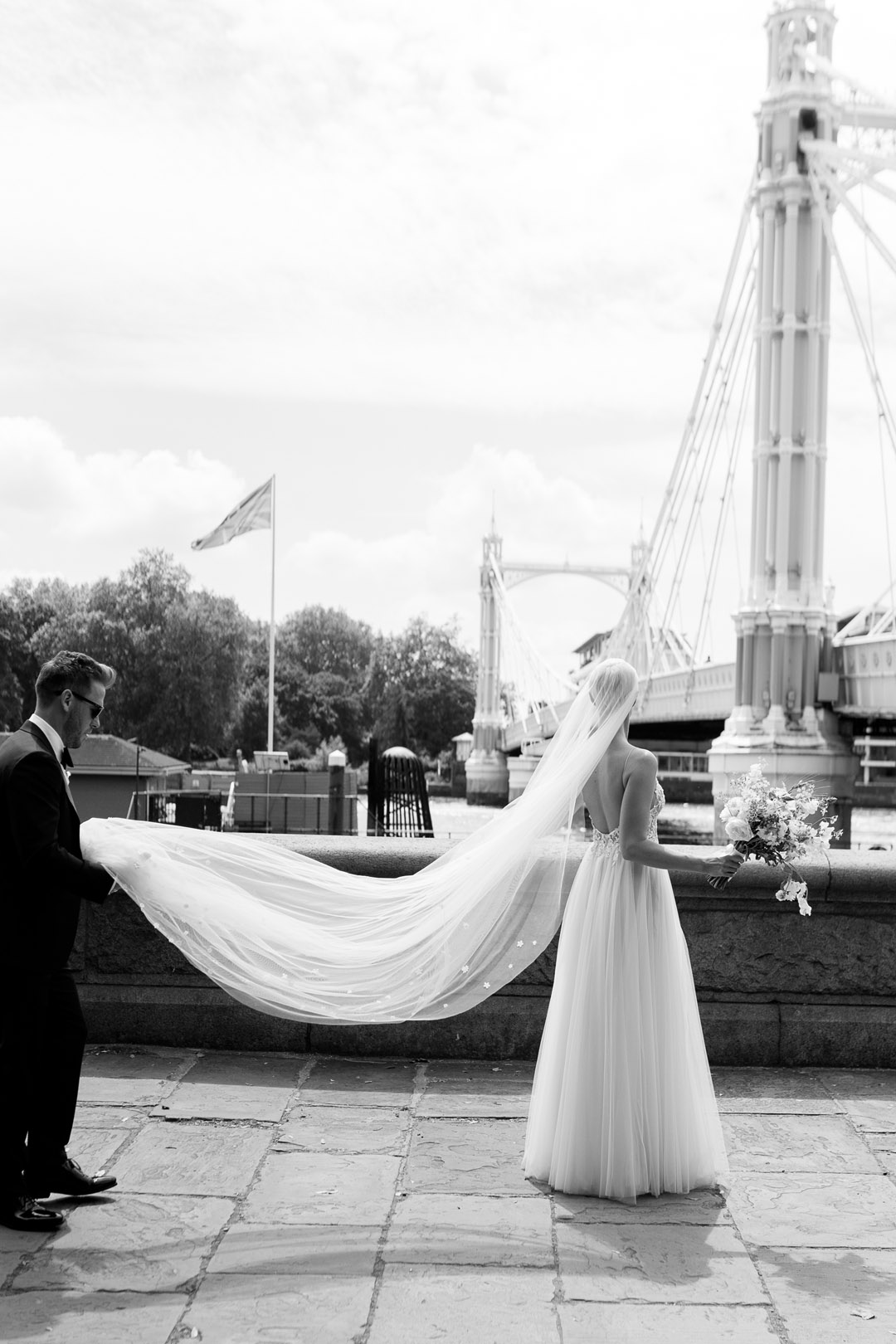 "She made us feel so confident running around London on a Monday morning."
"It was her idea for Paul and I to get some pictures down at the Albert Bridge and to spend that hour together with Becca was so special."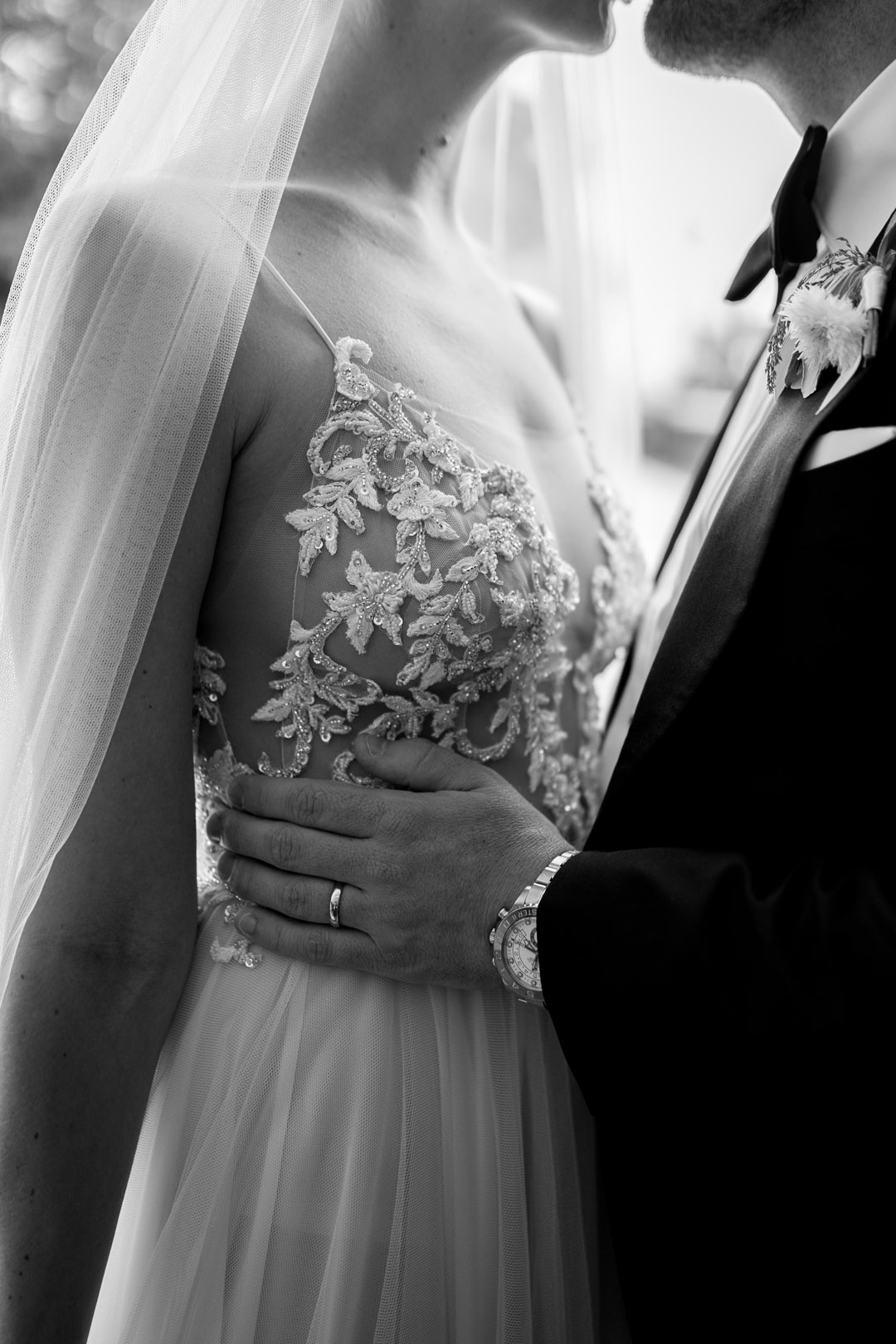 "I couldn't recommend Becca highly enough – looking at our pictures now I can't quite believe they are ours and that was our day."
"She is truly magical."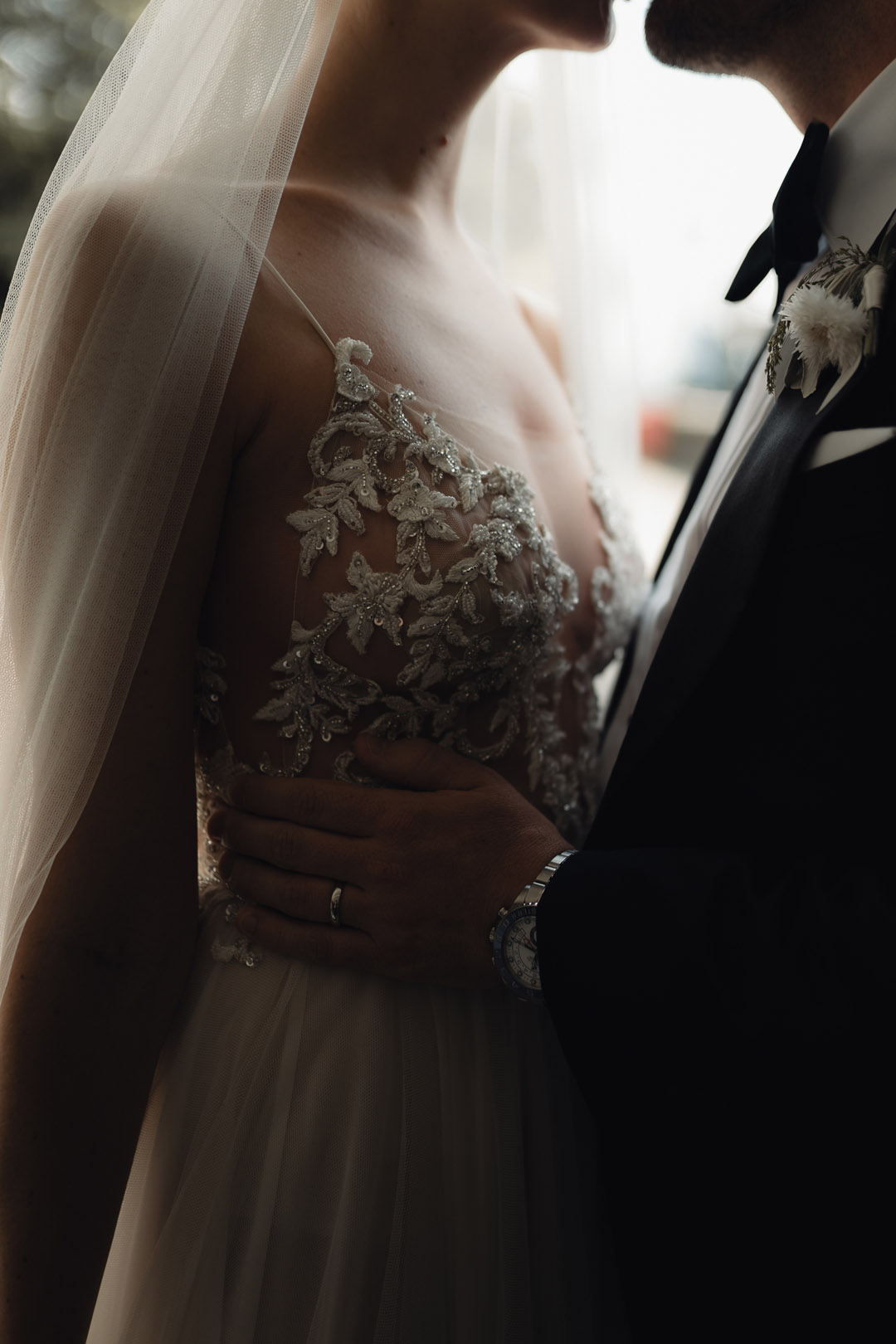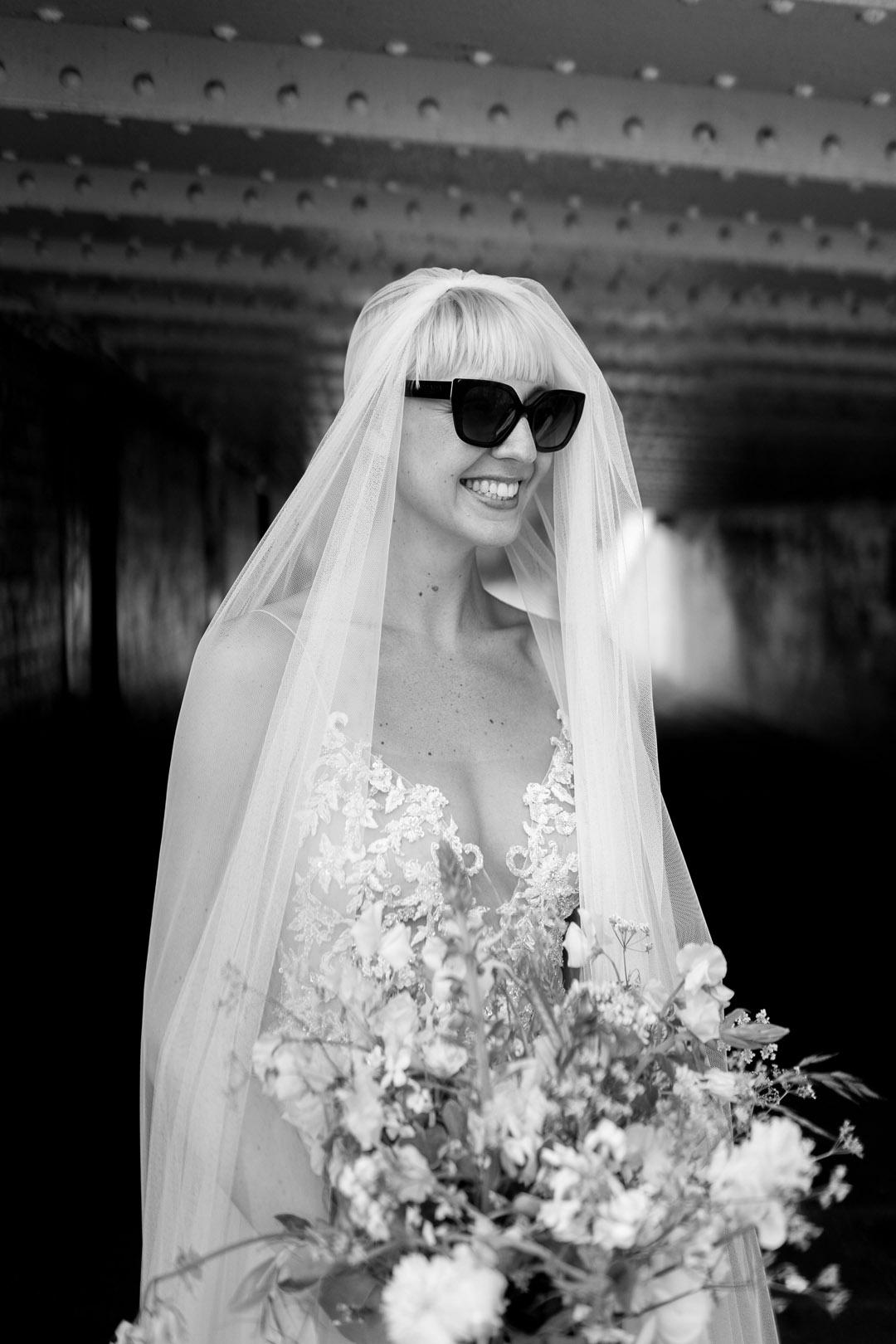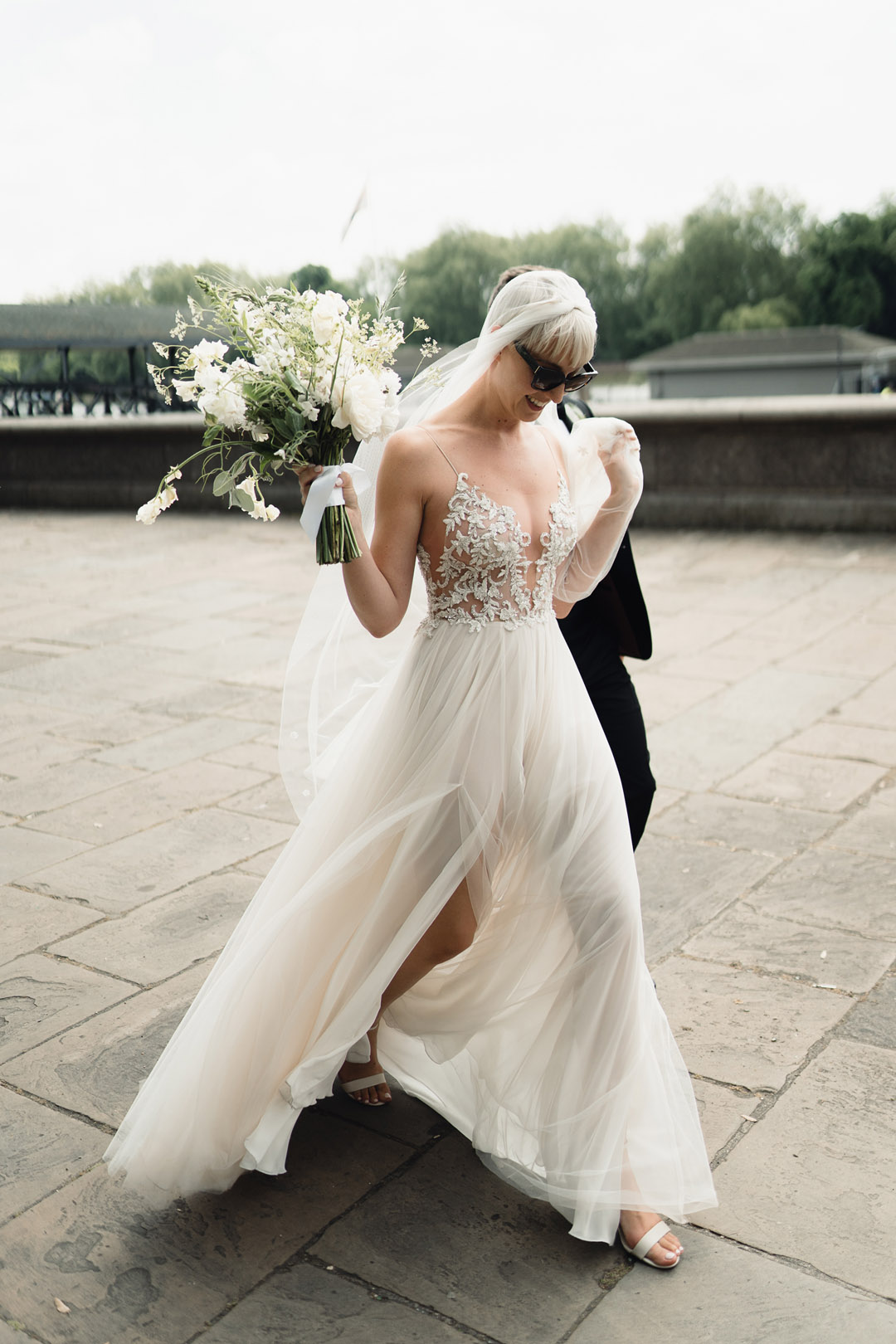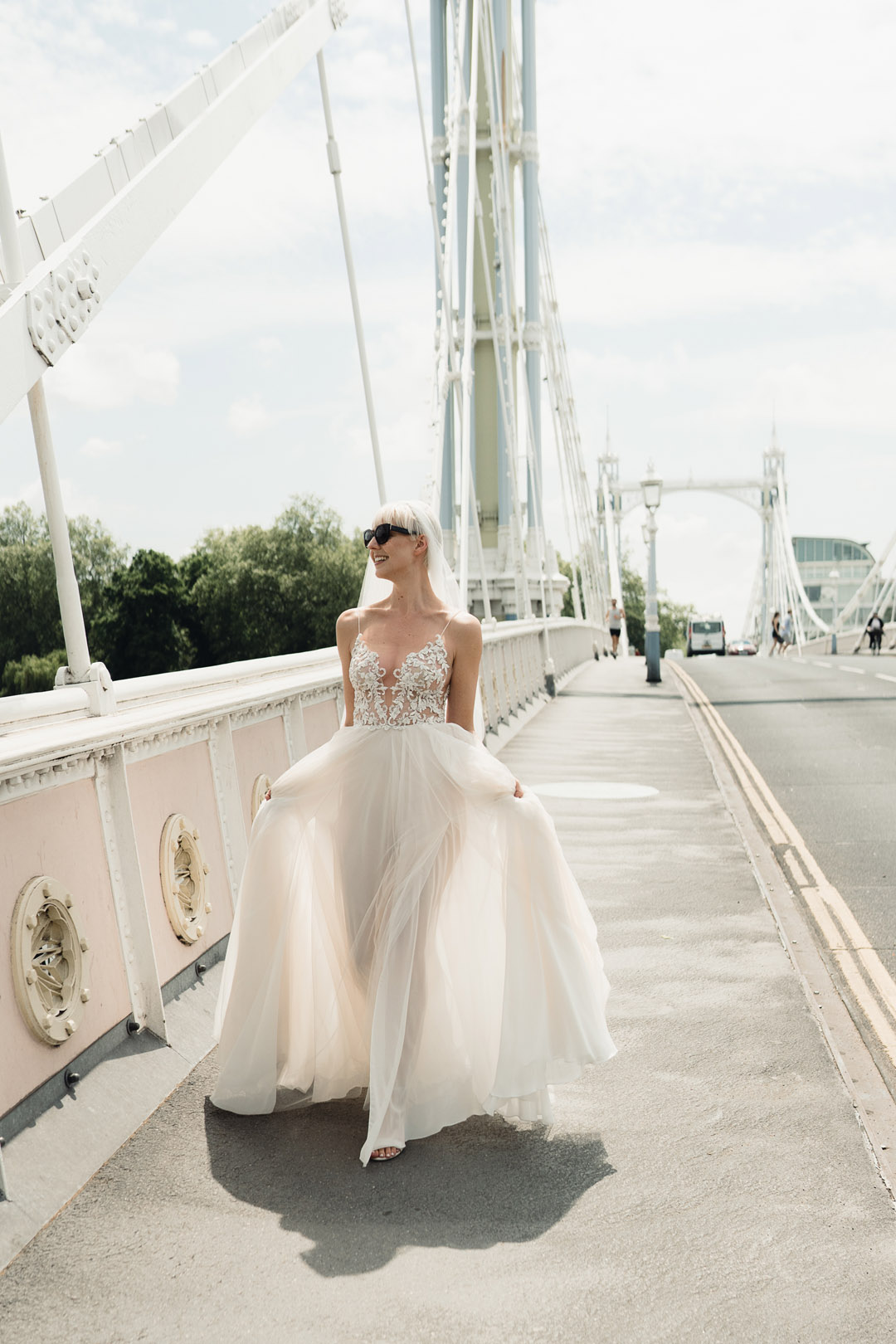 "We had our wedding lunch at Stanley's in Chelsea. It's right across the road from the Old Town Hall which was so convenient for us."
"Being only 20 in people, they reserved the back half of the courtyard for us, so it felt really private and relaxed."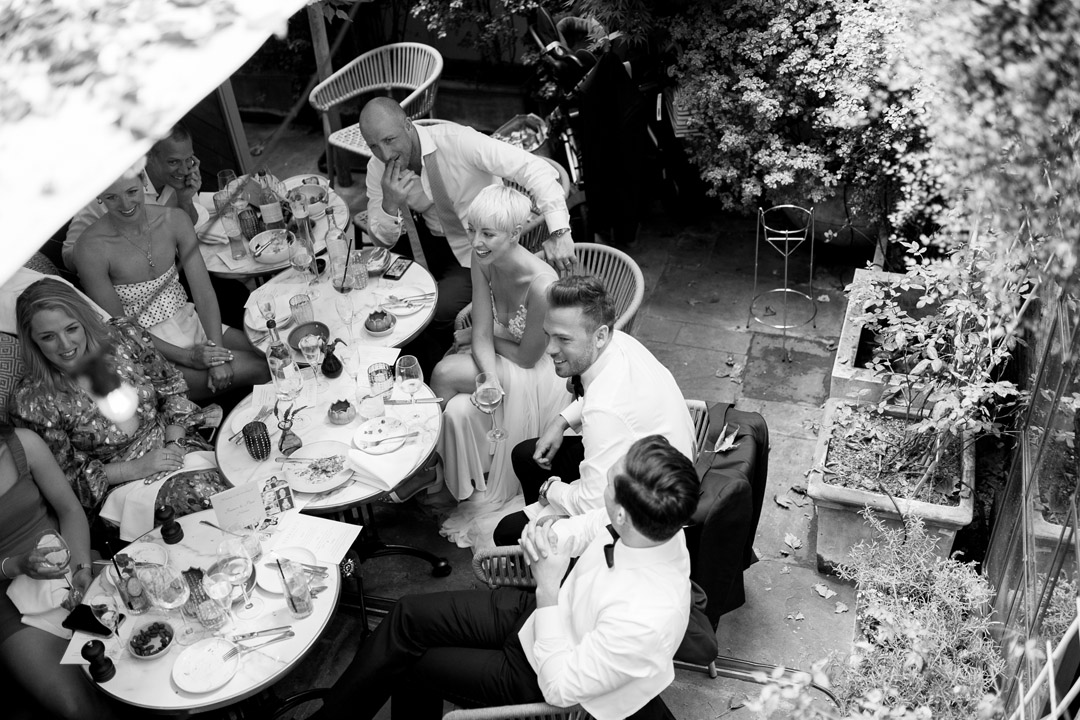 "This place just feels special and was so perfect for our day. You enter the restaurant through this beautiful floral archway into what feels like a secret garden."
"The service was brilliant, the team were great with us and the food was SO good."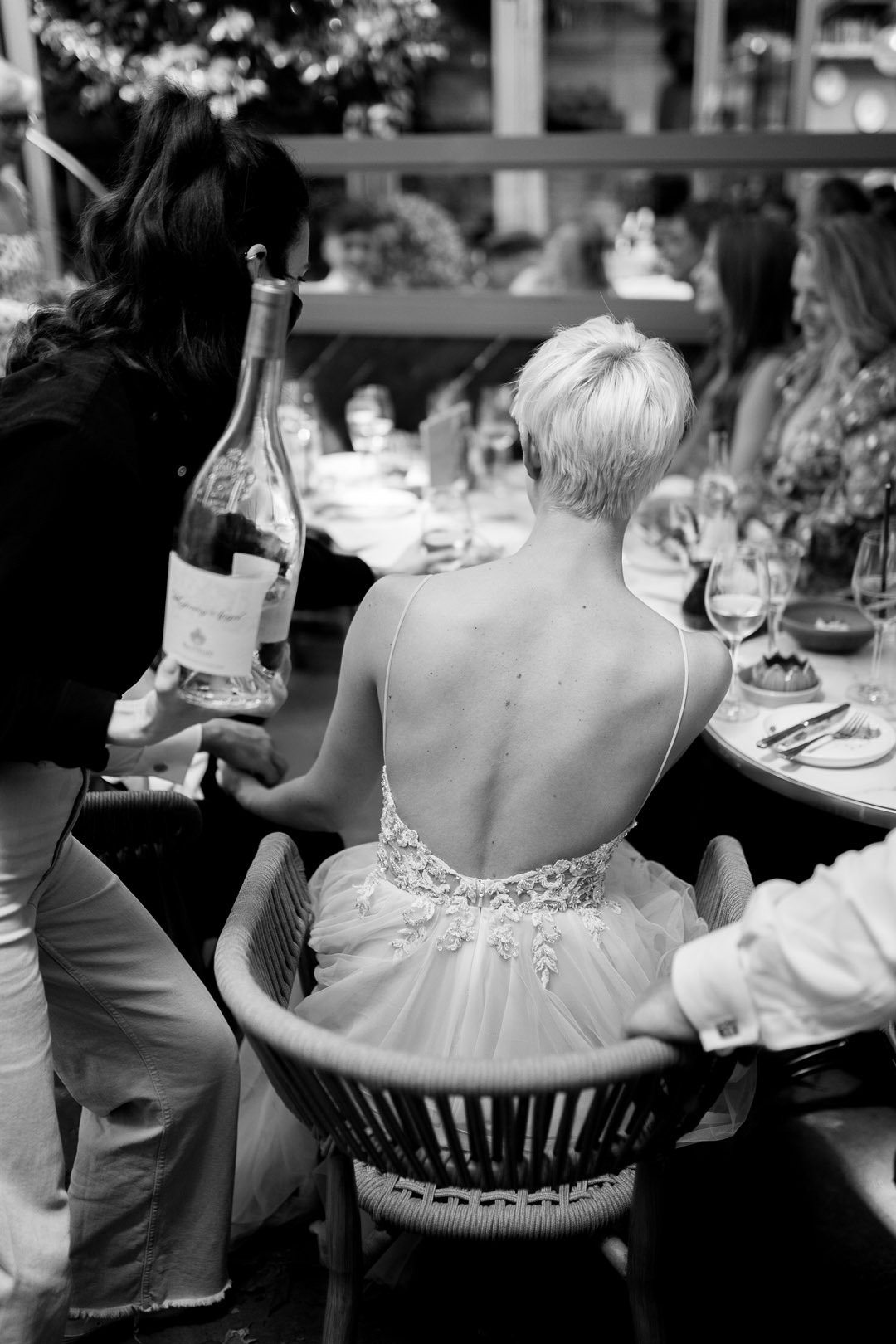 "We have all the special wedding things planned for next year's Ibiza wedding so we didn't put any effort into doing it for our London wedding."
"We were so lucky that our lunch spot was beautiful, and the sun was shining."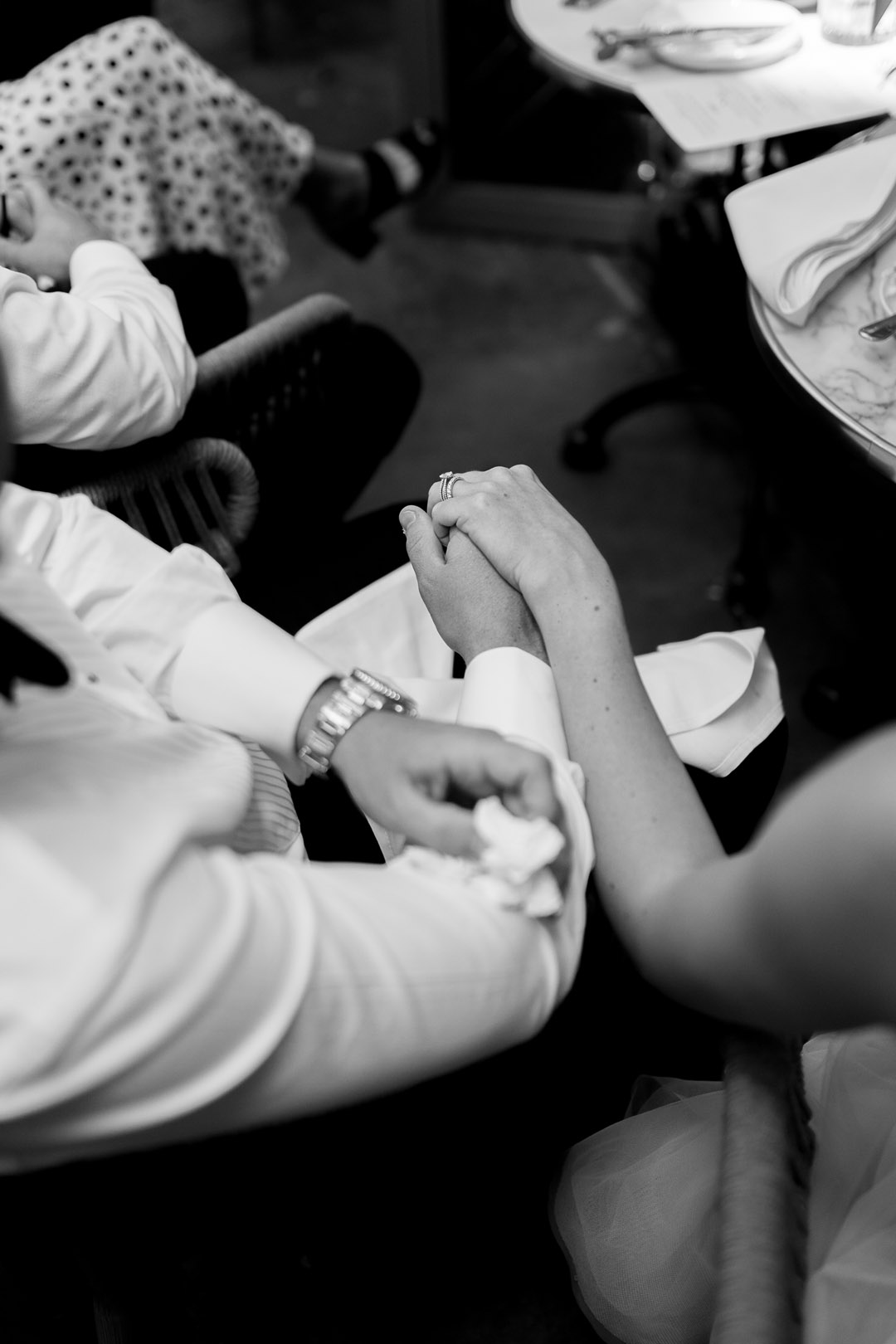 "I think the very favourite part of the day was just the level of love and happiness that was in the air – finally being able to be with all our family, being dressed up but most importantly being together. Priceless!"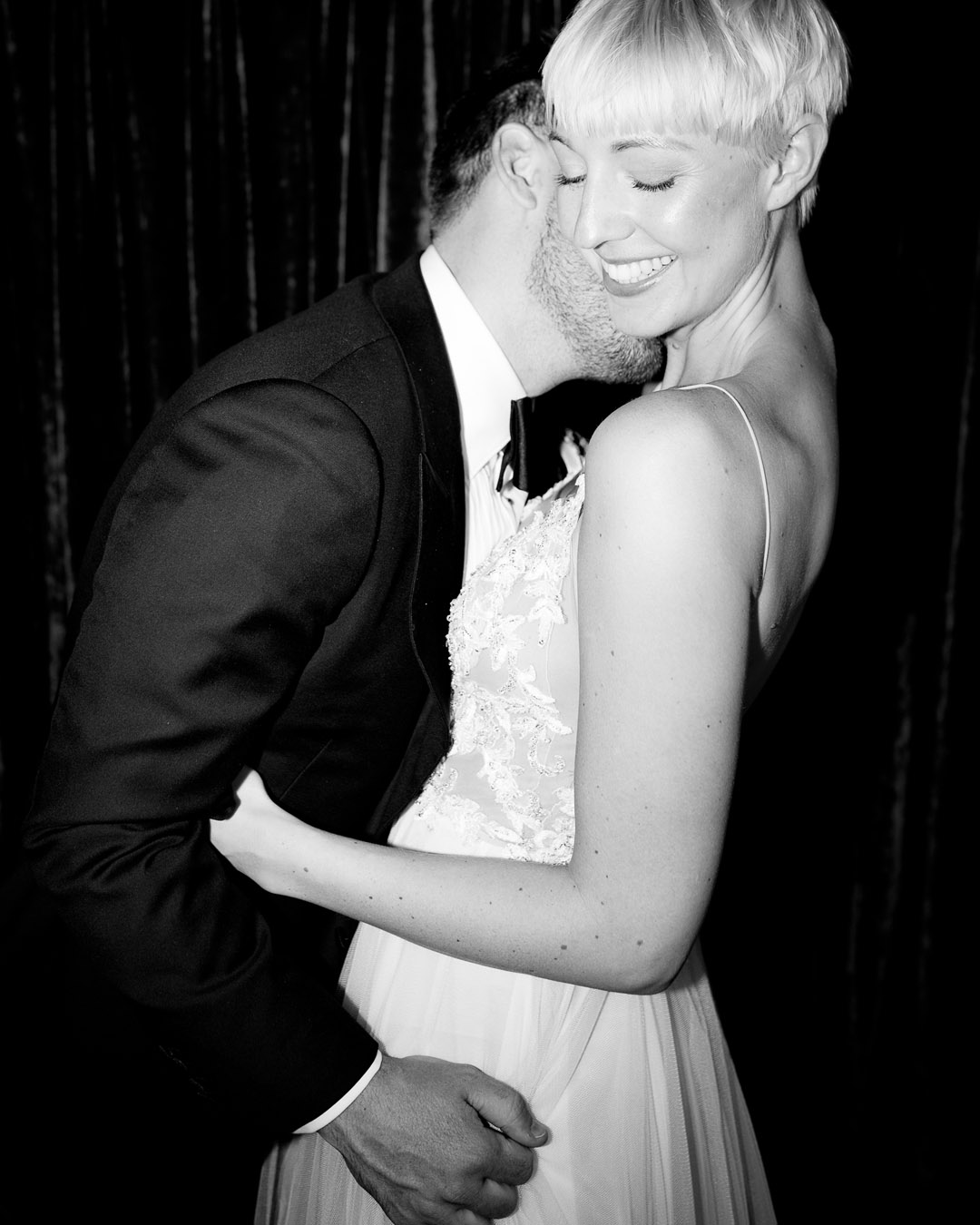 "Honestly, every single second of that day was more than we ever expected."
"We entered feeling pretty deflated that we were not doing Ibiza and I think it shocked us both how incredible it was."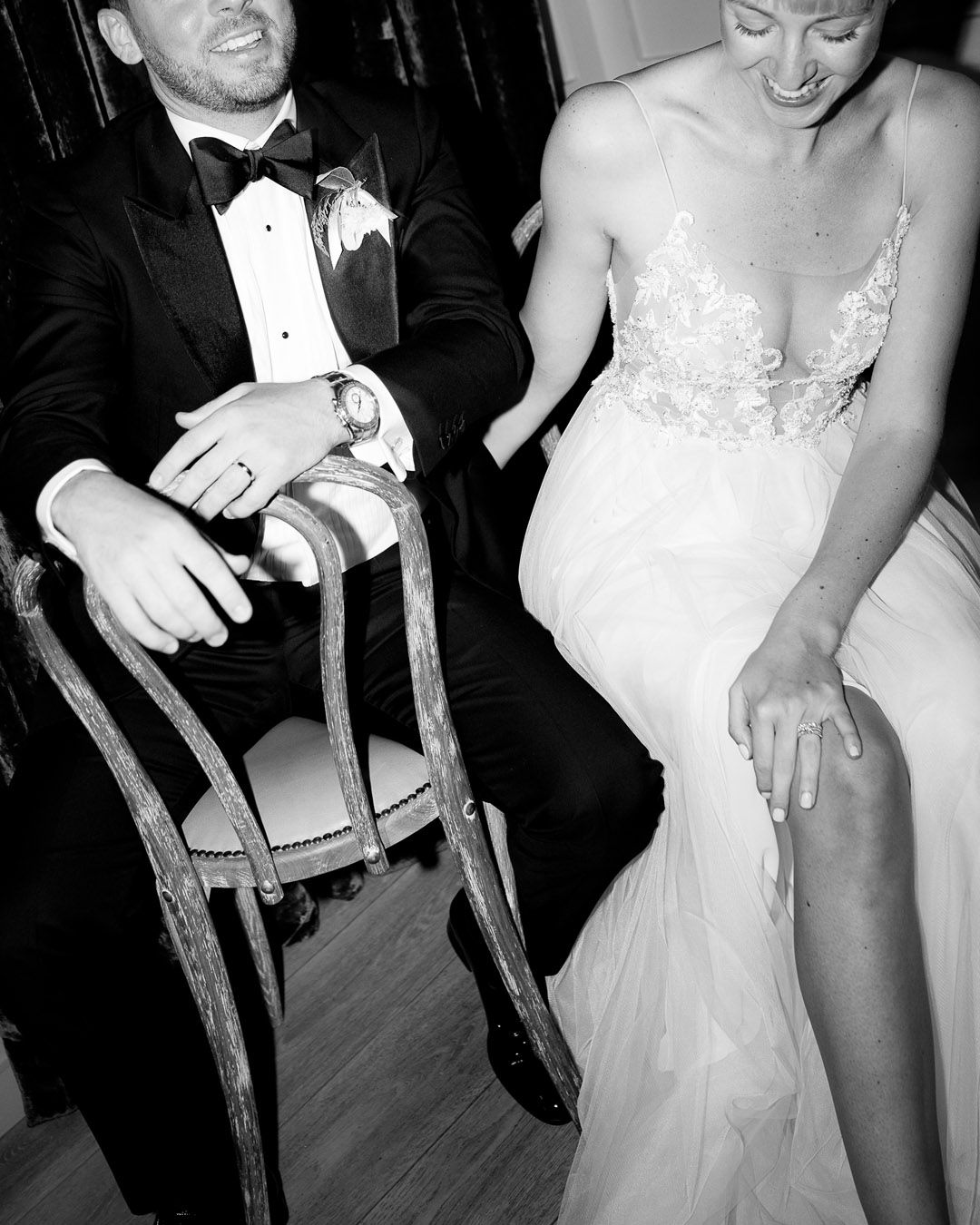 Words of Wedded Wisdom
"Enjoy every minute of the day, be present and have fun as it's over so quickly."
"The biggest piece of advice is 'what will be, will be' and no amount of stressing can control that."
"That feeling of not knowing what's happing is a horrible one. We did all the stages of being annoyed, disappointed and upset but it really doesn't change anything."
Just do what is right for YOU and it's ok to change your mind! Also it's not your partners fault, you're a team so support each other."
Stay in the know – join our mailing list.
"We would never of had an intimate wedding if it wasn't for COVID. It was really the best thing."
"It was so emotional and felt even more personal plus you could enjoy the people who are there. It also allowed us to be a bit more selfish with our time, to really enjoy each other."
"That feeling of finally being MRandMRS is like nothing else so lap every inch of it up…especially if you have had lots of failed attempts."