Lily and Jordan tied the knot on 14th July at The Fire Pit Camp in Norfolk.
This beautiful sustainable wedding with a folk festival vibe, was inspired by the 60's and 70's is full to the brim with the most thoughtfully considered DIY and upcycled detail and gorgeous warm and earthy tones.
We're more than a touch  proud that images were captured by Norfolk based wedding photographer and Love My Dress directory member, Georgia Rachael, more from whom you can see here on Love My Dress. Their wedding film below was captured by wedding industry newcomer, Lewis Parker.
Georgia Rachael Photography

+ Follow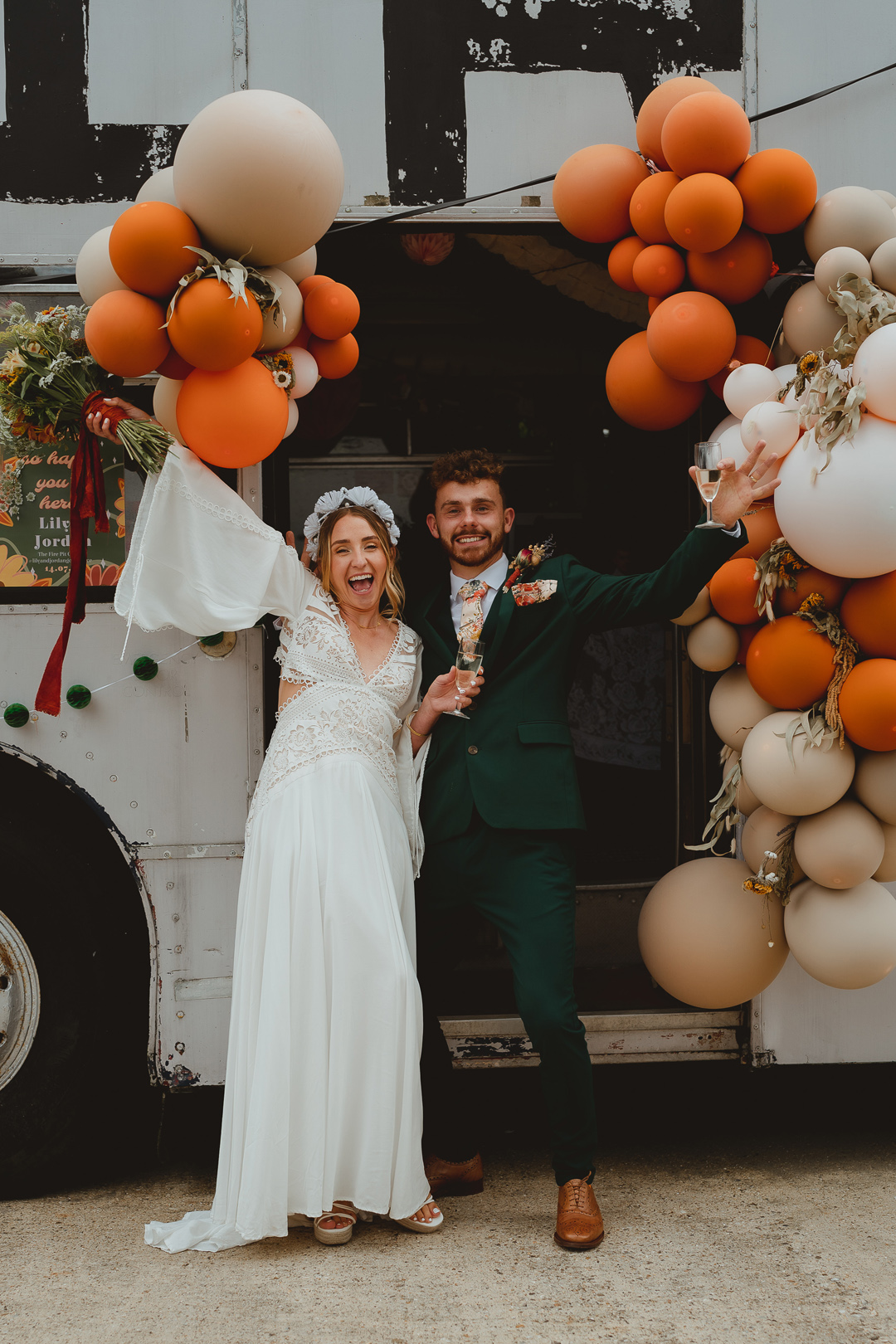 "Our photographer, Georgia Rachael, is a little dreamboat! She is a young, phenomenal person and even better photographer. She didn't miss a moment. Communication over email and in person was always easy and clear."
"Really from start to finish everything she touched was gold. Her images are vibrant yet sensual. The tones in her photos are soft, dreamy and have a timeless beauty to them. She also helped to give me advice and recommendations on so much – would recommend her over and over to all couples."
"We hired Lewis Parker Films to create our wedding video – we were his debut wedding and he absolutely smashed it."
"Our venue, The Fire Pit Camp, is primarily a glamping campsite. They provided all the Bell tents for our guests staying overnight and also the Wren's Nest-which is a traditional, bender-tent, hand woven with hazel branches. Unassuming from the outside, utterly magical inside."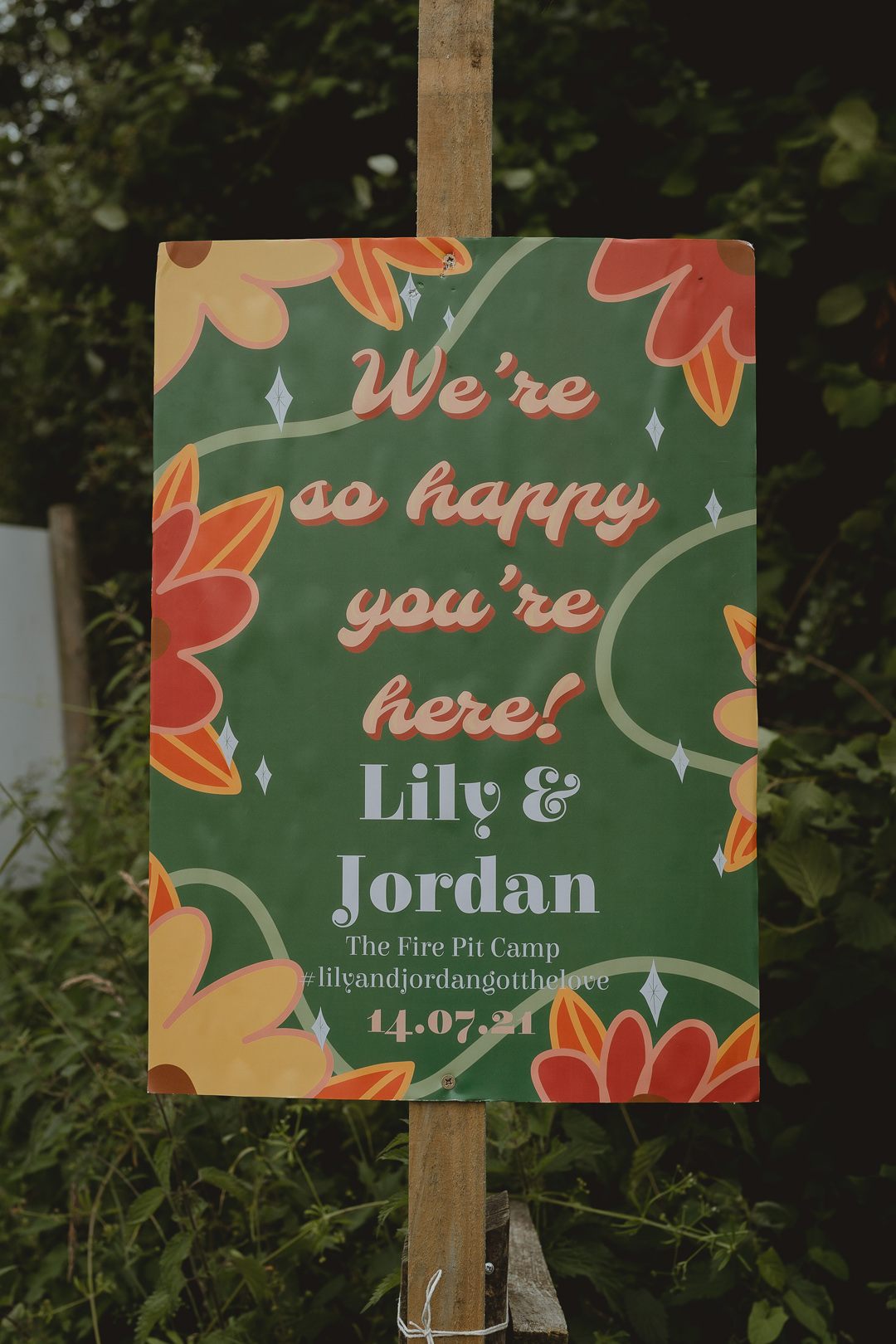 "Shop Molly Made helped out last minute to create our funky welcome boards, menu and photobooth/weeding book signage."
"The Wrens Nest was for both myself and Jordan, and the children to stay in overnight. It was also where we got ourselves ready and dressed in the morning…separately of course as we didn't want to see each other."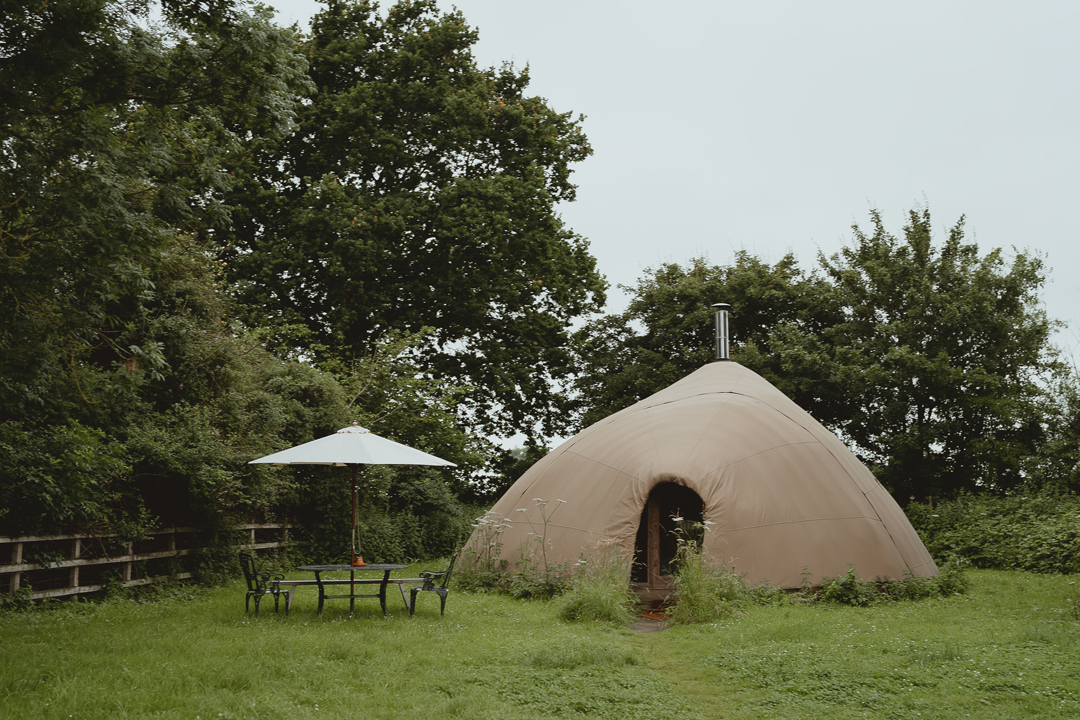 "I didn't hire a stylist or planner, however, Becky Kitchener, our florist from Love Frank Flowers, went above and beyond her role as just a florist and helped to style our wedding space. Particularly the outdoor ceremony area and the lean-to. where we had our wedding breakfast."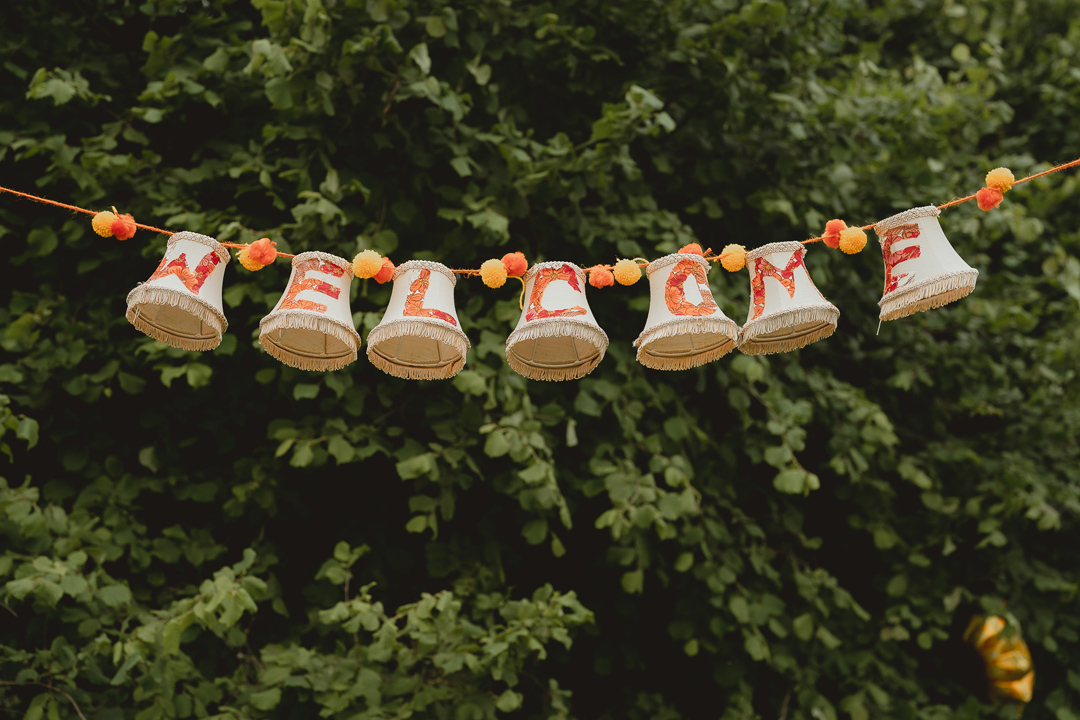 "We used some 60's floral material to cut out letters that spelt out 'WELCOME' and another one saying 'LILY & JORDAN'."
We strung them up at the entrance to our venue and also on the back seat of the old bus, a kind of nod to the nostalgic 'just married' that usually hangs behind the newly weds car with the baked bean cans dangling."
"This was just a little more us and a bit more quirky."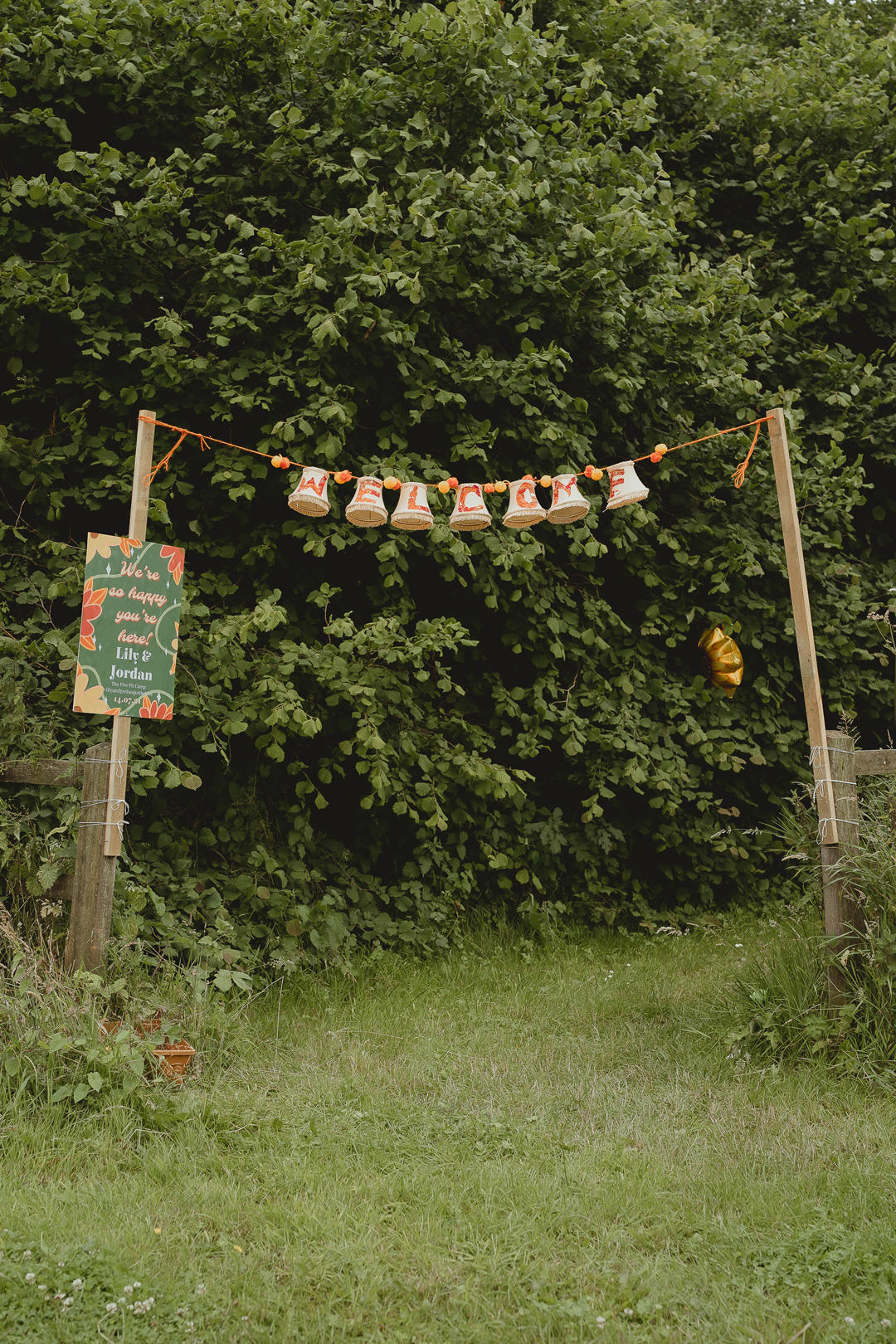 "Our venue had a vintage double decker bus on site. We adorned it with streamers and decorations, jars of flowers and upstairs created a little area for the children to play, chill, draw, colour and make masks."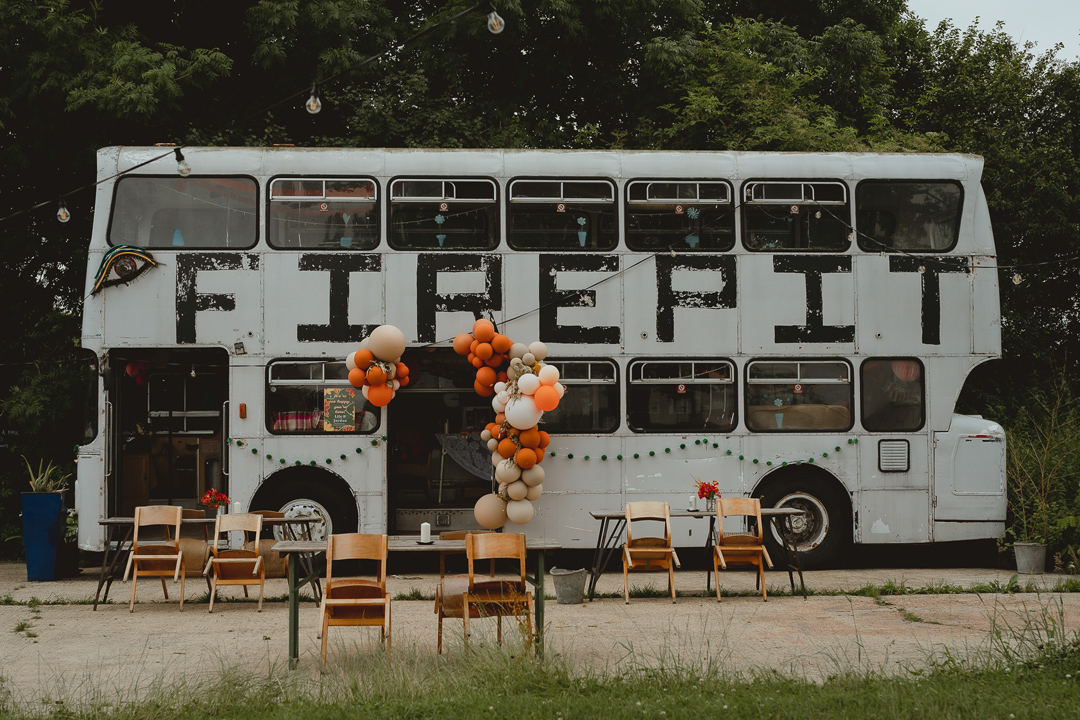 "I also purchased a bundle of vintage bus tickets for the children to role play as the bus driver/ticket inspector, and they all absolutely loved having a go behind the wheel of the old fire pit bus. We have some great photos of this."
"Downstairs we had a little polaroid camera station set up where you could stick your developed polaroid into our wedding book and leave us with a message of love!"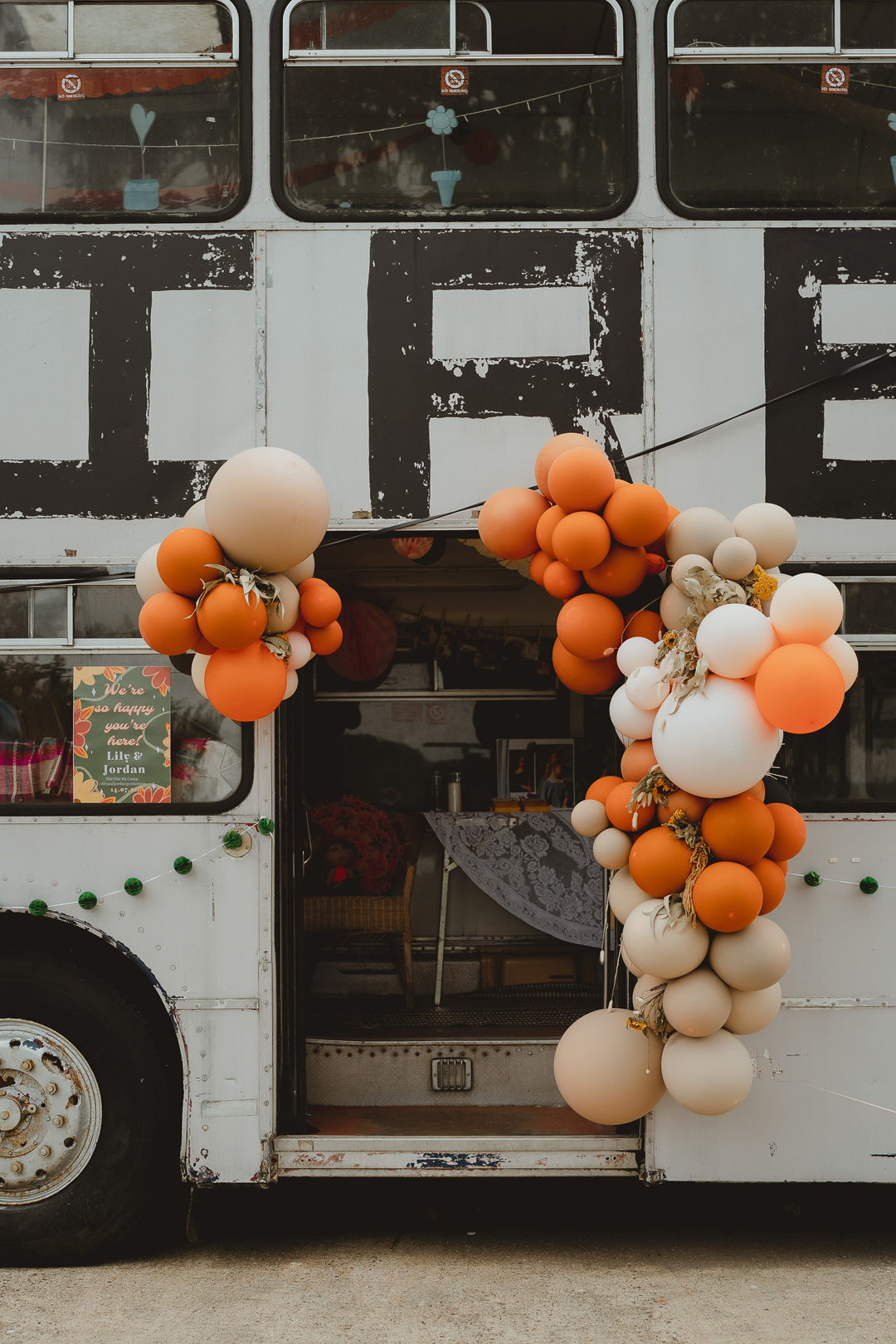 "Inspiration mainly began with our colour scheme; we went with a 70's, earthy colour palette and focused on burnt orange/rust tones mixed up with natural pampas, grasses and the beautiful backdrop of mother nature around us."
"Think fringing, braids, long wild hair, greenery and foliage mixed with neutral fabrics and retro patterns, a vintage double decker bus and a festival-vibe-festoon-lit venue, folk music and dancing."
"A crackling fire pit, accordions playing, rugs thrown down, squishy sofas to chill on, and dancing under the stars."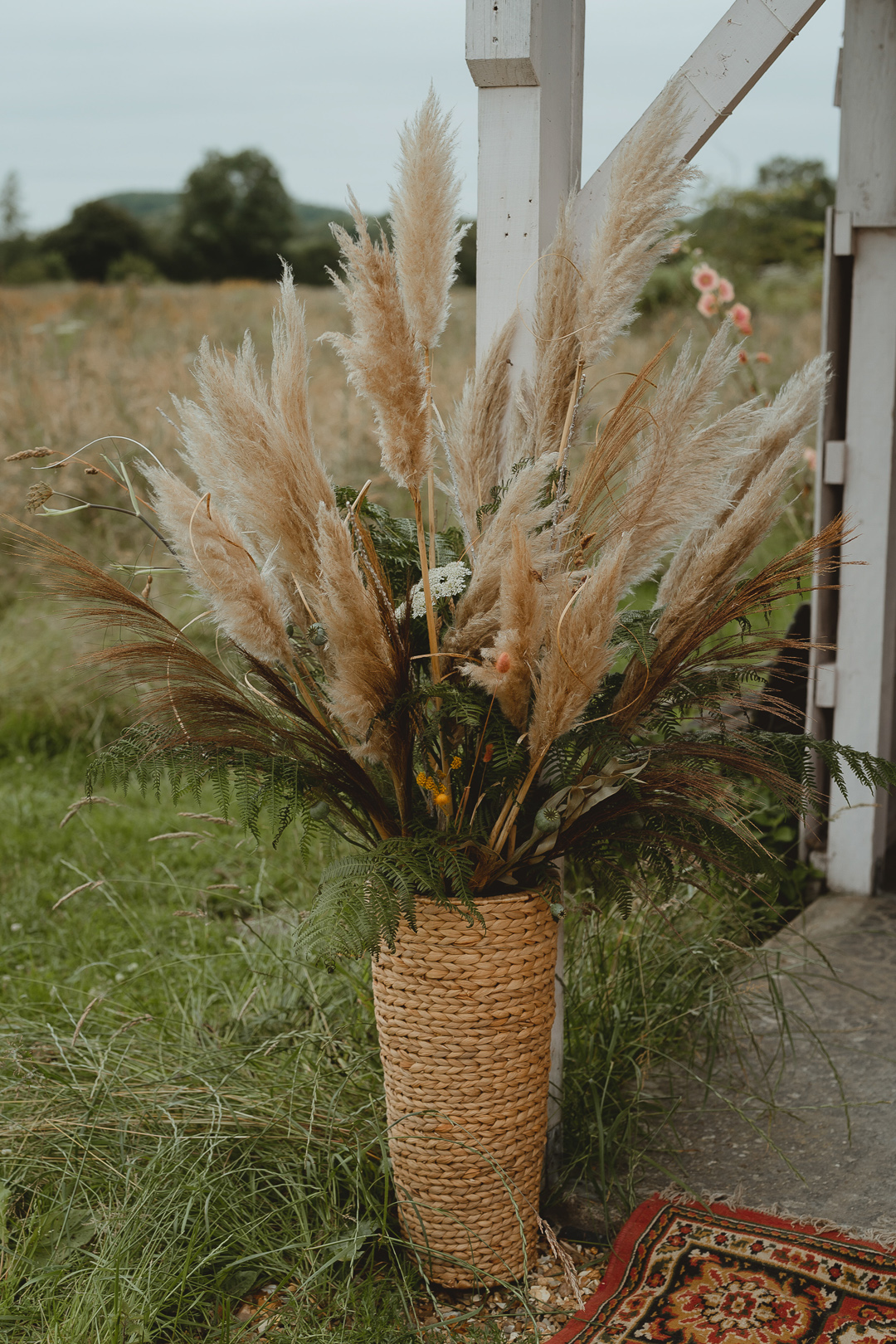 "We wanted an aesthetic that embraced the unknown and that was predominately outdoors with the warmth of the sun beaming onto our faces."
"We wanted to have a natural, more casual style of wedding where nothing really had to match, but the overall feel and colour palette of our day would be noticed in the smaller details. We wanted a day that could be enjoyed by all generations."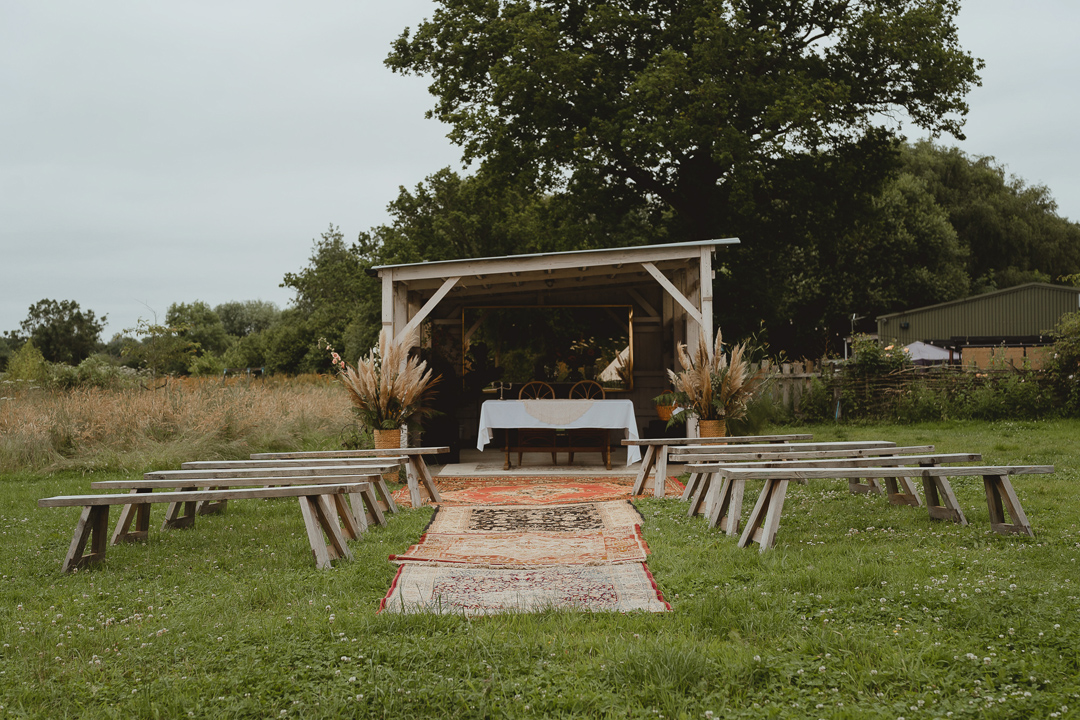 "We really tried to create lots of the details and decorations ourselves, and totally embraced using pre-loved, pre-worn garments and décor."
"This was a massive part of our ethos, impacting as little as possible on the planet, and keeping costs low."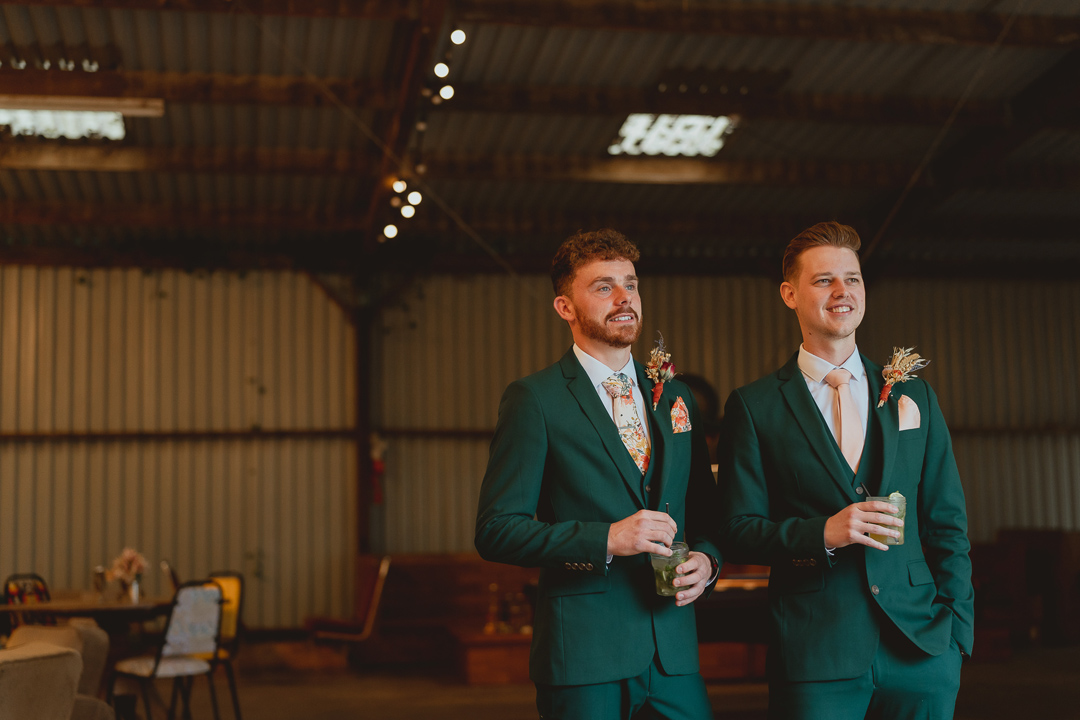 "Mia Sylvia is a ethical, artisanal textile artist who lives and breathes eco-awareness and sustainability."
"She forages for all her own natural pigments and then works with your chosen colour palette and the specific florals and foliage in your scheme to mirror this in your textile fabrics."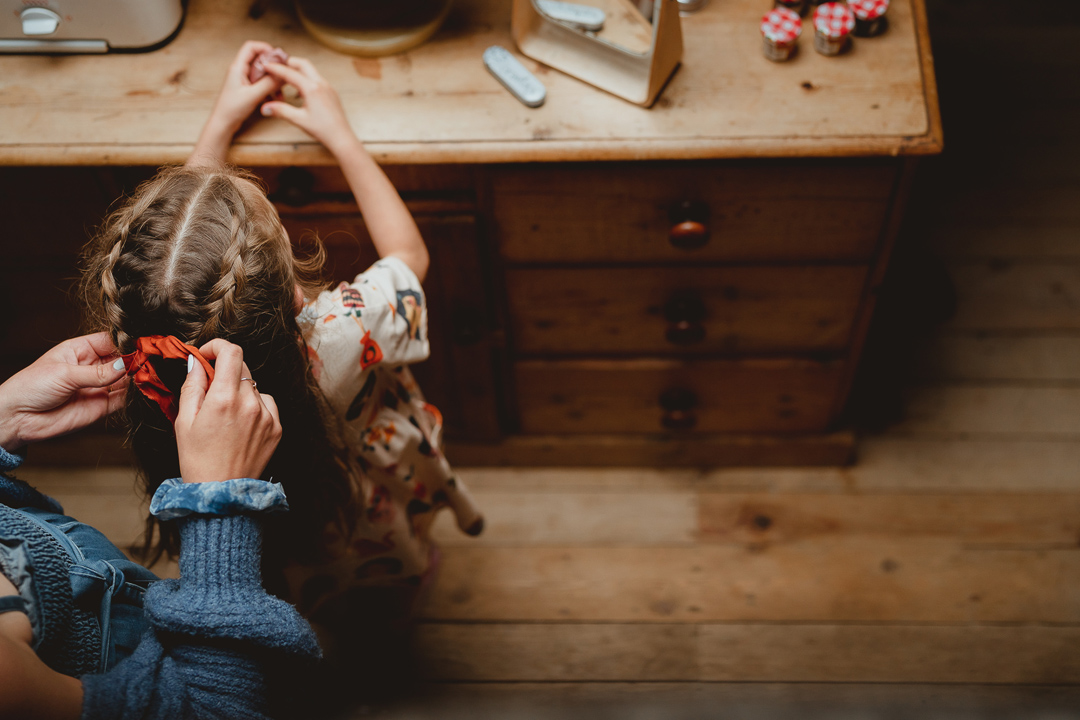 "We ordered napkins in a rust fire brick colour to place on each table setting, and also ribbons in the same colour for my bouquet."
We had mini ribbons made for each buttonhole. Florence, our daughter also had a ribbon tied into her braided hair. All these little details were so special and I really am so happy we had this little theme of fabric colour running throughout our day."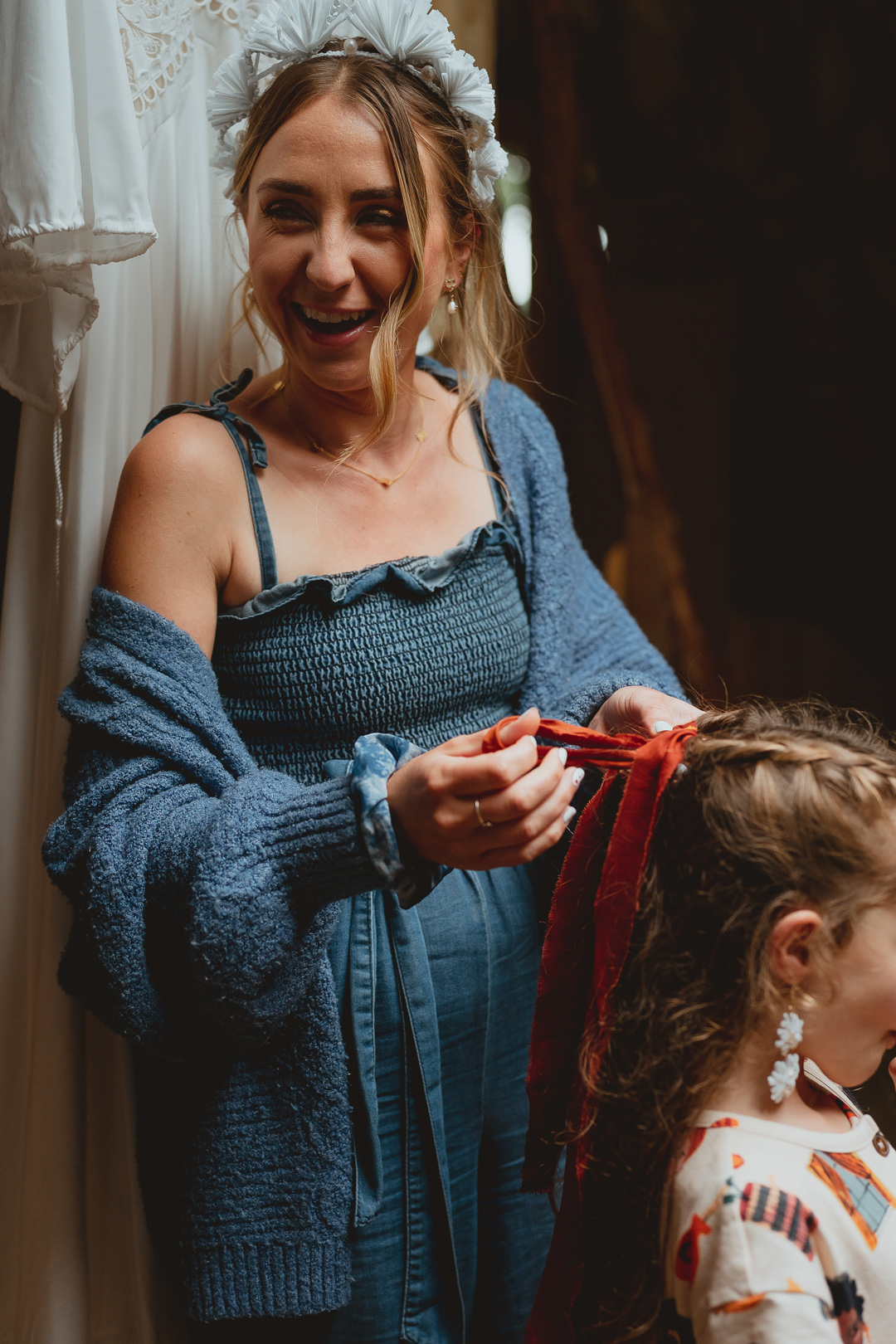 "All of Maya's textiles can be hired, so this saved on cost and means the fabric are regenerated, which was a great option for us with our environmentally conscious mindset."
"Definitely check this girl out as she can provide ethical styling services and fabric installations too!"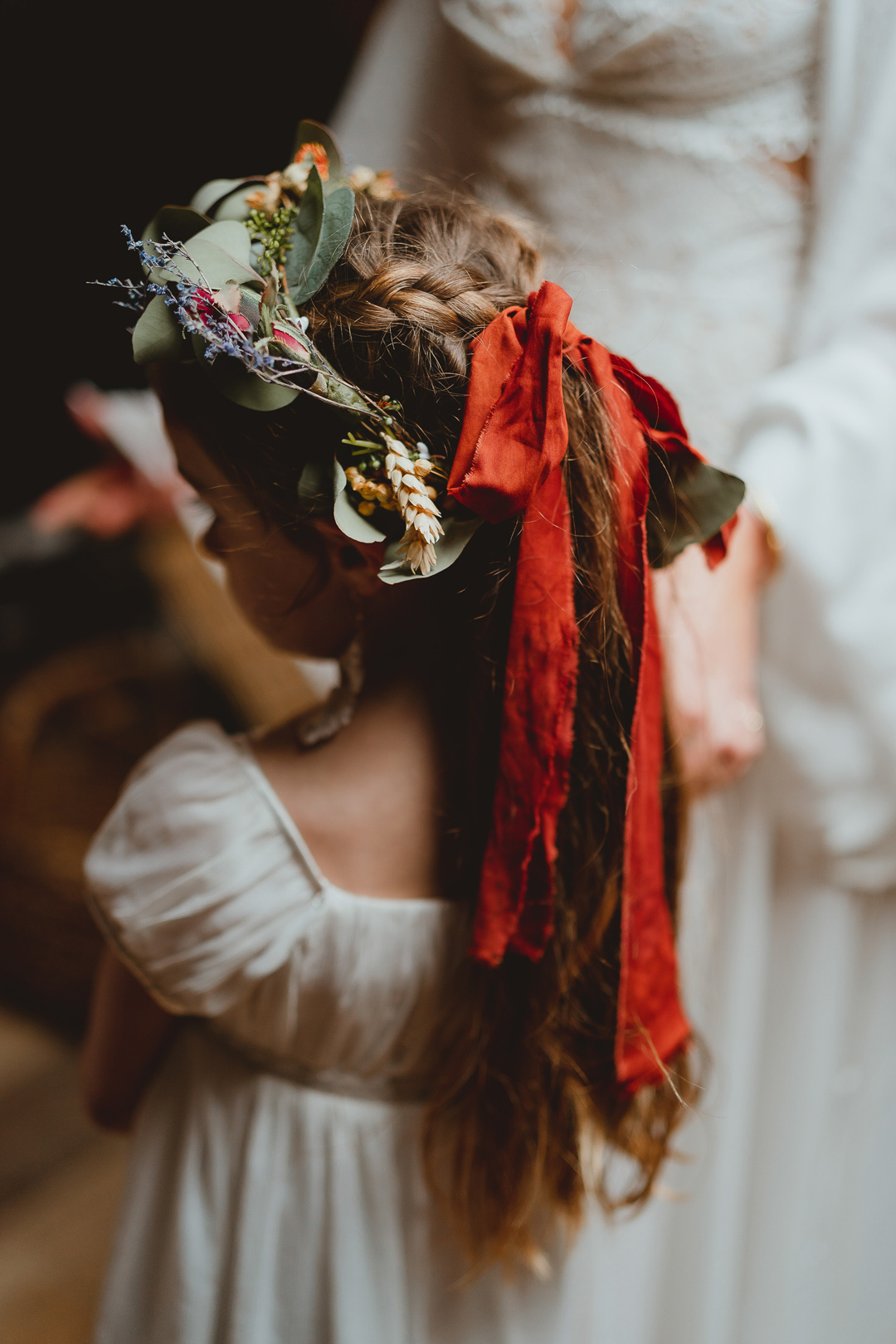 "Becky from Love Frank Flowers was such a perfect person and florist to work with. If you are wanting to have flowers that are organically home grown, 100% British, that work with what nature and the seasons can provide, then she's your girl."
"Becky uses absolutely no pesticides in her work, and all her confetti is hand dried petals picked from her garden. She is expert in working with dried flowers, and creates romantic pieces that have a very laid-back, organic feel to them."
"We met several times and got to know one another over a couple of coffee dates-she actually became a really lovely friend-and we bonded not just over flowers-but in so many other aspects of our thoughts and ethos on life."
"She provided me with lots of calming prep talks and solutions to any problems that came up over the planning and styling of our day. I told her I wanted earthy colours, lots of textures, foliage, some golden sunflowers, pampas grasses, and for my bouquet to basically look like I had picked them myself from a wild field of flowers."
"She got the vibe and vision instantly, and created the most amazing displays and arrangements. I had one large bouquet for myself, the children both had a bespoke flower crown, and we had six buttonholes made."
Lily wore the Presley gown by Rue De Seine, which she discovered at the White Reflections Bridal in Norwich.
"Holly and Carol of White Reflections Bridal in Norwich are a mother and daughter team. They are a perfect combo, and let me try on a huge amount of gowns."
"They are just so super funky and down to earth. Laughing hard and making your visit feel so relaxed and fun, that you can't help but feel like you want to buy a dress from them because they are such a lovely, local small business full of girl power."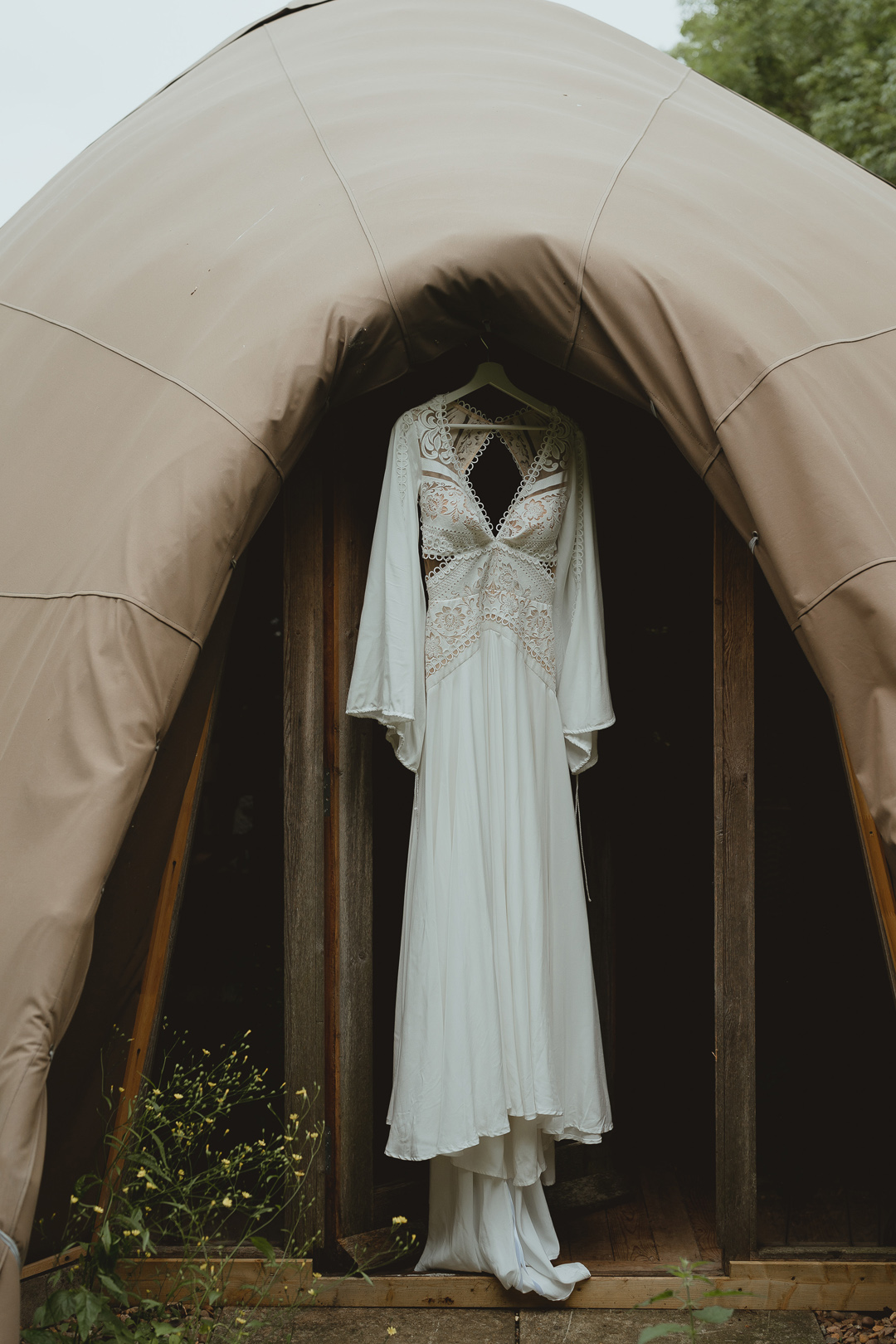 "If you are wanting something a bit different, something that is full of flowing silhouettes, bohemian inspired style with embroideries and lace that just shouts modern bride then this is the place to go."
"It felt like they were always offering their honest opinions too. We were on the same page and all agreed when a dress wasn't right on me."
"They helped to whittle it down until I found the one, my Rue De Seine 'Presley' gown."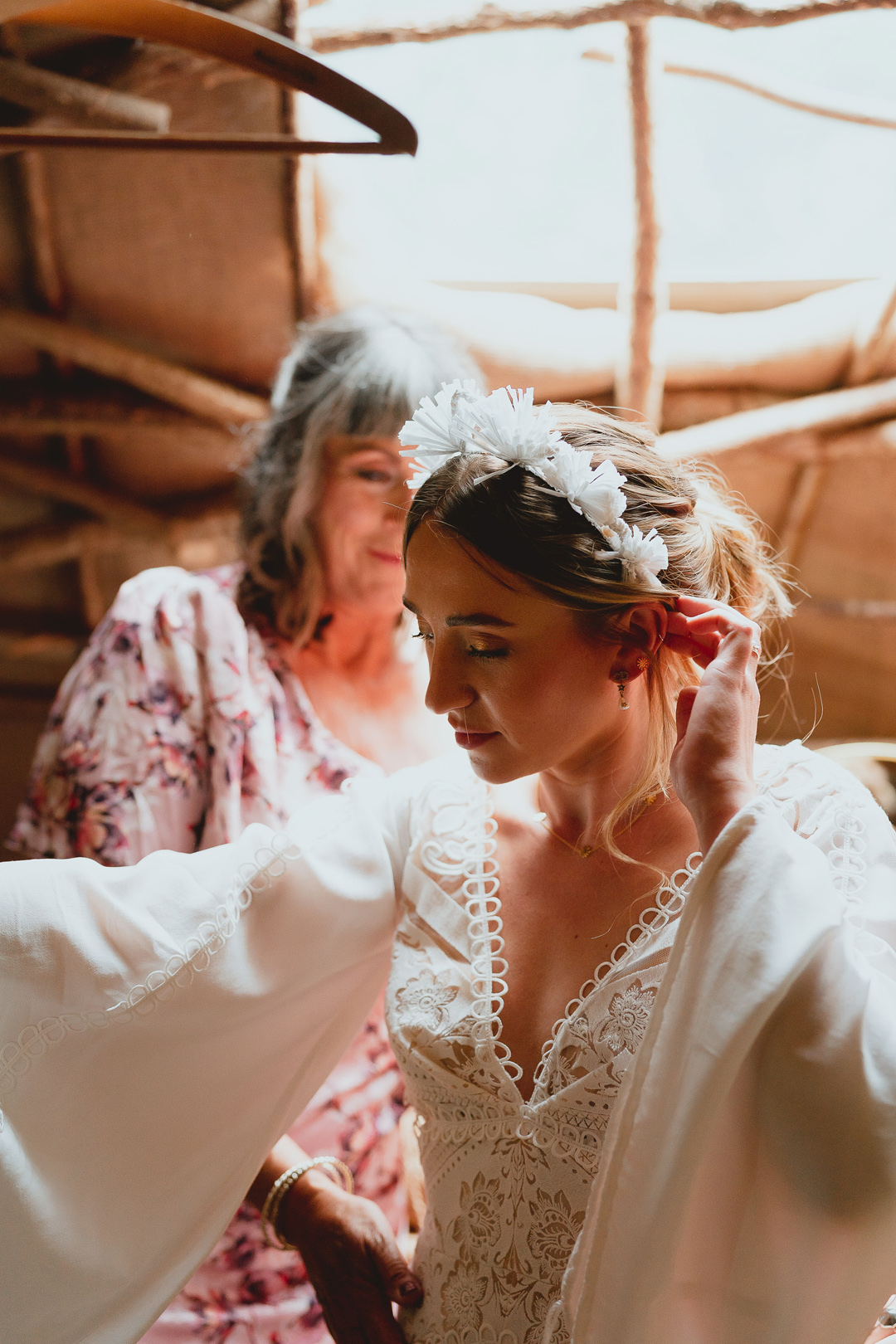 "I have a large bum and hips, and the designer Rue De Seine feels like it is really designed to work with a women's figure."
"The materials are luxurious, the lace is so unusual and gorgeous and the exposed back embraces the curves and sensual parts of your body."
"I just could not wait to float about in my dreamy dress and feel the way I did wearing her when I married Jordan."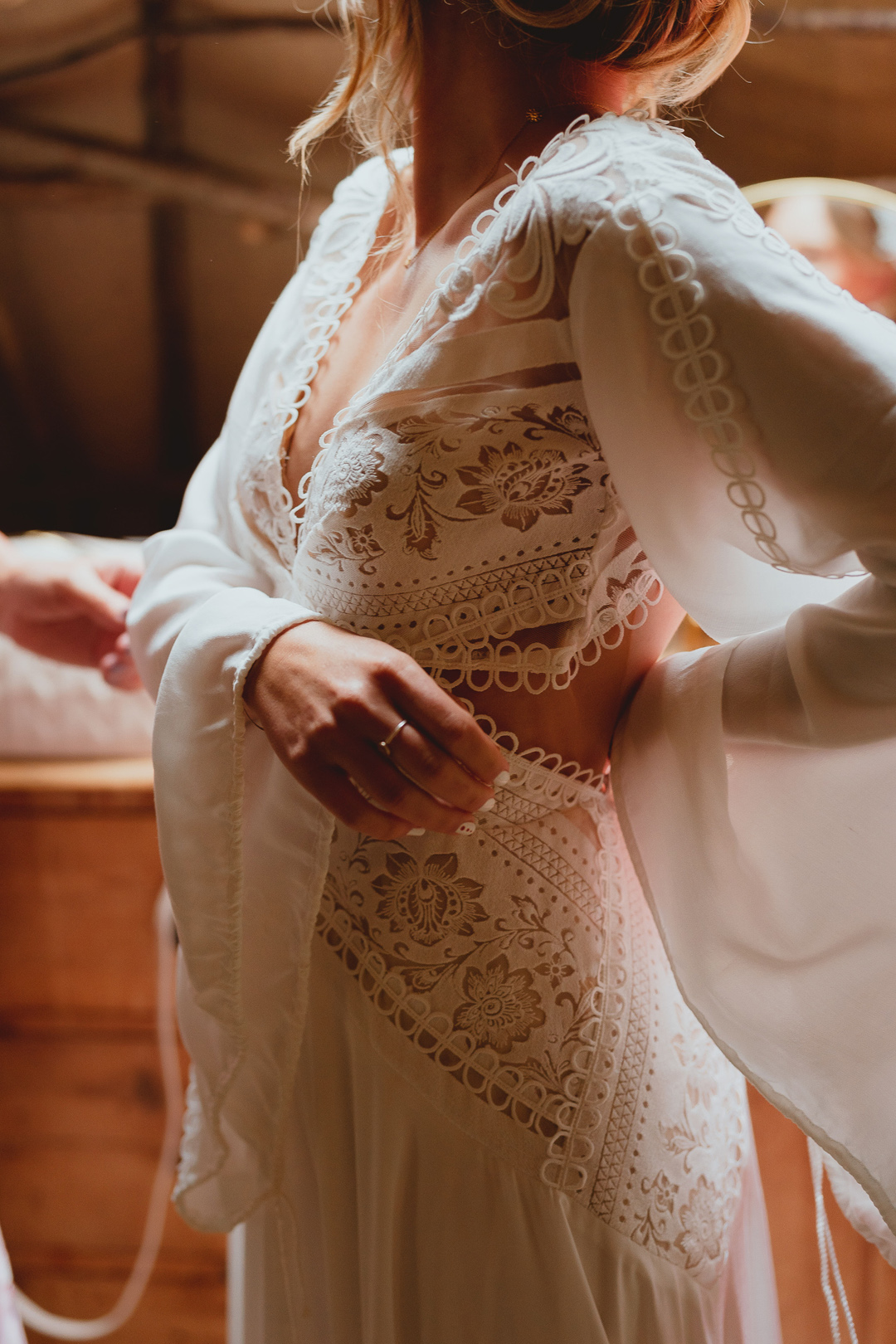 "I wanted a dress that was unusual. My Presley dress was just that-and so luxurious against my body and skin-I floated about all day in her. The material was so light and cooling to wear."
"I can remember going to some dress fittings in March, and feeling so hot and bothered in them that I knew I would never last all day in July wearing them. I really wanted a dress I could move freely in, that I could bend in and pick up my children and dance with them easily in."
"I felt like this elegant little white swan with these big, billowing sleeves that skimmed my arms."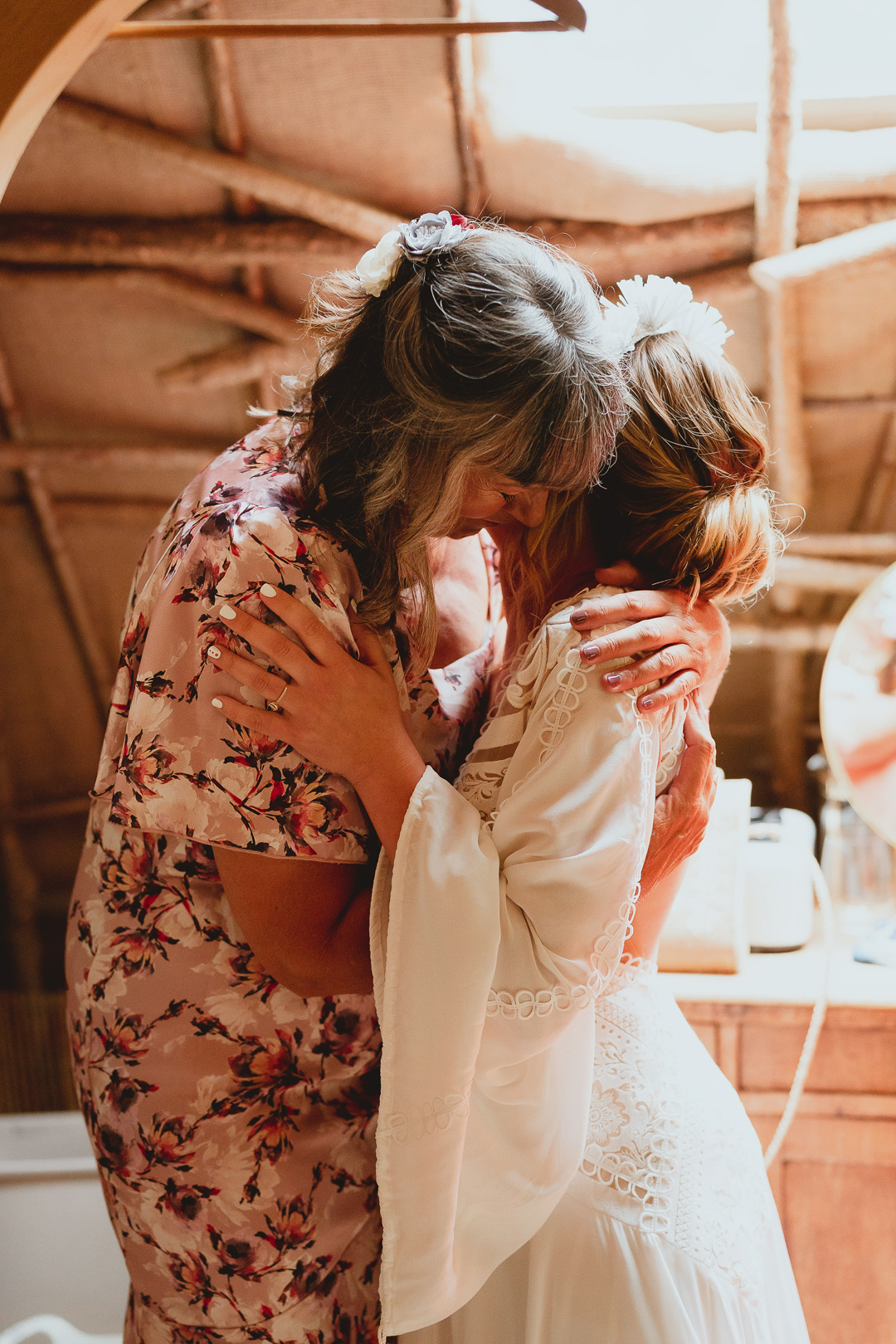 "Initially, I didn't want a train, but I picked the one dress in the shop with the biggest full skirt and train they had."
"Now, looking at the pictures, I'm so glad I did. It's the one day where you can be dramatic and a little bit extra-so why not have that decadent train that you can throw up in the air behind you for an amazing photo and let it flow behind you like creamy waves as you walk the aisle?!"
"I had a little loop attached to it so I could hold it up around my wrist too. The contrast of my dress with its silky, pure, floaty material against the wild meadows at our venue-made for great photos."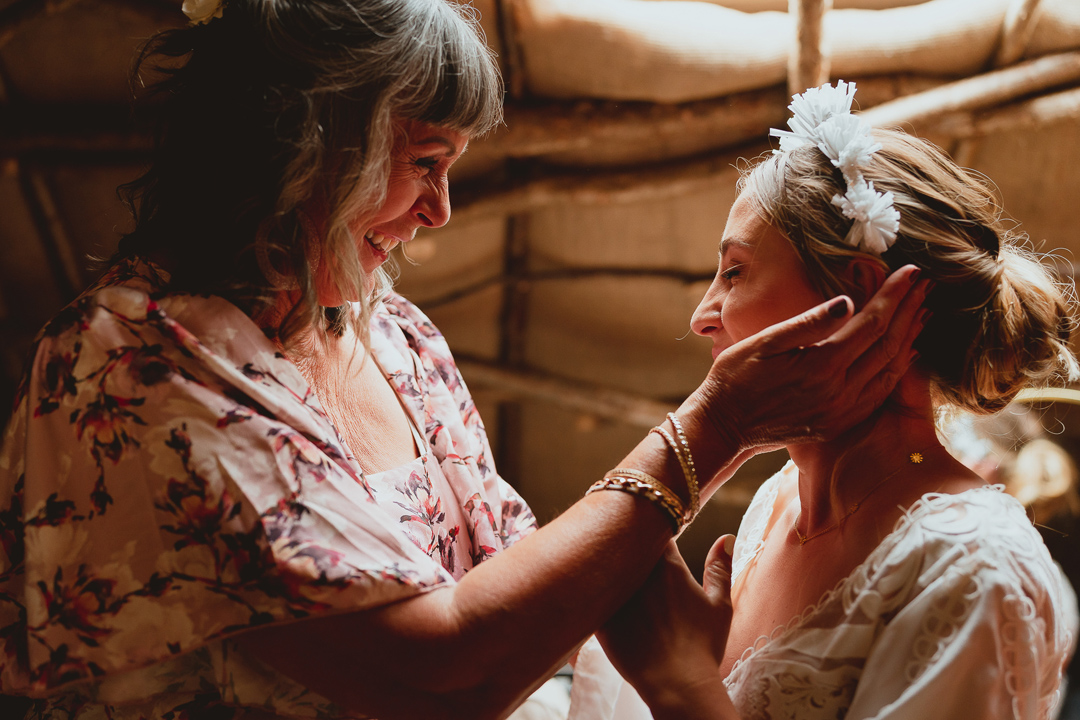 "I decided against a veil. I think because my dress had such big, flowing sleeves and train, and with my hair piece too – a veil would have been too much for my frame and hidden the back of the dress."
"I felt like I had chosen a dress that was so floaty anyway, that I didn't need to add a further floaty piece in my hair."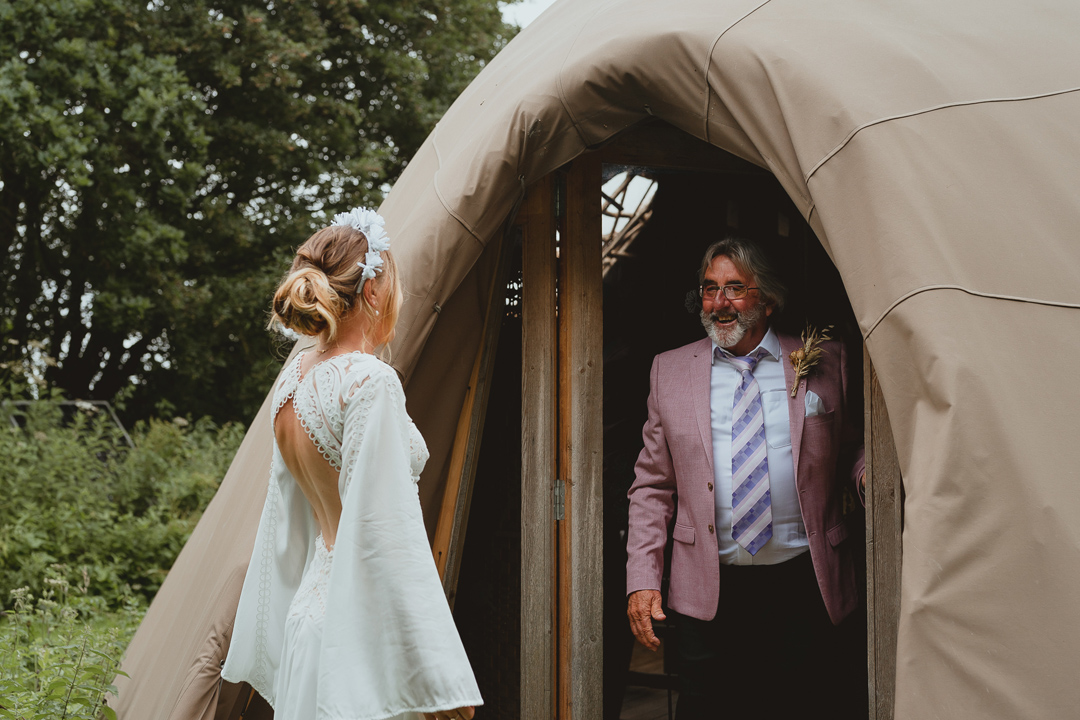 "I went for a white platform from H&M.  They were in the sale too."
They had a bit of height to them, but were so super comfy with a natural woven-raffia type material on the platform-they were the perfect."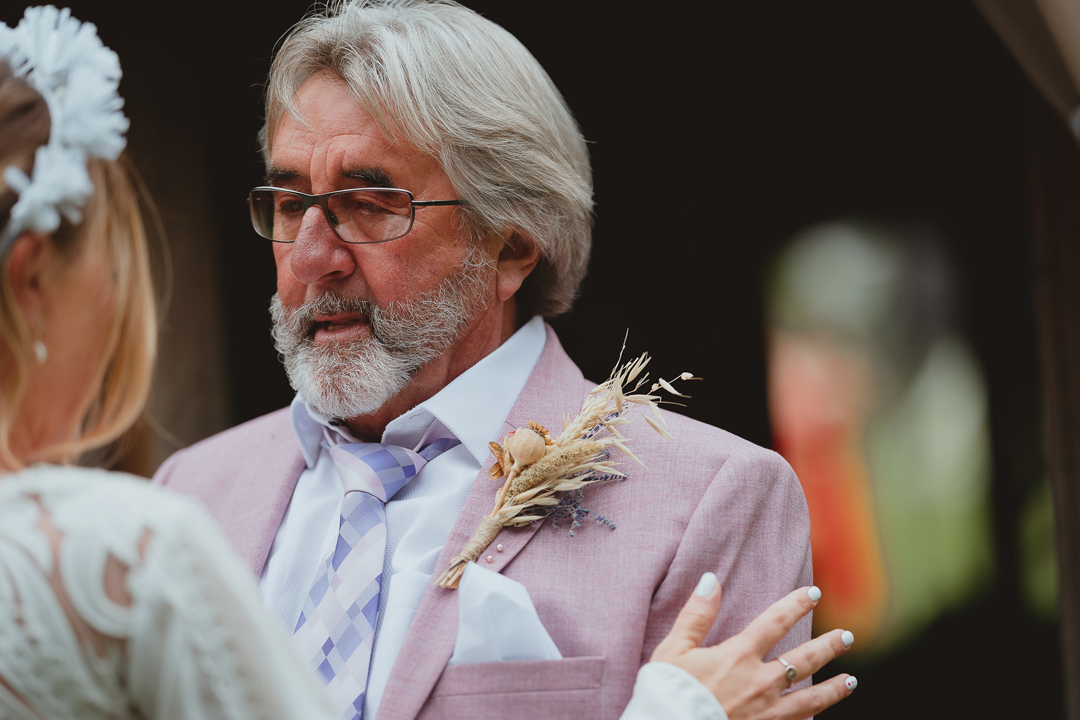 "Our story is quite a hopelessly romantic one really; it began in 2013 when Jordan sold a laptop to a sweet little old lady-who just so happened to be my Nannie Pam."
"Jordan's young charm, and honest nature convinced her to purchase this new laptop with him."
"It turns out she actually went to several computer shops before eventually choosing Jordan, but because he offered to help turn her a techno savvy gran and gave her the confidence in using this new technology, she went with him."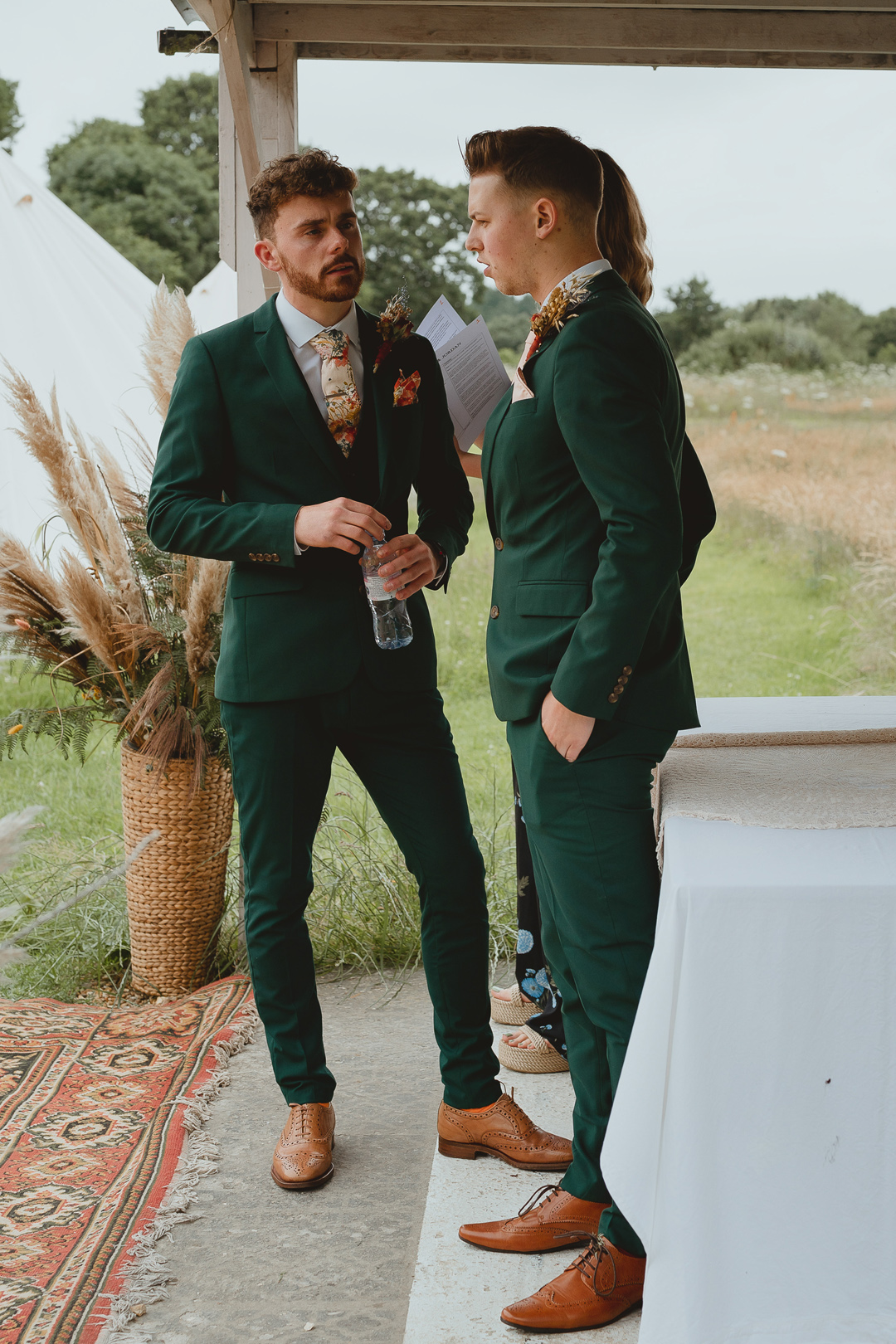 "Laptop purchased, Jordan then scheduled an install to help her get all set up at her little bungalow. To our luck, and some would say fate, I happened to be round Nannie's for lunch that day."
"What Jordan thought was going to be a quick, easy install turned out to be something so much more than that. Something that grew quickly into our love story. We owe everything before us now to my Nannie Pam."
"Seven years, and two beautiful babies later, Jordan asked me to marry him on Christmas eve 2020. With our children tucked up in bed, and their sacks and stockings left awaiting for Santa to fill them that night, we left them with my mum and Nannie Pam, so we could slip away for a little meal out at our local restaurant."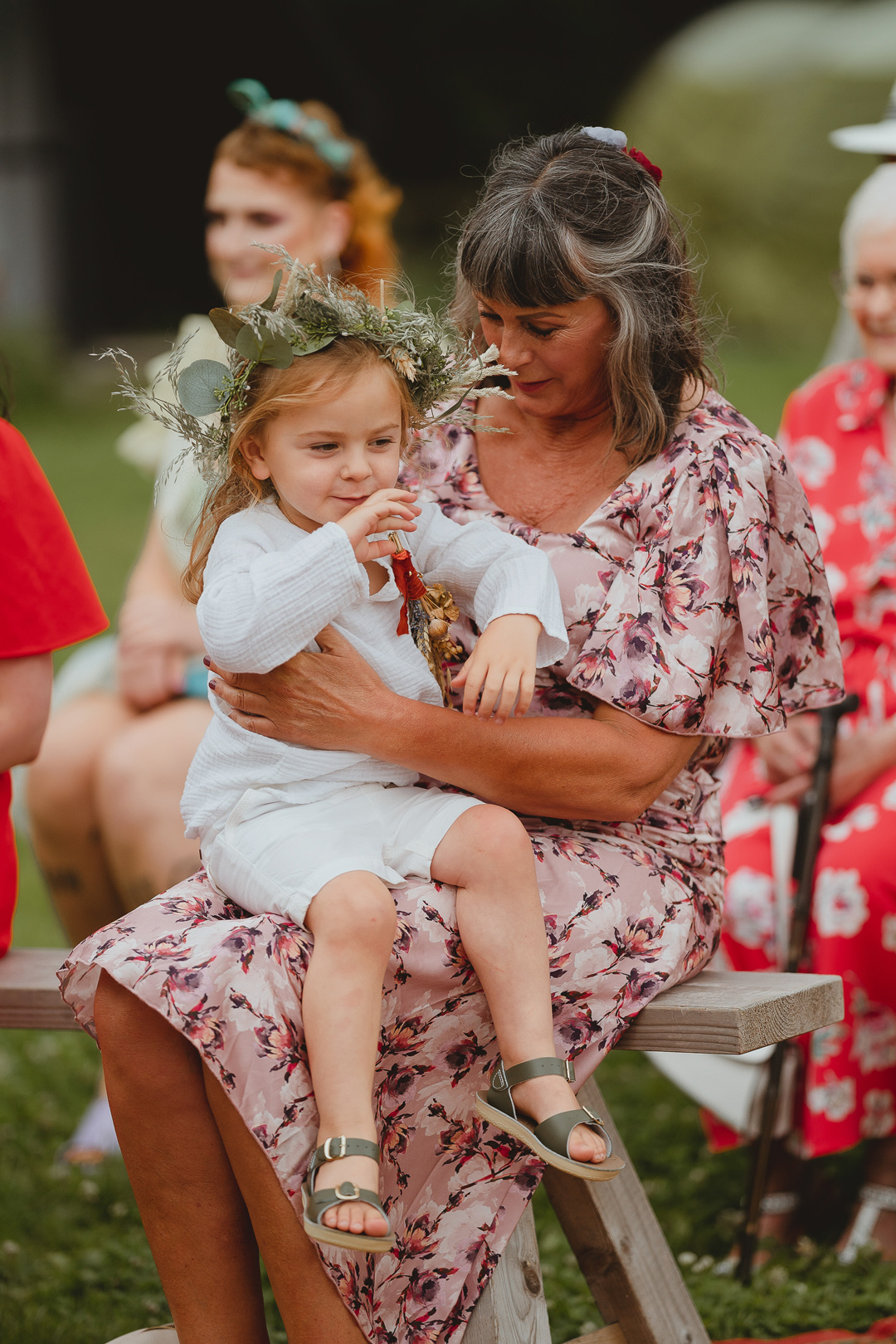 "We had some gorgeous tapas and cocktails, feeling all the feels, anticipation and the butterflies that Christmas eve always brings."
"Candles were lit, and Jordan popped out to his car and returned with the biggest bouquet of dried flowers I have ever seen. Literally so huge and heavy! I loved them."
"Then this little wooden box appeared on the table, I looked up into his eyes and just said YES before he even asked."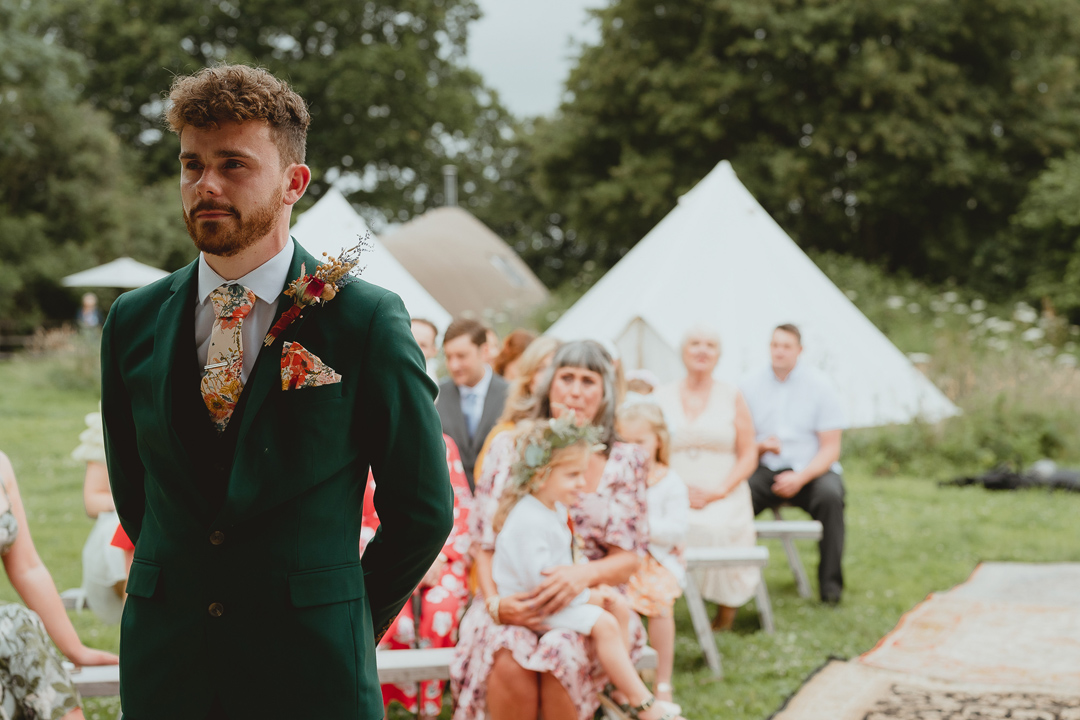 Christmas felt so special last year because of our engagement. Watching our little boy and girl enjoying the magic of that special time of year, knowing that we were going to be riding this wave of love forever with them too."
"We married seven months later, so it was a very short engagement."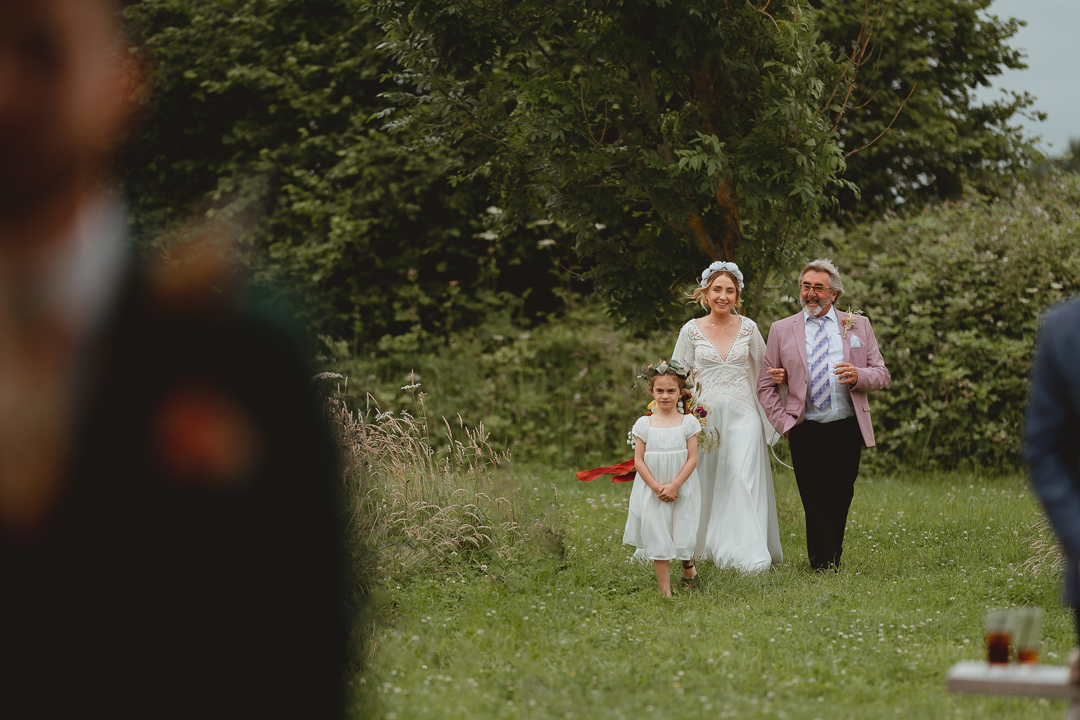 "My Papa (accompanied me to the ceremony), of course. It had to be my dad. Not much of our wedding was traditional, but I knew I did want my dad 'walking me down the aisle'. Flo, our little girl, also walked just ahead of us, little darling."
"We were accompanied by a cover version of Elvis Presley's 'Can't help falling in love', by the not too well known musician, Lady Lamb."
"We heard it one day and both knew it was the song to walk down the aisle to."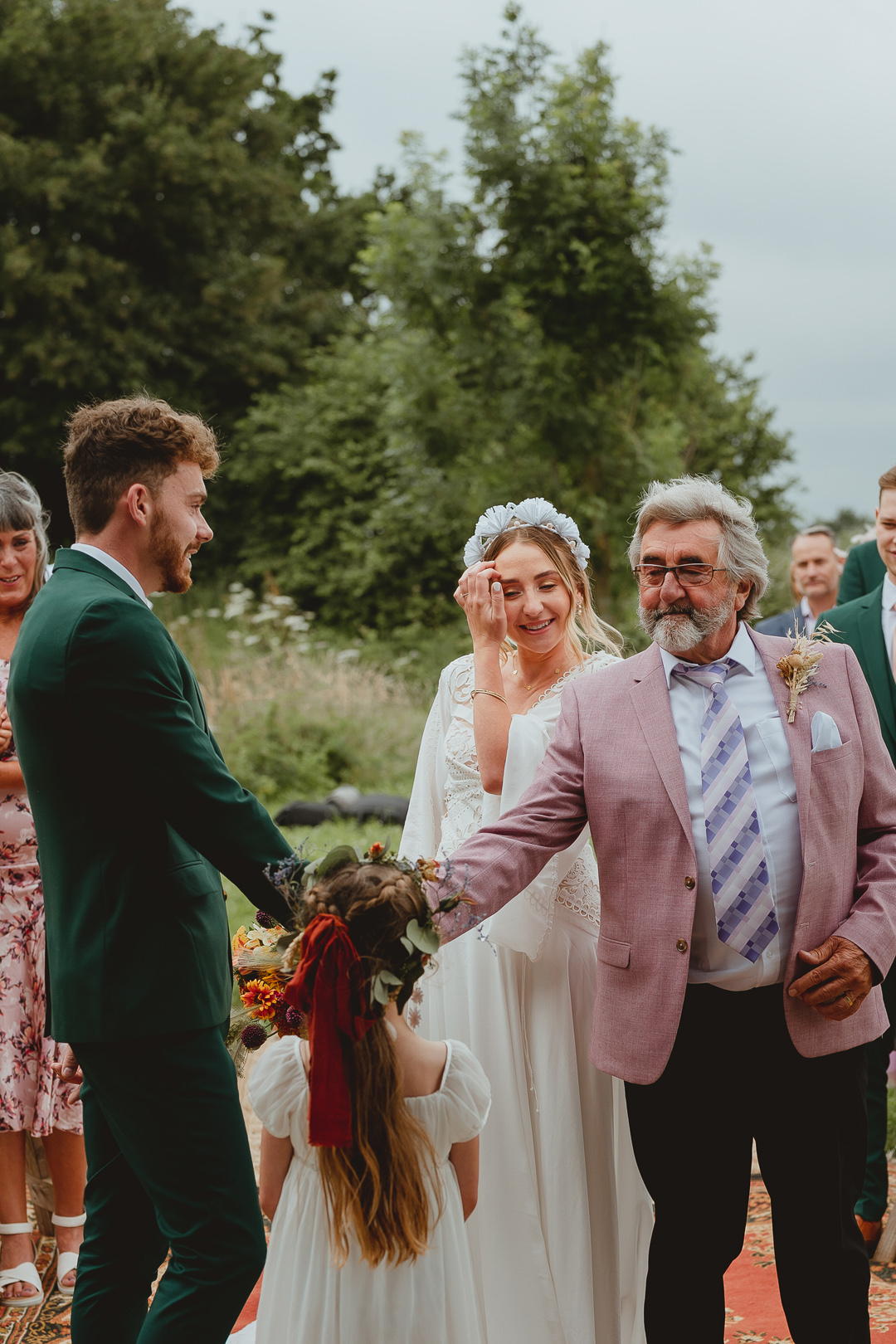 "I've always loved Elvis Presley songs, and the lyrics to this one are particularly beautiful. When they are sung my Lady Lamb, who has such a raspy, raw tone to her voice it was really moving.
"Our celebrant was actually my oldest and dearest friend Charlotte McGuiness."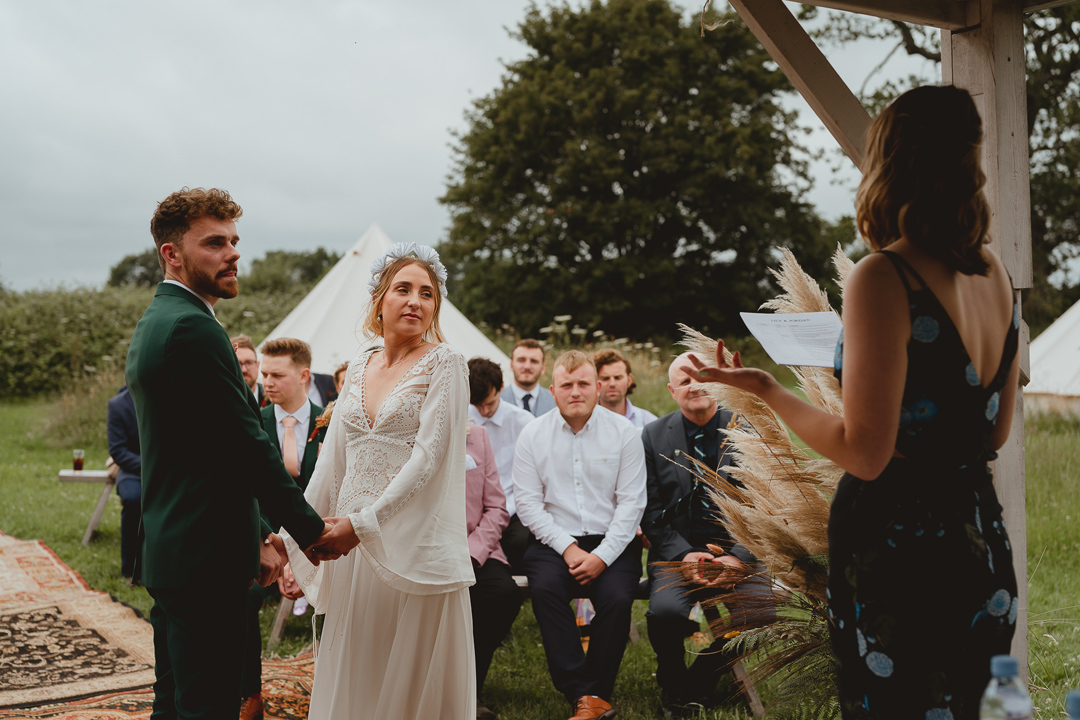 "She is a classically trained actress, and delivered our ceremony with a personal beauty that no one else could have achieved."
"She was close enough of a friend to have emotion, but didn't get too caught up in those emotions to be in sheds of tears as the rest of our wedding guests dabbed at their eyes."
"We officially (and legally) tied the knot on the weekend after our wedding day, at our local registry office. Which really didn't bother us – it was actually lovely to wear all our dresses and suits again."
"My bouquet even survived and we had another mini day with just our immediate family, celebrating with a cute little al fresco meal at our favourite pub afterwards."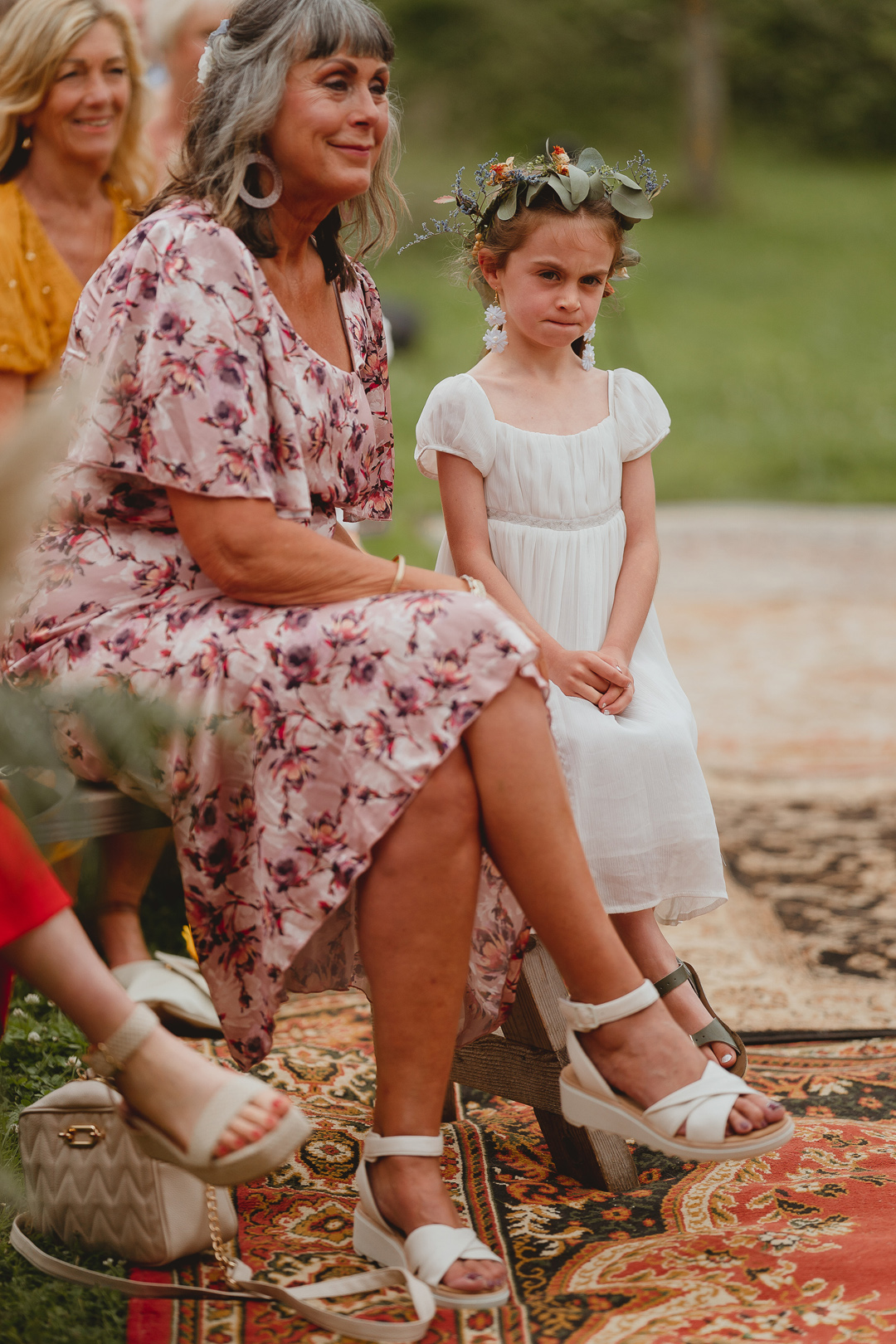 Readings included 'The Velveteen Rabbit', by Margery Williams and Phillip Pullman's 'The Amber Spyglass'.
Explore many beautiful wedding readings here on Love My Dress
"Our vows were totally and utterly written from our hearts, and included lots of nods to mother nature and the things that we felt were important for our life together as husband and wife."
"We included our children in our vows, and made promises to them also. Flo, our six year old daughter read aloud a little reading she had written herself, and Franco, our three year old son helped the ring bearer."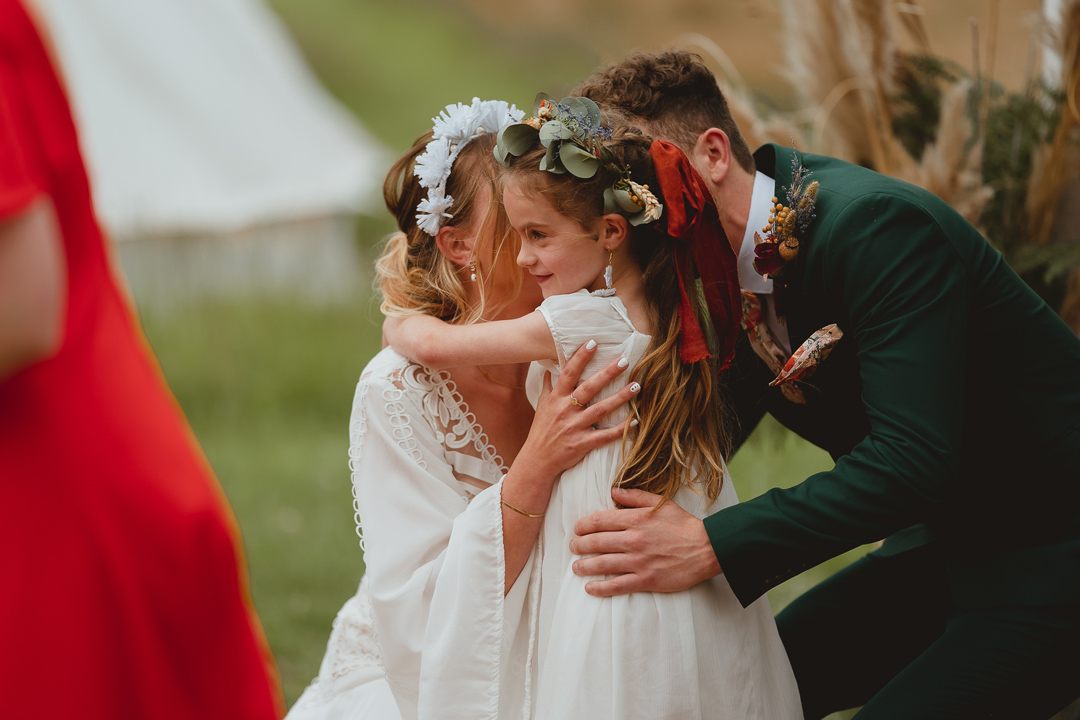 "Jordan's ring is an antique gold buckle we found online by the dealer William May."
It was in his size and had such a nostalgic, unusual look and feel to it that we both fell in love with it."
"My ring is a 14k gold beaded dot ring by Norm Jewels. It is delicate and simple, but not just a plain band."
"It sits perfectly under my pear cut diamond engagement ring."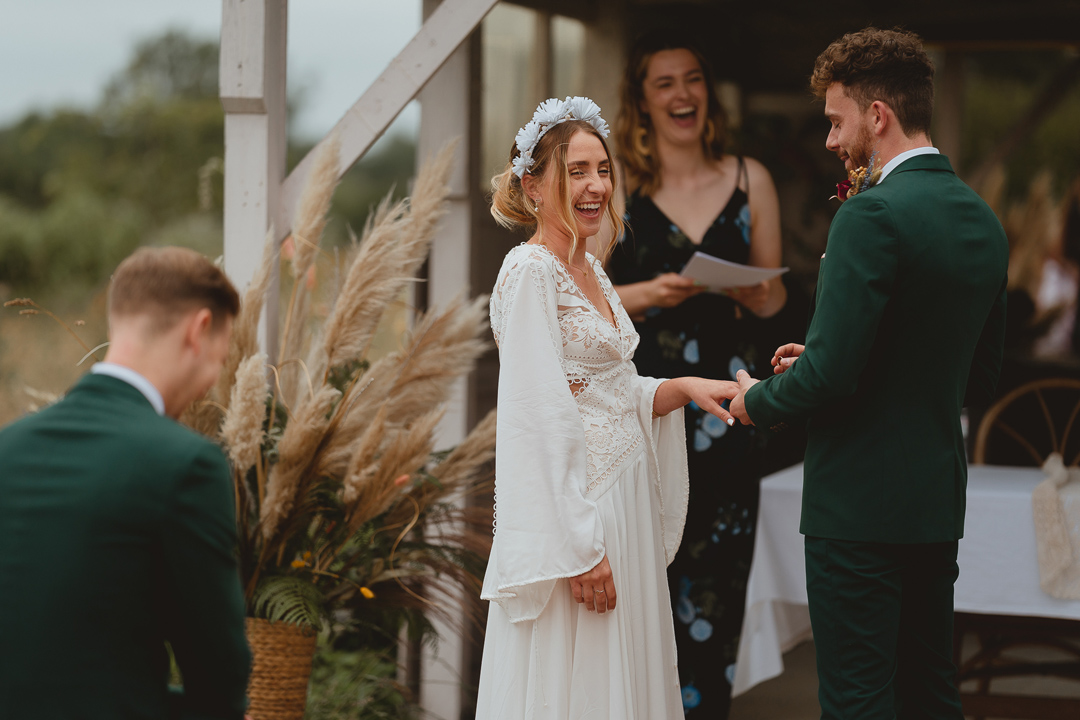 "We really wanted to write and tailor our own vows. It was something that could not be rushed, and shouldn't be. And we both made sure to take our time over writing them."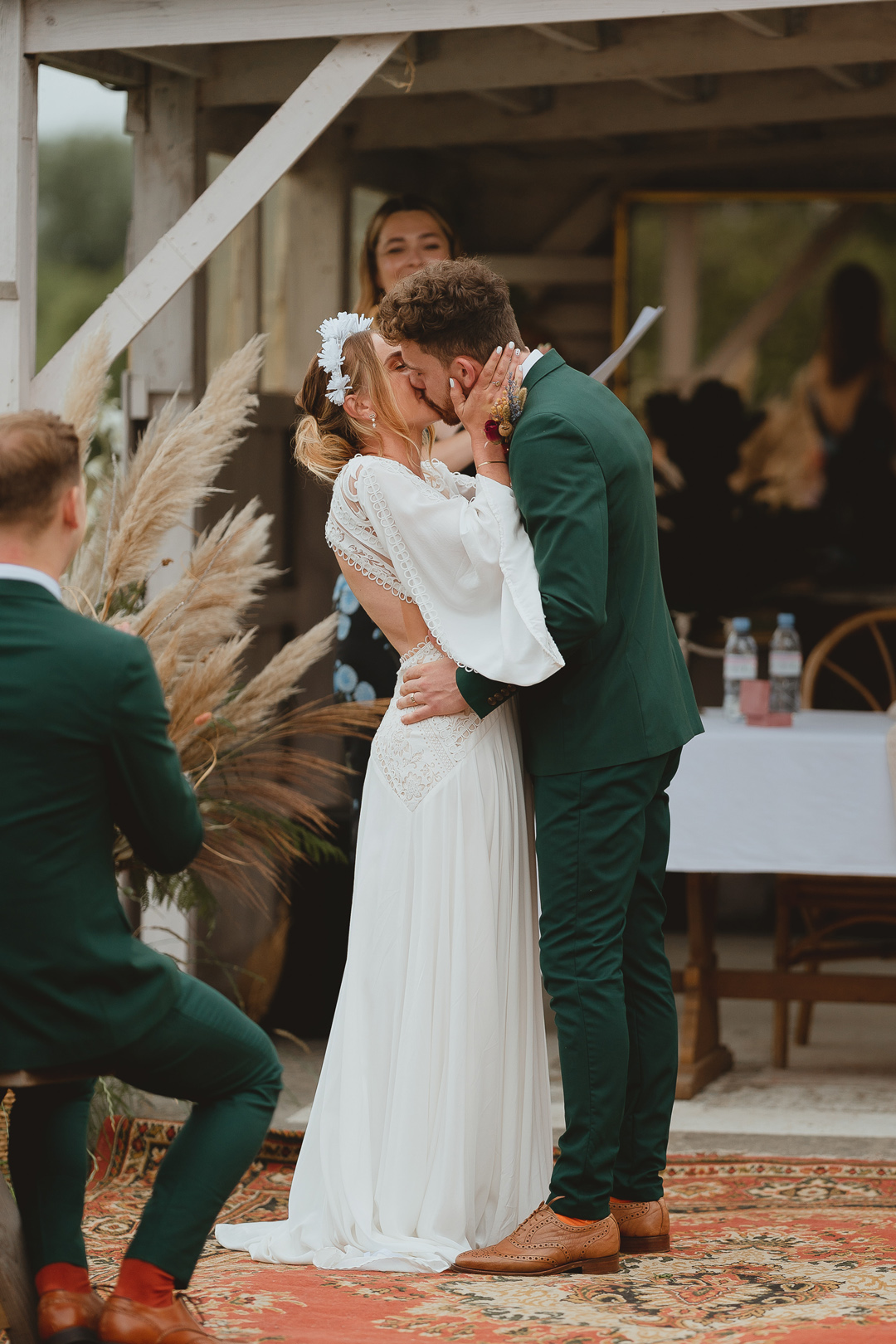 "I remember the months leading up to the wedding I would add to the notes on my phone whenever something I loved, or knew I wanted to promise or say to Jordan popped into my head."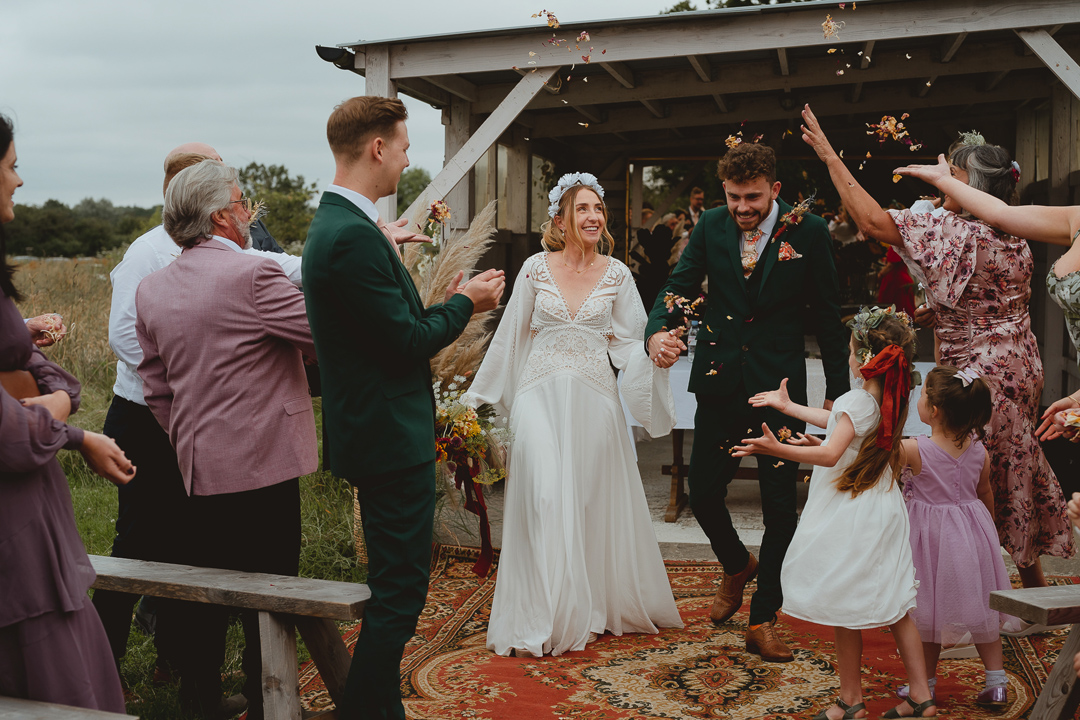 "Jordan wore a deep forest green super skinny suit by ASOS. he wore a white shirt, and his shoes were pre-loved tan Grenson Brogues."
"He swapped them in the evening for his pair of lace up Ox Blood Dr Martens."
"Jordan's tie and pocket square were from The Belfast Bow Company."
"We spent a lot of time choosing his tie, and tried several others before finding this earthy toned floral one!"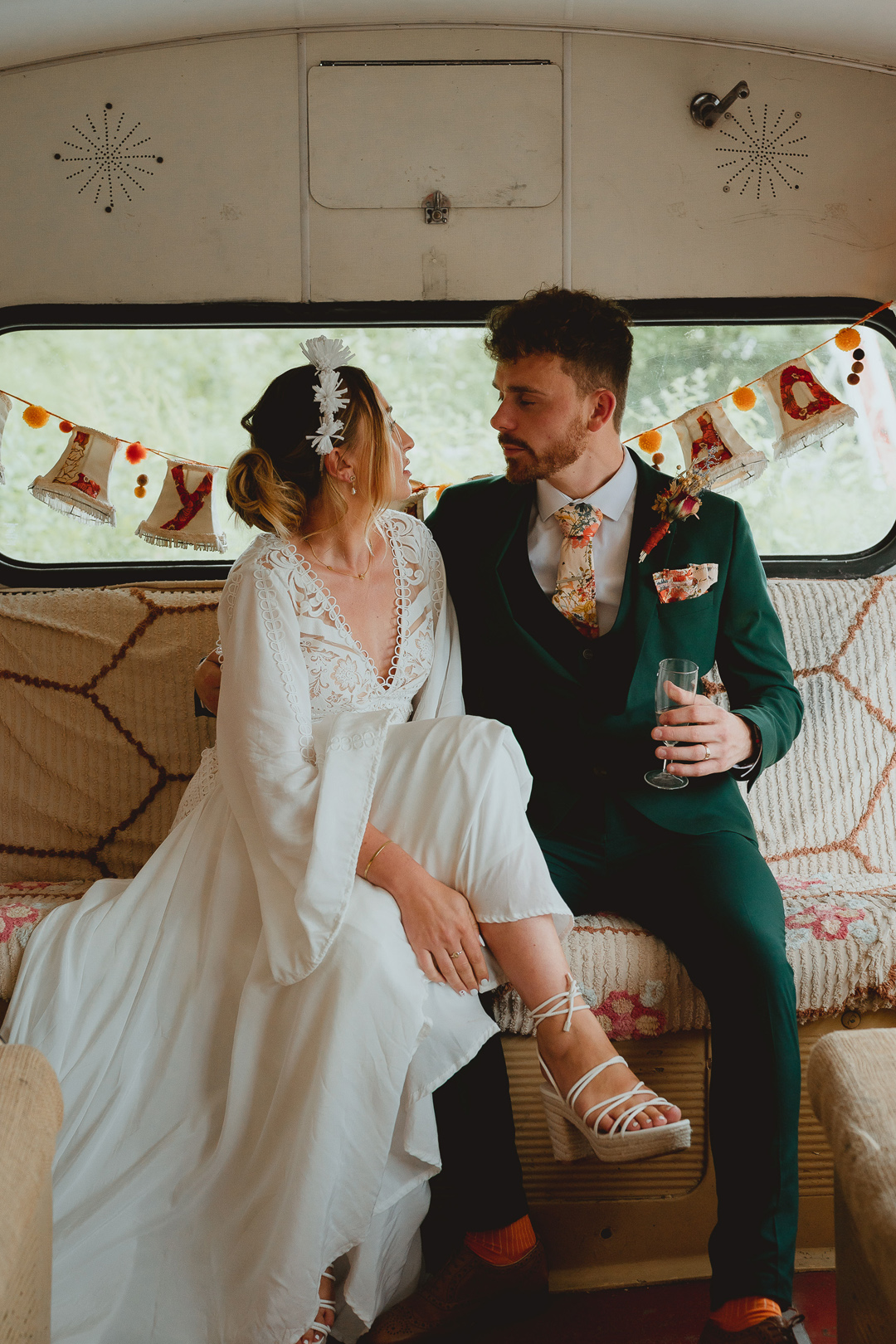 "The floral design is a liberty print on a background of a peachy pink colour, which looked great against the dark green of his suit."
"His dried flower buttonhole was wrapped with a tiny piece of hand dyed rust coloured ribbon by Mia Sylvia."
"He also wore cufflinks which his sister had had made for him. They enclosed strands of their late mothers hair sealed in a resin."
"A very touching gift, which meant the world to Jordan. It helped us to all feel like she really was with him on our wedding day."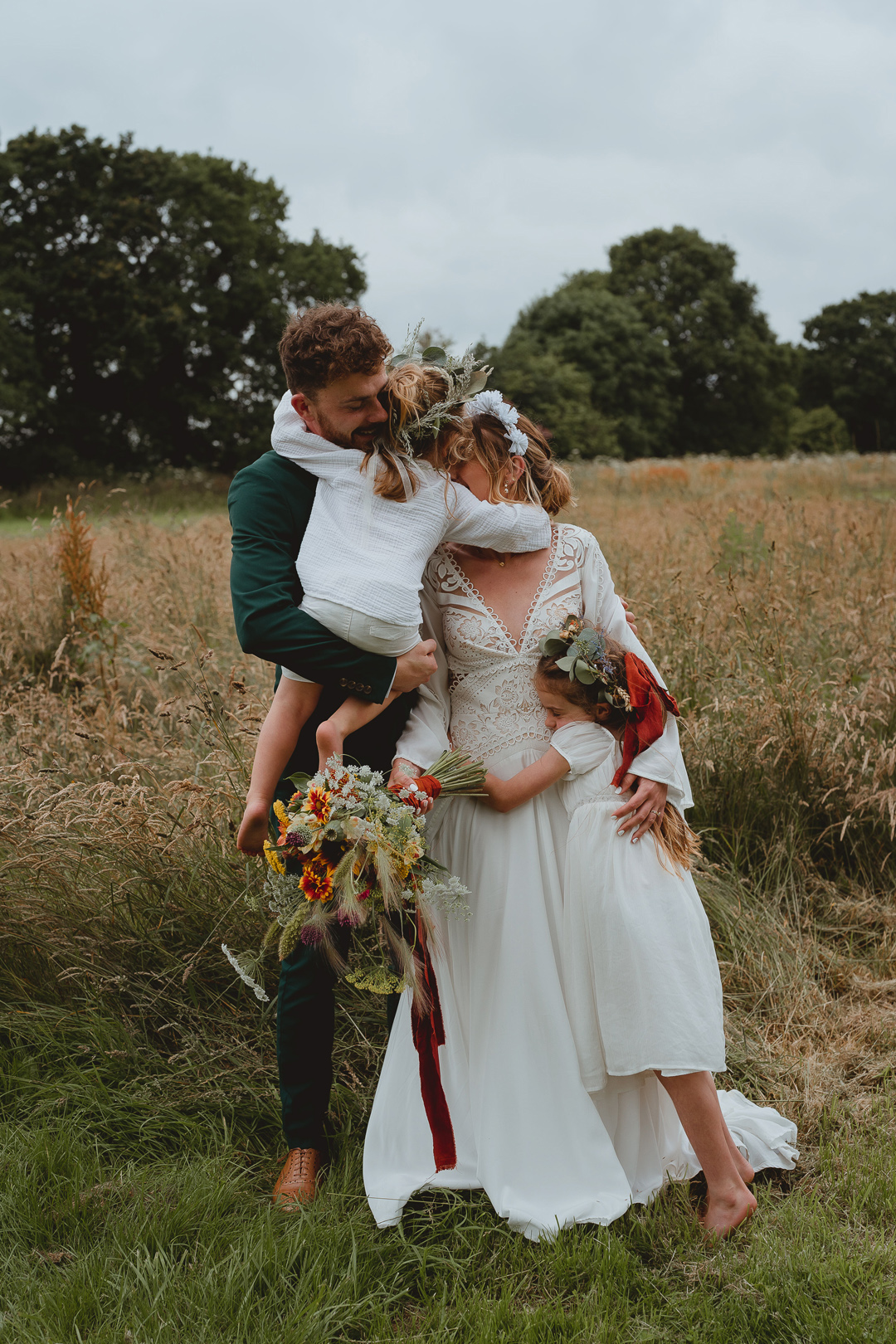 "We hired an adult sized bouncy castle for the adults, and the children! We also had a few lawn games set up-tug of war, hook a duck etc. Our band 'John Ward'- played a great ceilidh set."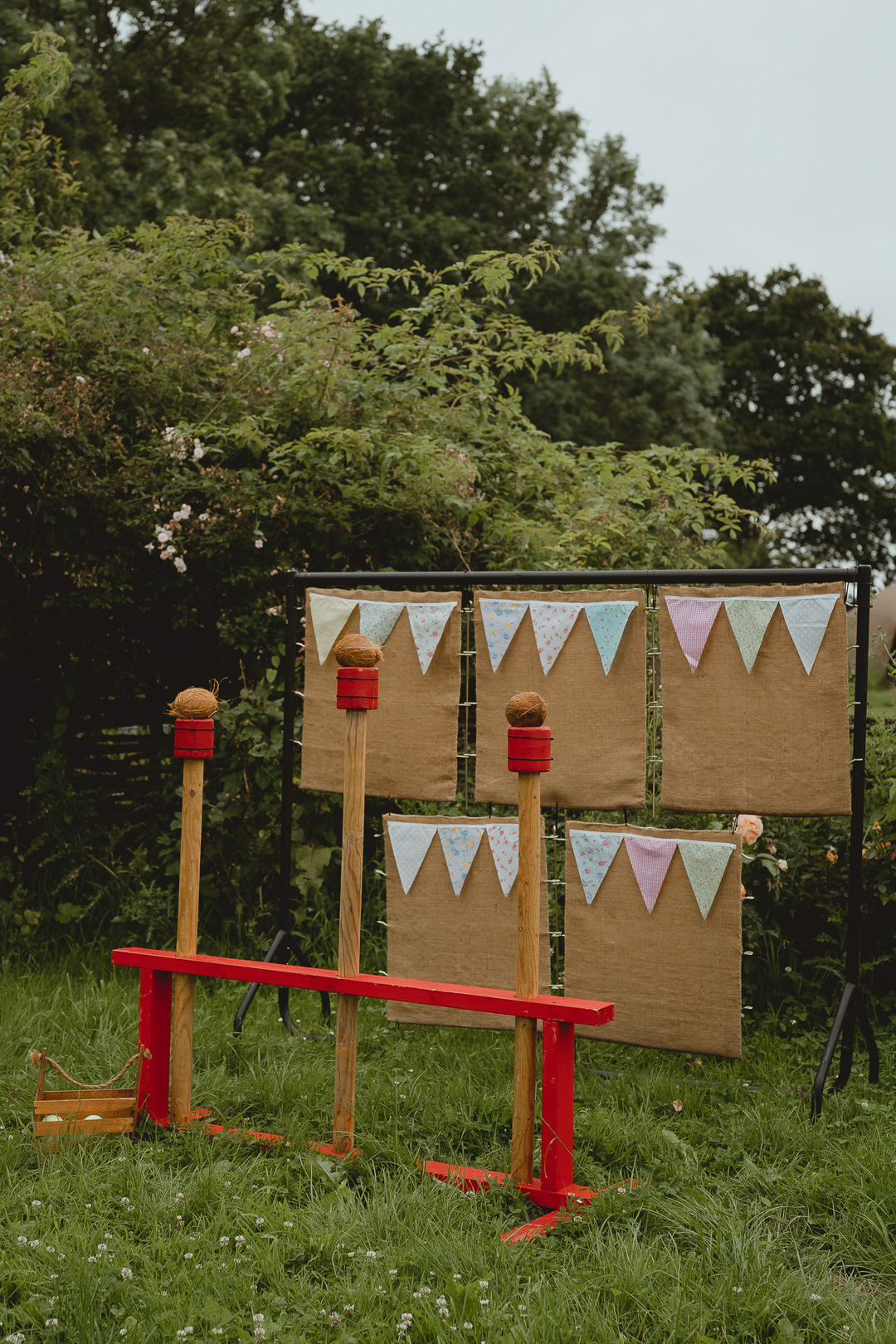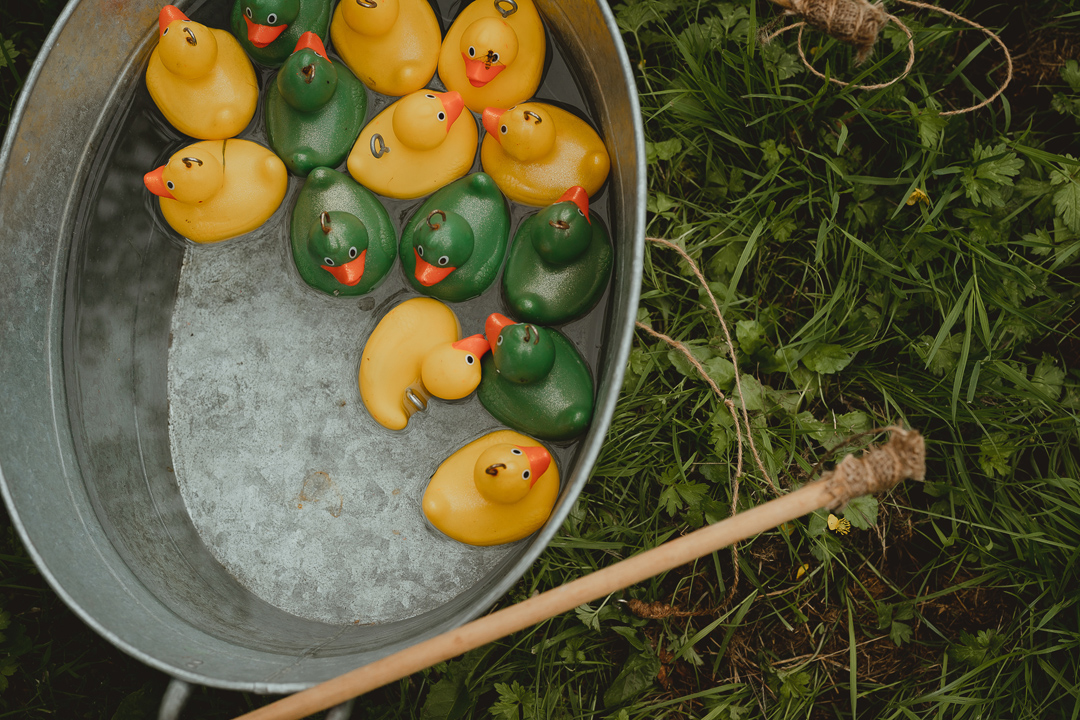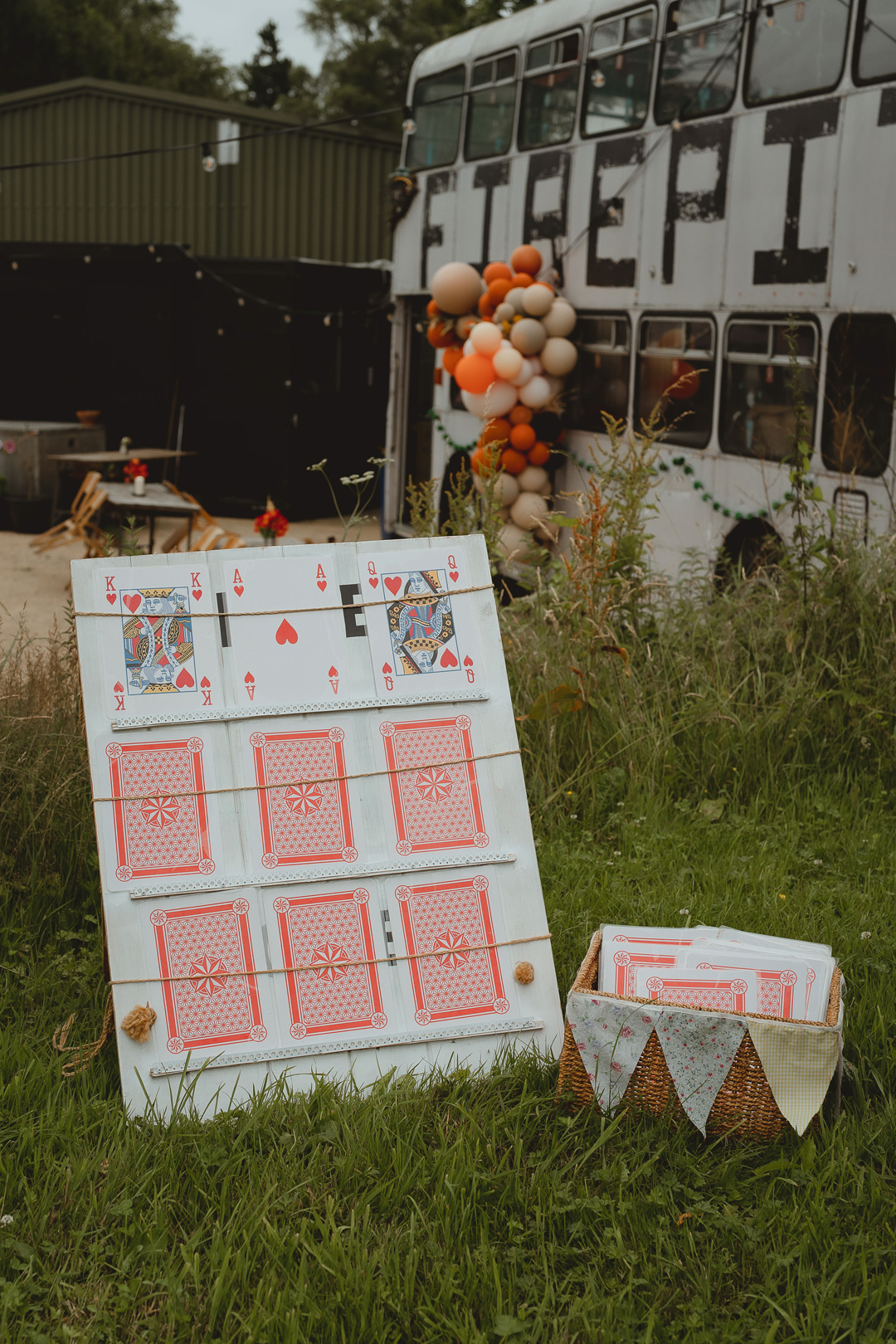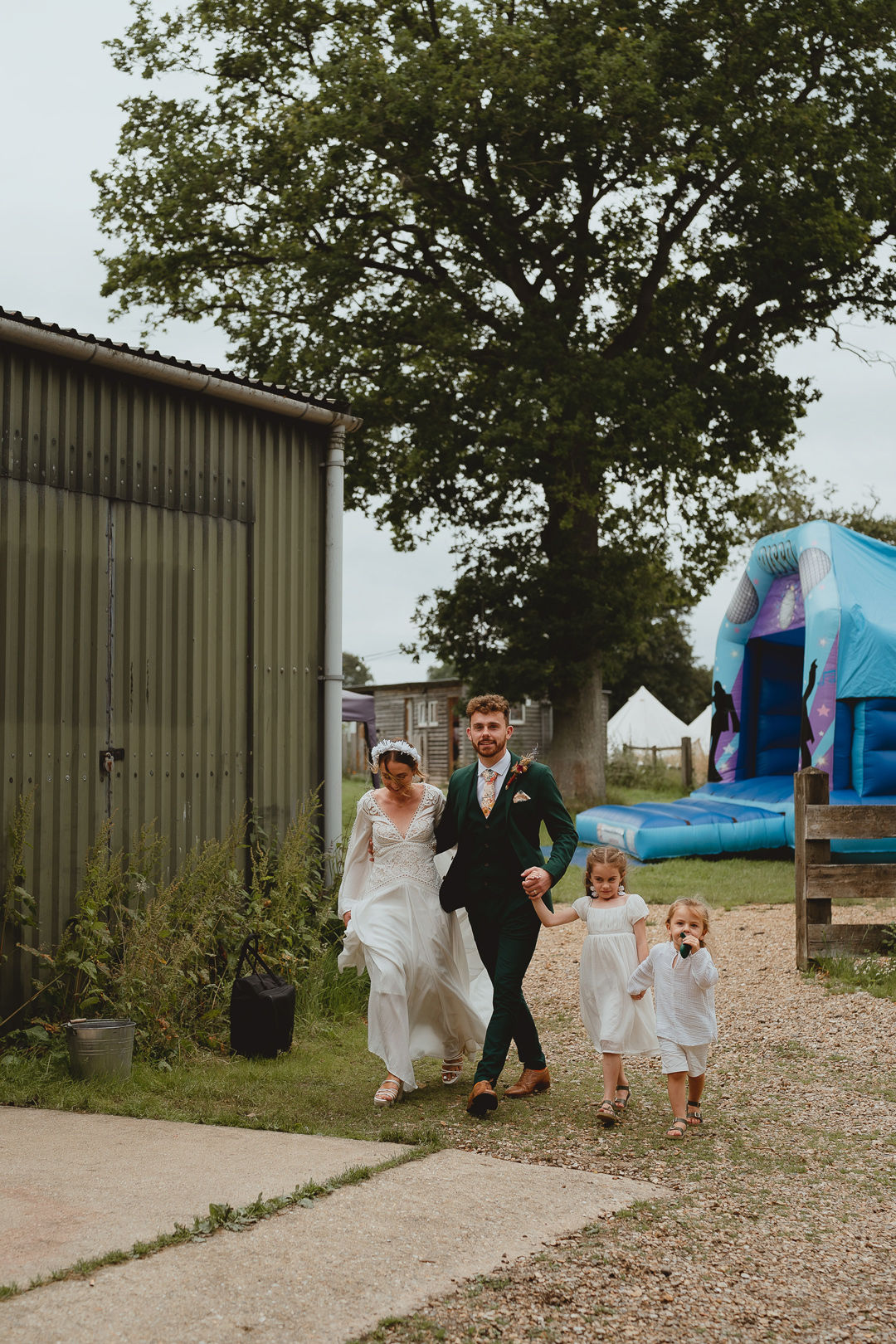 "My friend Jade made us a beautiful tapestry banner. It was a heavy old velvet peachy/rose curtain, with the words 'You've got the love I need to see me through', sewn on to it."
"These lyrics are from the famous Florence & the machine song, which was also our first dance track, and used in our wedding hashtag, #lilyandjordangotthelove."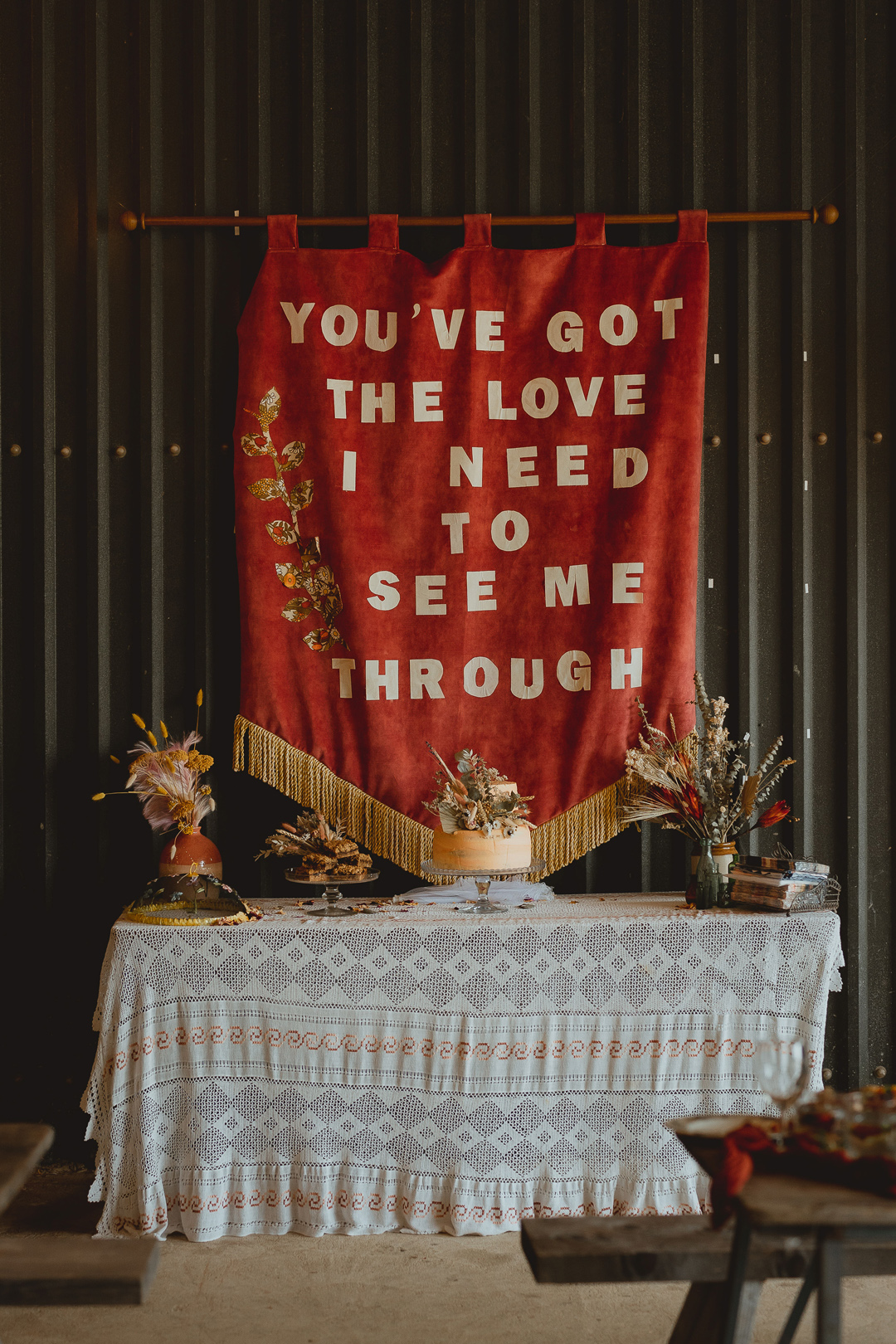 "It had some gold tassel fringing, and the whole thing was threaded through a wooden curtain pole to then hang up proudly against the warehouse wall where we had our wedding breakfast and dance floor in the evening. "
"It was such a statement piece, and turned out better than I even imagined."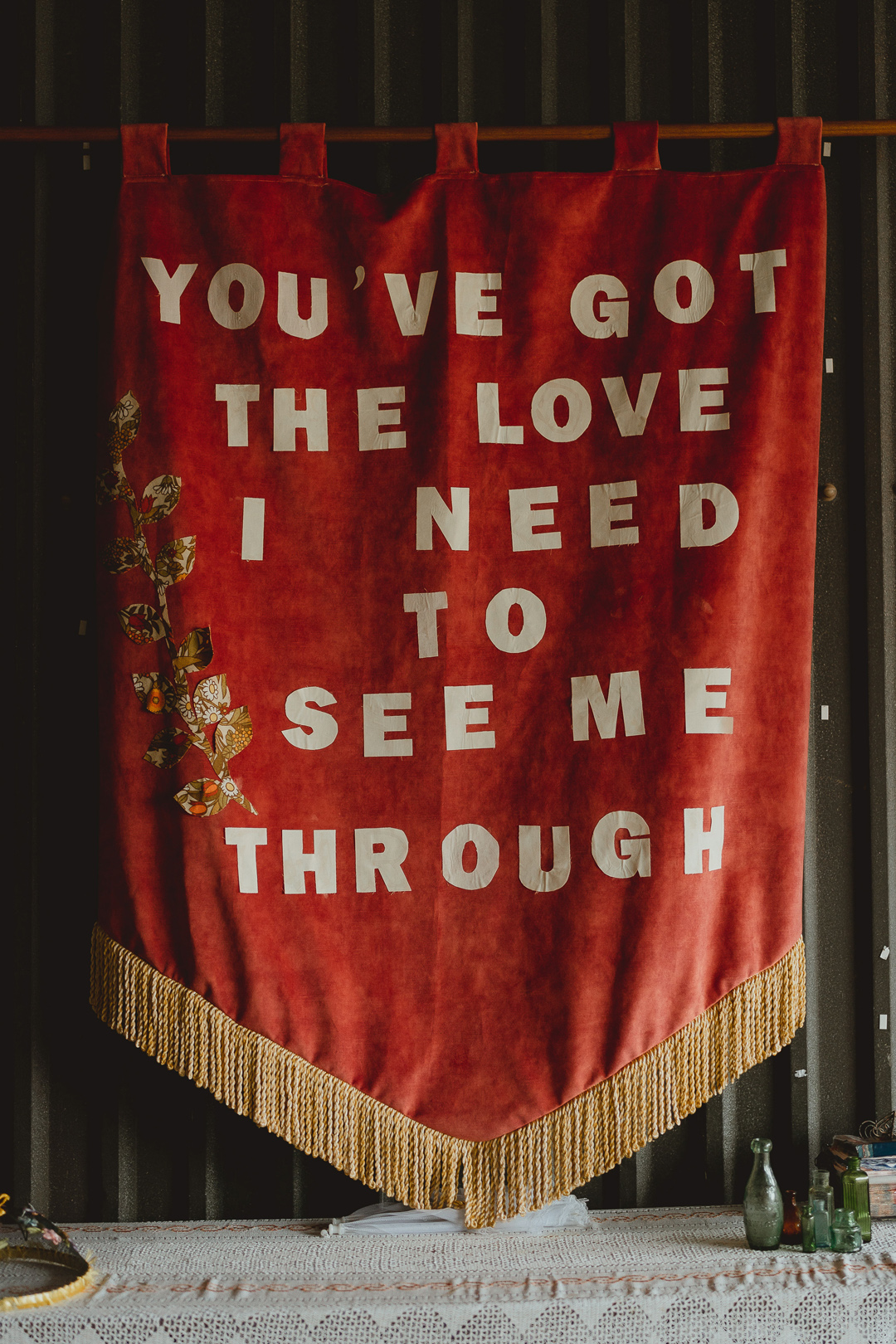 "Our cake was made by my darling friend Ellen. She is an excellent cook and baker, and offered us her services as our wedding gift."
"We had a gluten free citrus and poppyseed on the top tier, and then a coconut and lime flavour for the bottom tier."
"All covered in a peachy/orange marbled buttercream. So fresh and delicious, Ellen decorated it simply with some dried flower displays and foliage. We found a great local business that supplied us with some beautiful and unusual dried flowers for this, Homewood & Rose."
"We opted to have our wedding cake served as our dessert, accompanied with bowlfuls of fresh, local summer berries and pouring cream."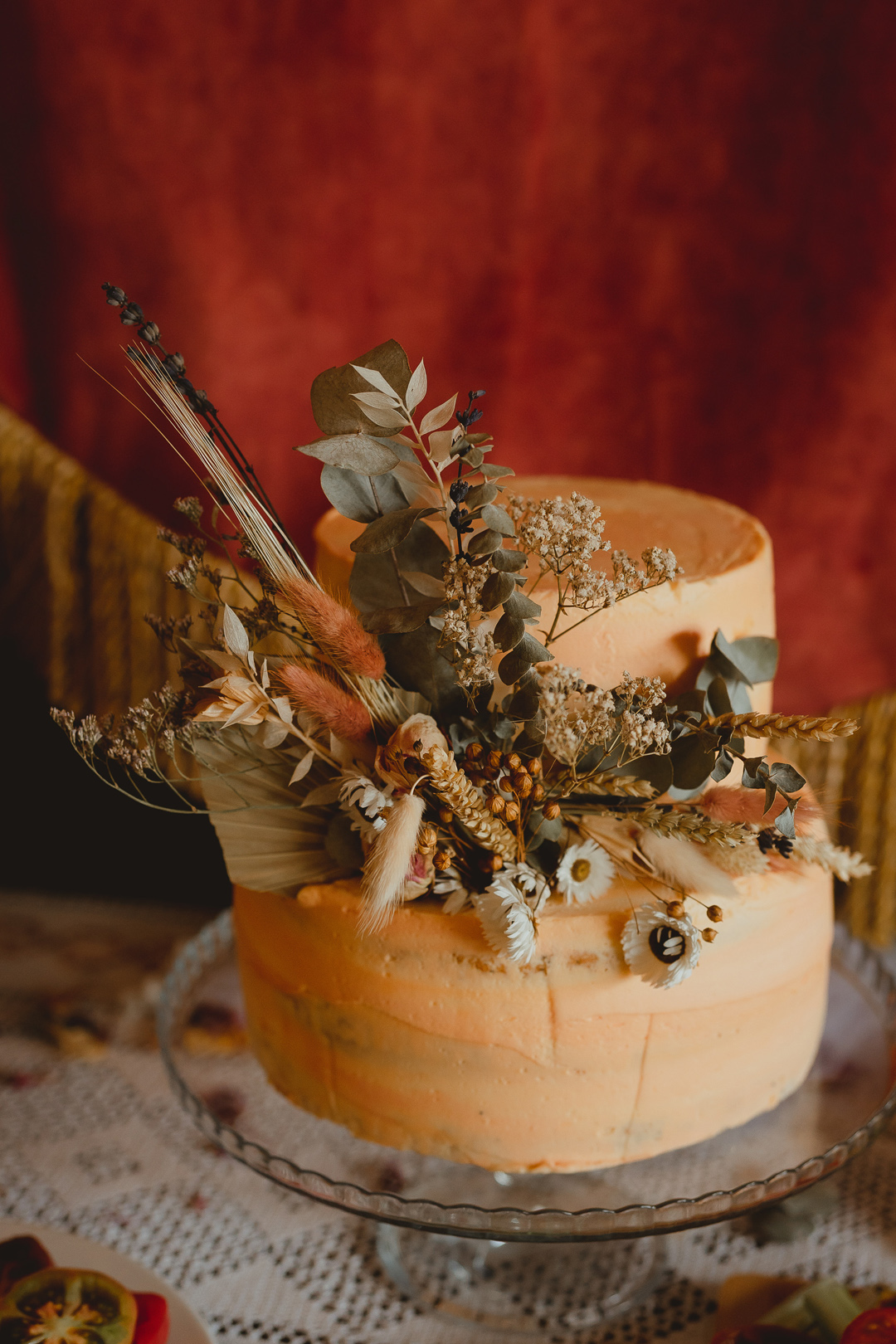 "We totally upcycled ad re-used as much as we could to keep costs low, and have as little impact on the planet as possible."
"The buttonholes were created using dried flowers, grasses and seed heads."
"They were so different and looked absolutely fantastic against the green of Jordans and the best men's suits."
"Myself, my younger sister Rosie, and my best friend Ellen were also behind all the other areas of styling and décor. We sourced a lot of thrifted items-such as a gorgeous collection of lace and crochet tablecloths, from car boot sales and charity shops."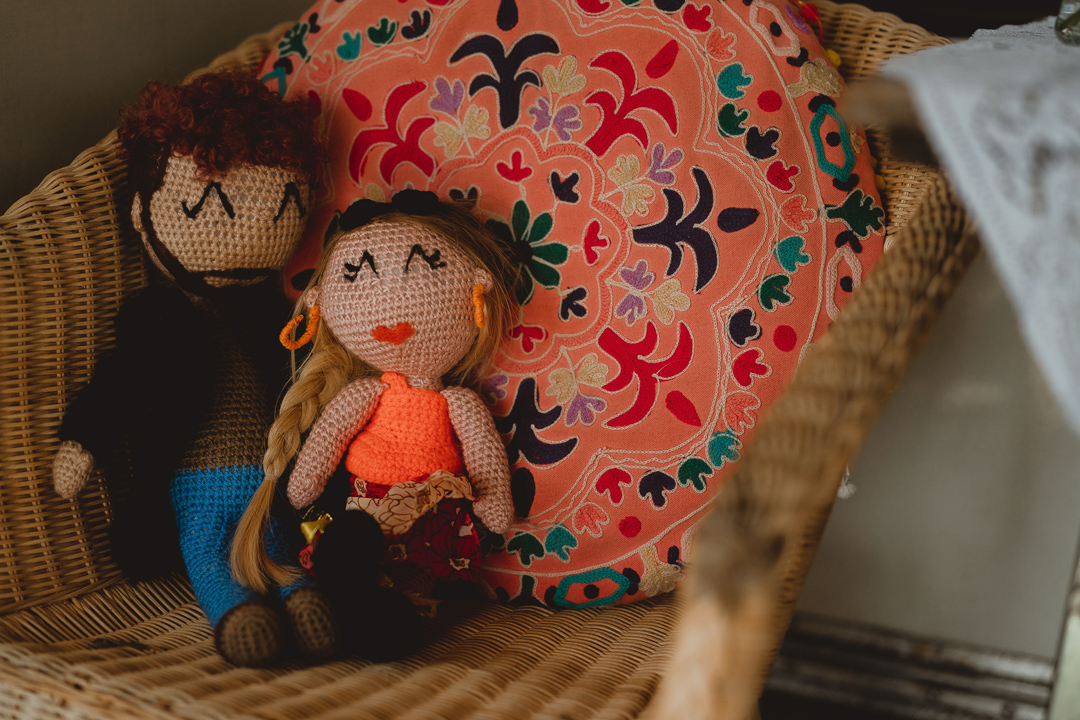 "I purchased lots of old-school paper streamers, lanterns and pompoms from eBay and Etsy-our balloon arch was also from eBay and we paid a local balloon modelller £25 to put it together for us."
"We also used vessels/plants/vases/dried flowers from our own homes."
"The day before we squished everything into our cars and decorated everywhere like crazy mad woman."
"But it was all part of the fun and part of a do-it-yourself wedding."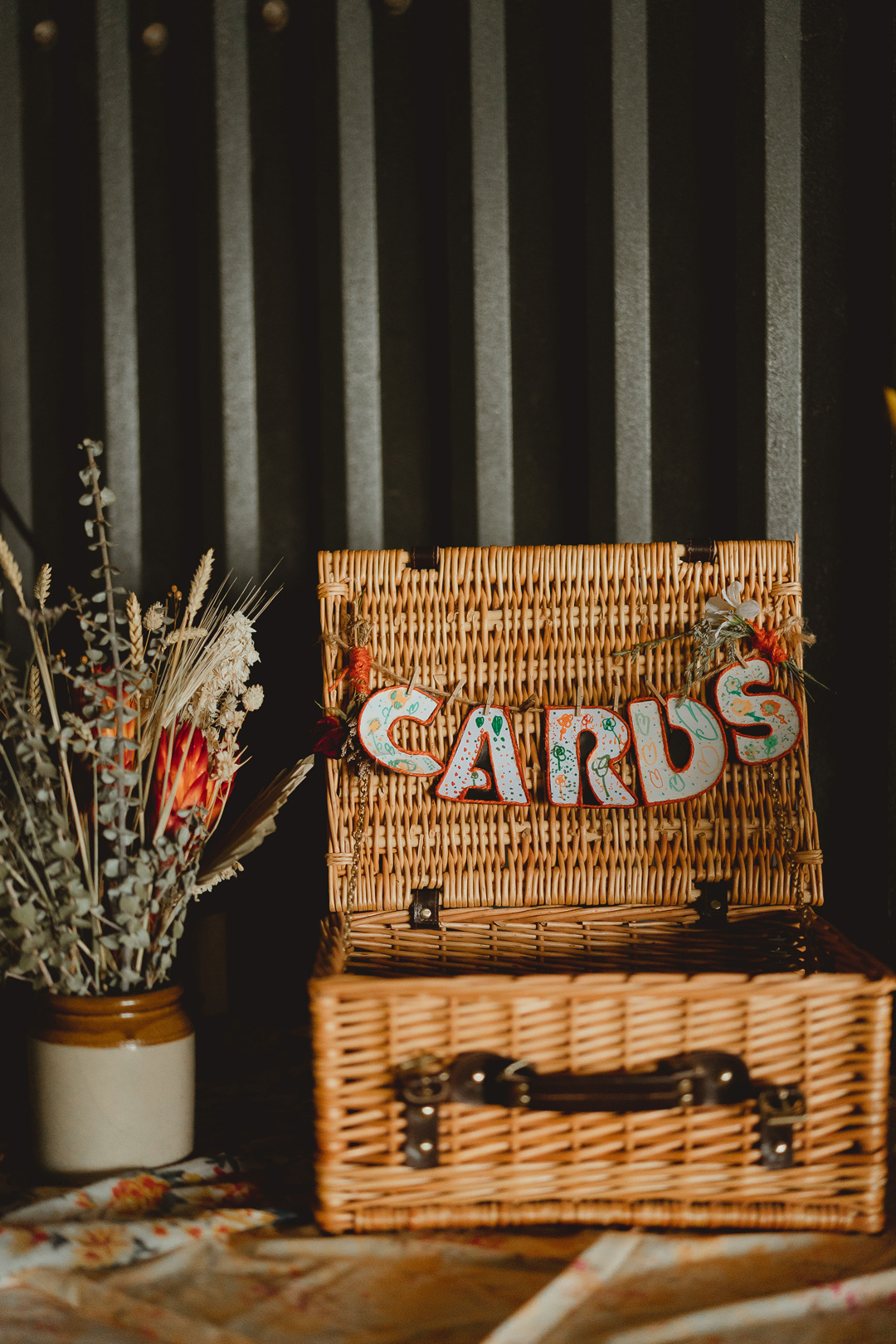 "The beauty of dried flowers is that you can then have them as a keepsake. We have enclosed Jordans buttonhole into a frame with a selection of polaroid pictures taken from our day."
"We used our own vases and jars filled with flowers dotted all over the venue, and Becky created us two massive Pampas displays that sat in some weighted raffia urns."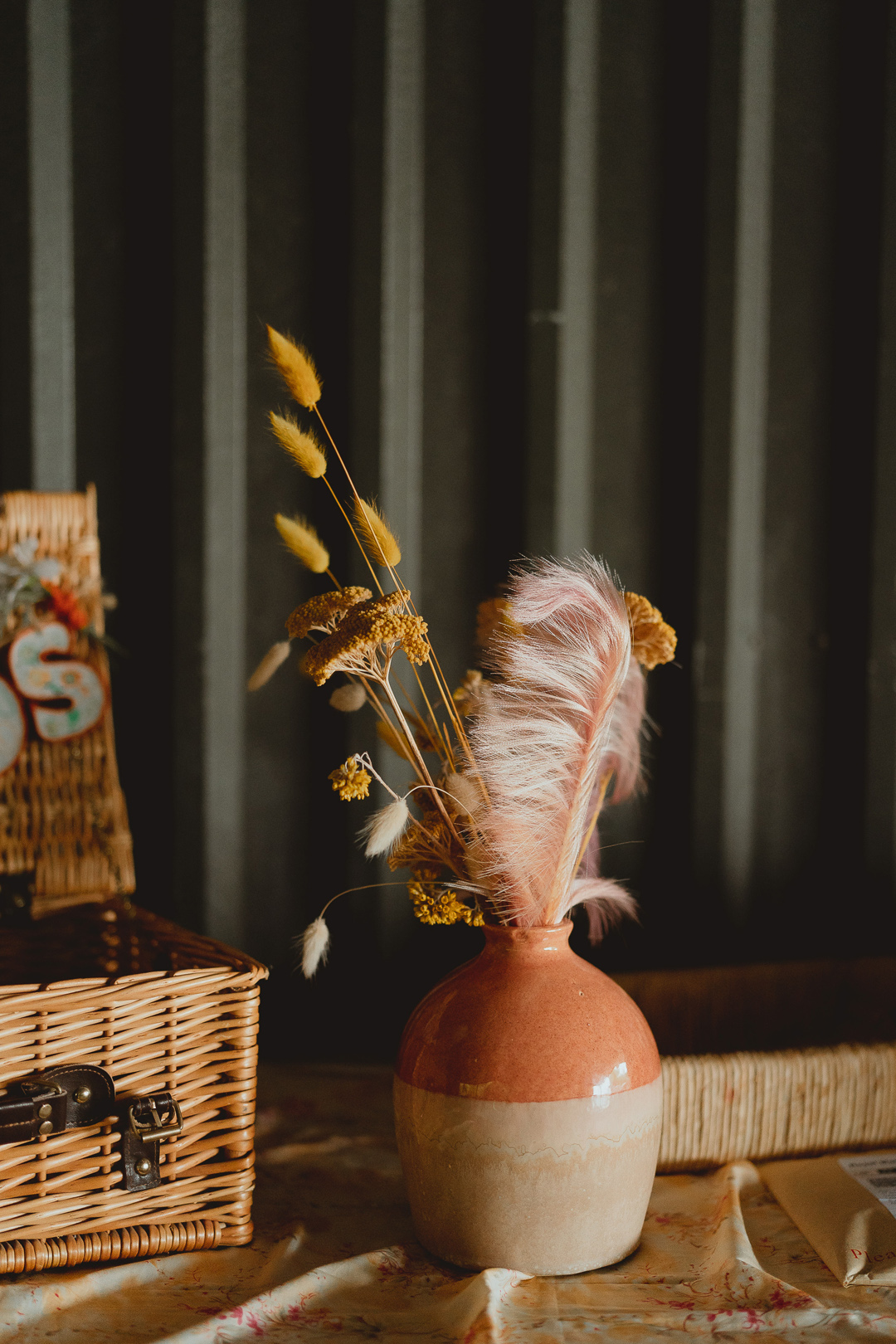 "These were used at our ceremony space and then moved to re-use them in other areas throughout the day. Me and my friend Ellen had actually handpicked the pampas ourselves from a neighbours garden (we did ask first)."
"Becky then collected them and hair sprayed them to hold in the fluffiness!"
"It was such a team effort and we all had the best time working together – forming friendships and seeing the vision come to life on the day was just magic!"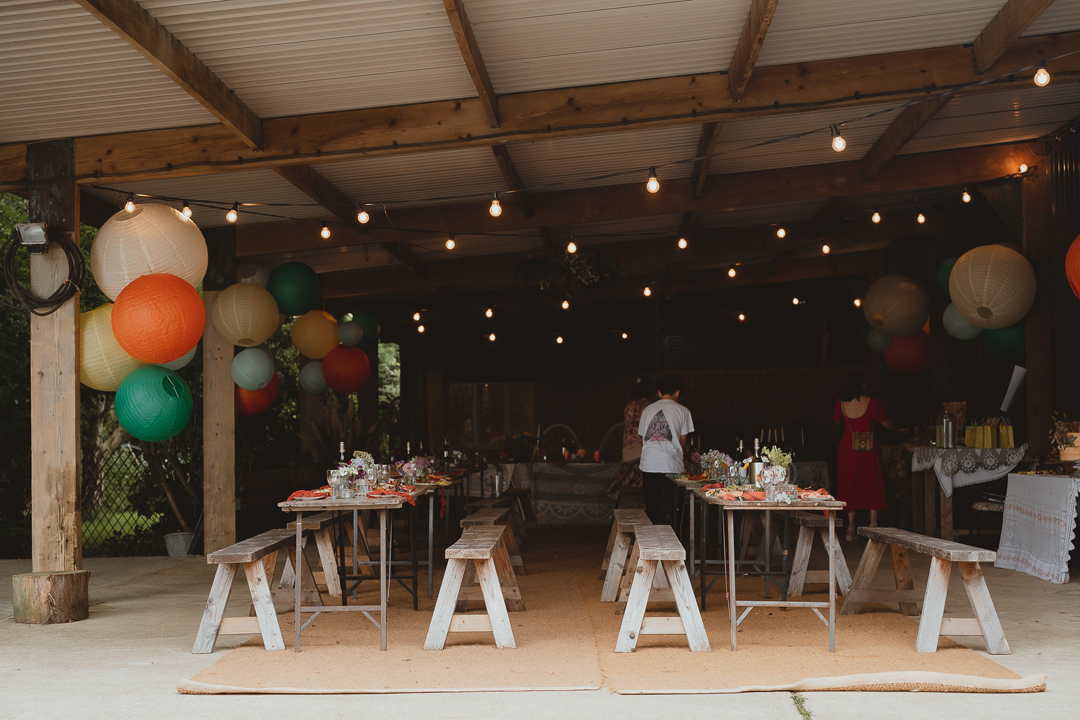 "Our place cards were designed and made by a small business called Peach Wolfe."
"Sarah was a dream to work with and we matched the green of our place cards to Jordan's suit."
"We had funky seventies inspired font in a peachy pink colour, and each one had a gorgeous little tassel attached in a fire brick orange colour."
"They looked fab and doubled up as our wedding favours. They work great as a bookmark."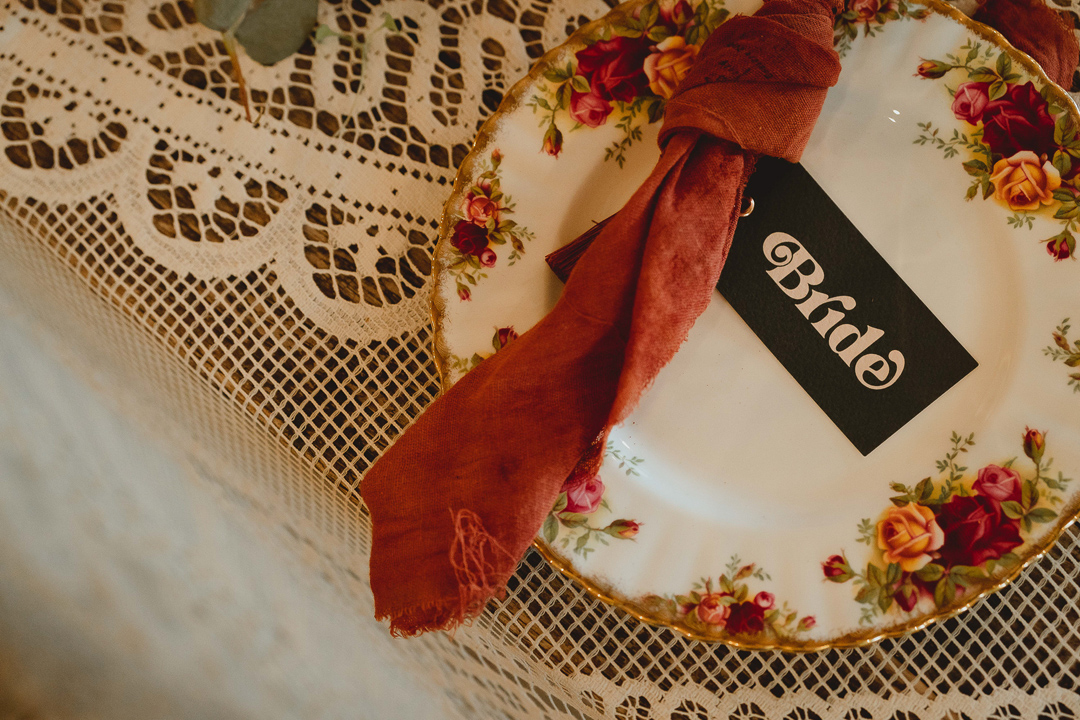 "For our wedding breakfast, we had two rows of trestle tables and benches lined up, and Becky of Love Frank Flowers totally styled this space. She arranged greenery running down the centre of the tables, with recycled jars, all of assorted heights filled with a selection of July flowers, which also featured in my bouquet and the children's crowns."
"She then dotted the table with her famous natural dried confetti, which popped with colour and smelt absolutely divine too."
"We had a large hoop hung above the tables, which she made by twining fresh and faux foliage around."
"The hoop was actually my very own hula hoop from a child."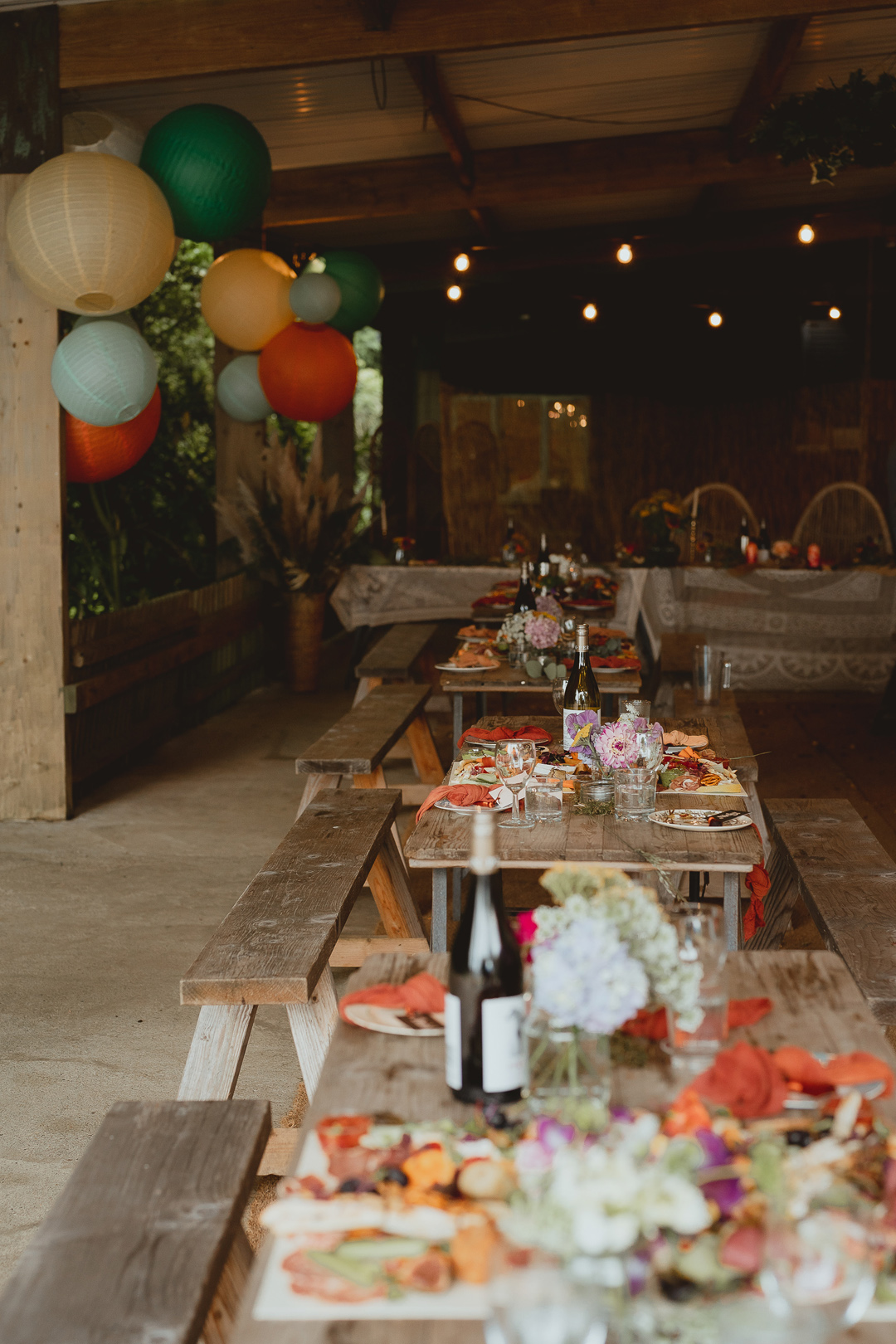 "The Fire Pit Camp supplied all our food and helped us to create a bespoke menu for our wedding breakfast."
"They are also famous for their gorgeous wood-fired pizzas, so it was a no-brainer to have this option for our evening food."
"We had grazing boards to start, filled with a huge varied selection of Italian cured meats, pea hummus, salsa dips."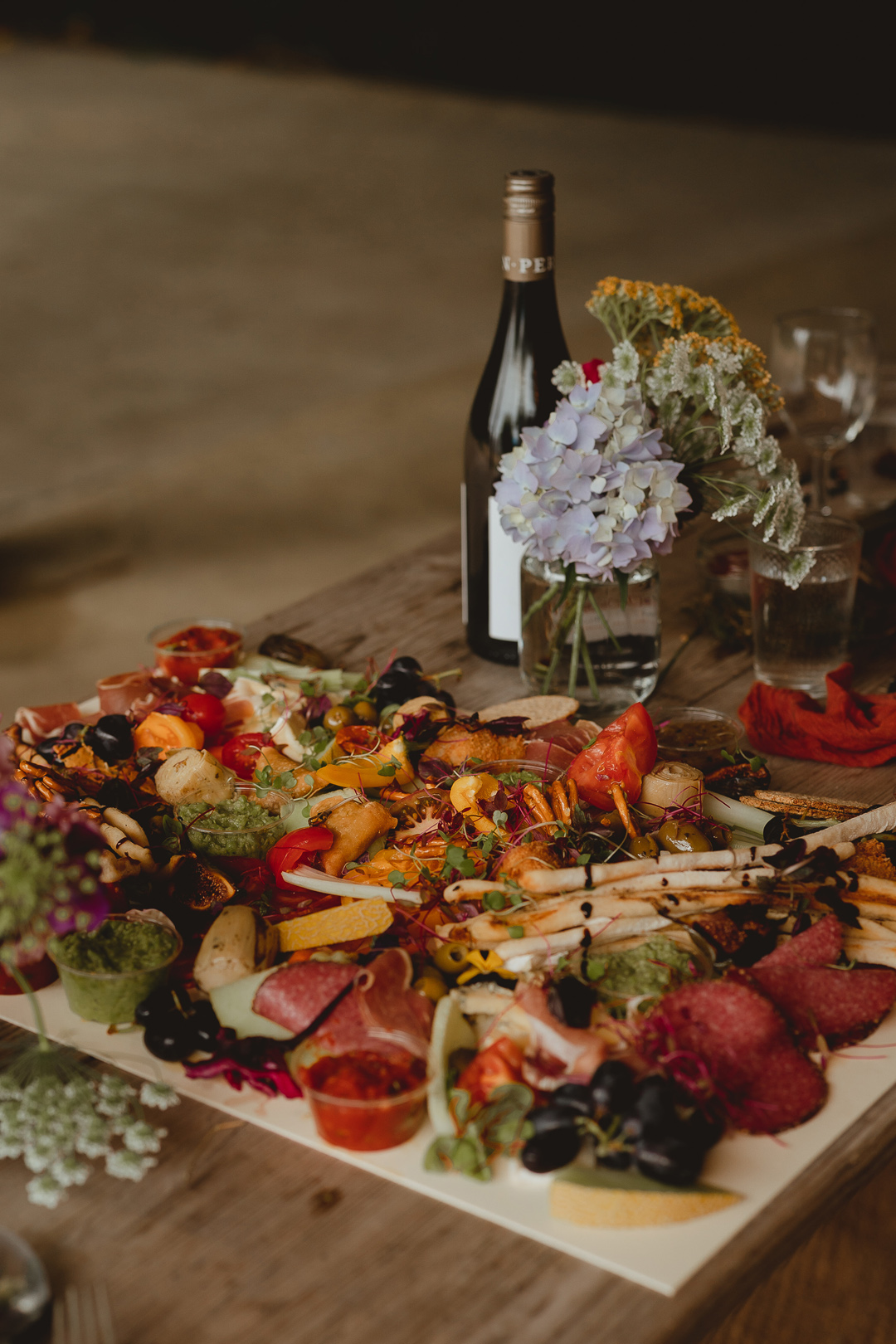 "Fire pit dough sticks and flat breads, arancini balls, artichokes, crudites of carrots, cucumber and radish decorated with spouted seeds and edible petals. It looked and tasted divine"
"So many flavours and textures and vibrancy. It was lovely to have these big, beautiful boards brought out to us, and we could all tuck in and share them together."
"We opted for a vegetarian main of Cheese and Leek pastry tarts with slow roasted wood fired herby veg and hassle back potatoes. Dressed with jewels of pomegranate seeds and mixed leaves.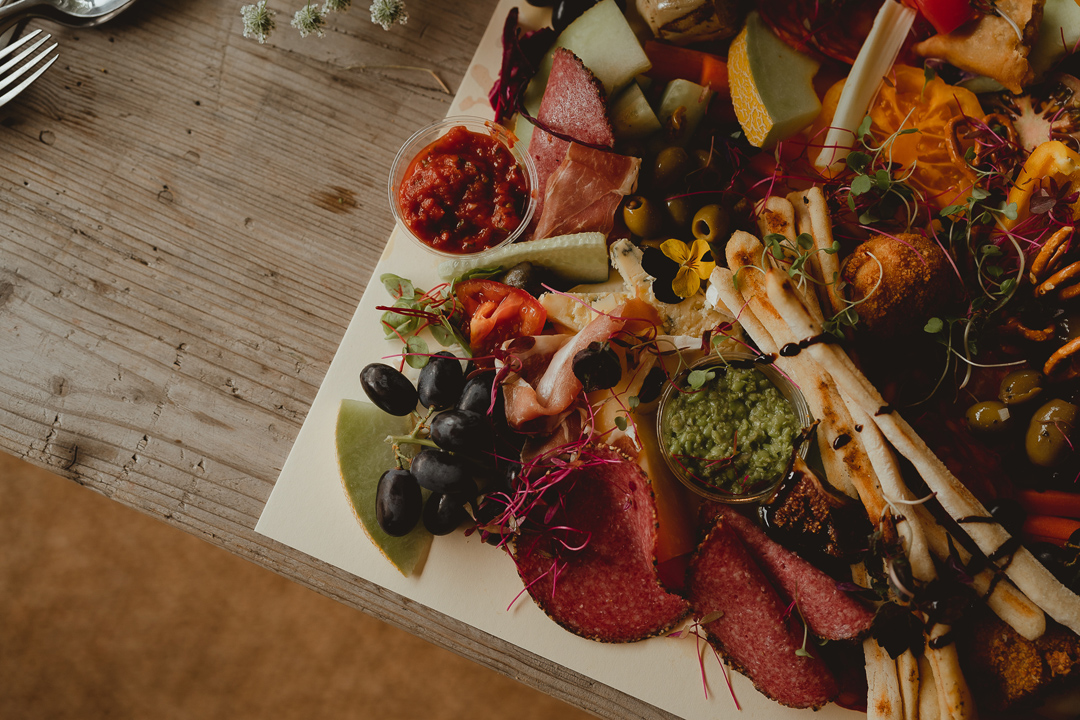 "Our favourite moment was sitting down at the wedding breakfast and looking around seeing all our family and friends in one room chatting and laughing, eating and drinking and knowing they are there for us and happy for us and enjoying themselves."
"It's the only time when all your different groups of friends are together and all your family from both sides are all there to celebrate with you and it's such a lovely feeling."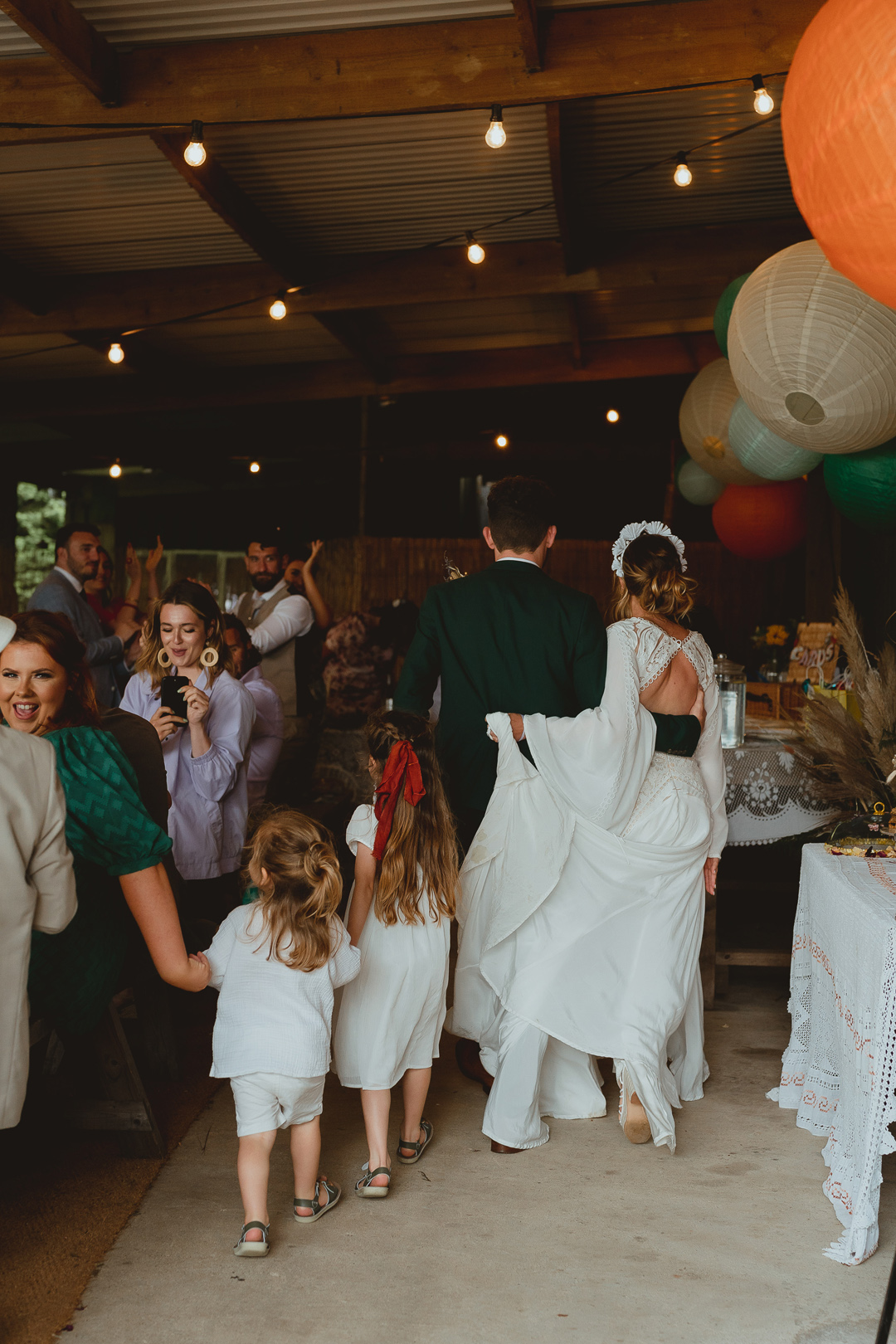 "Listening to the speeches and the love stories from our parents and friends too."
"Also seeing all the crazy, candid images captured by your guests on their phones, and looking through our polaroid's and wedding book the next day."
"We all gathered around the bus for our speeches, which was a fab backdrop and sort of 'stage' to deliver them on."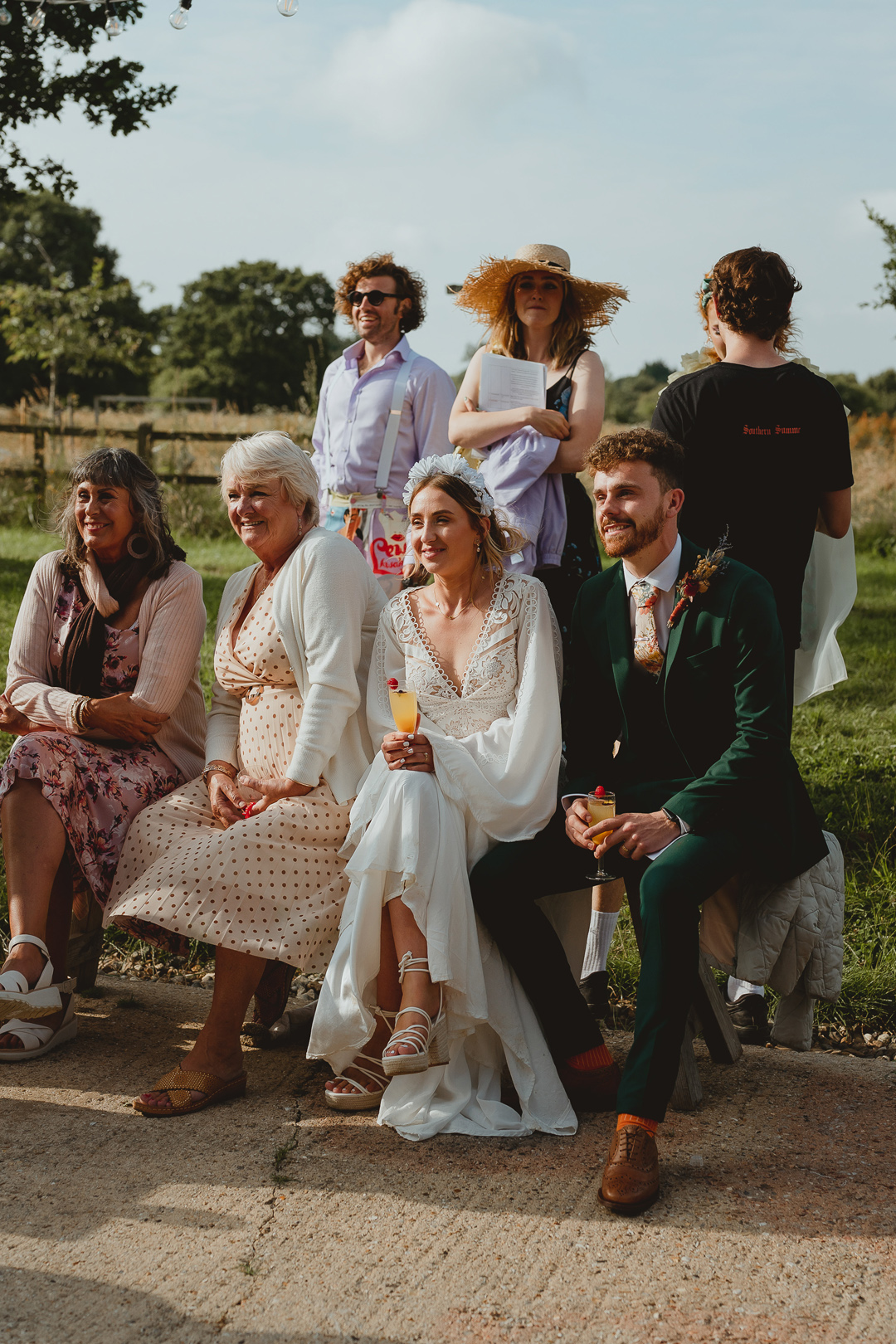 "I had a beautiful bohemian hair band. It was delicately hand crafted using sustainable raffia and freshwater pearls by Danielle, a small business owner called Lilley Studio."
"I wore it all day and night long. It felt a bit like a crown, and when else can you wear a white crown other than your wedding day."
"It was so comfortable to wear. Something different and fun, bold and beautiful."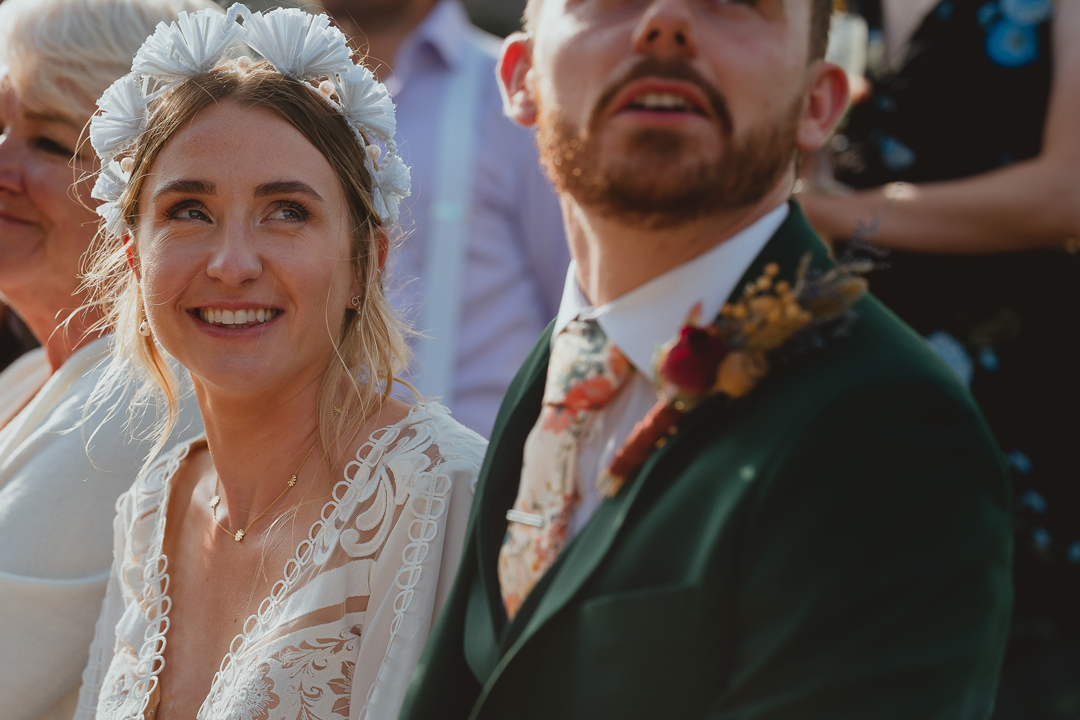 "We began planning, and booked our venue just a few weeks after getting engaged in the third lockdown, after Christmas 2020."
"This didn't stop our eagerness of wanting to get married in the July of that year."
"Call us crazy, but we both felt confident that by the summer, things were going to be so different restriction wise, that this celebration would be exactly what we all needed."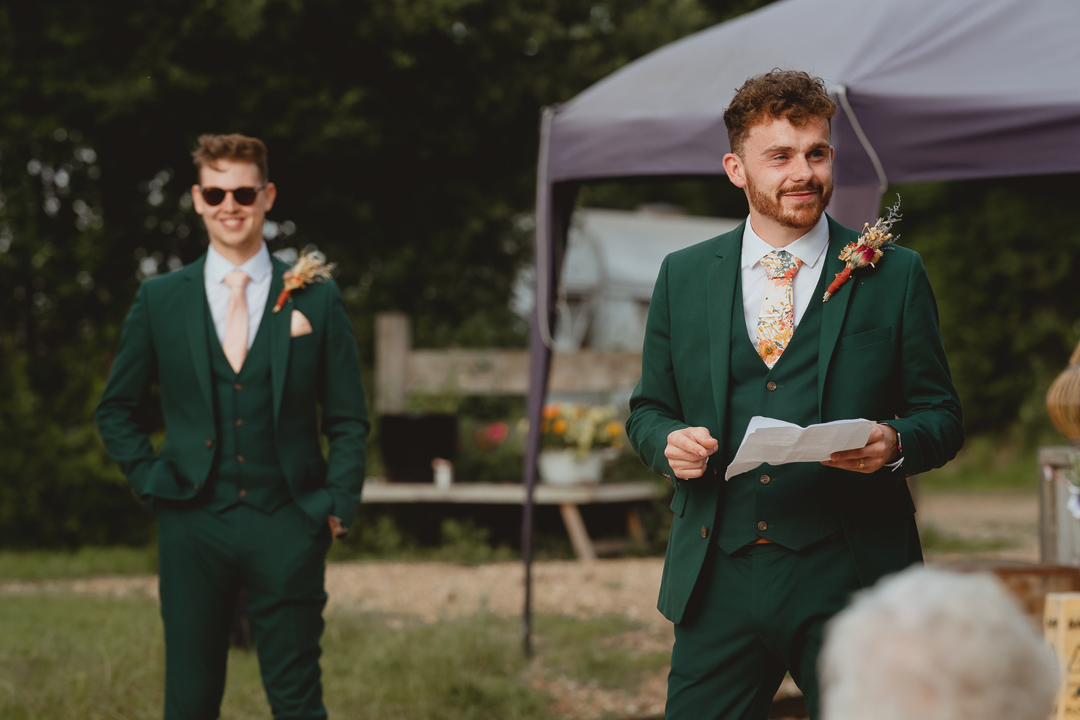 "The first event in so long where we could all be together, dancing, drinking and loving each other."
"I think because we were so brave in making this decision to just go for it, we managed to book our photographer and venue pretty quick and also at a really good price."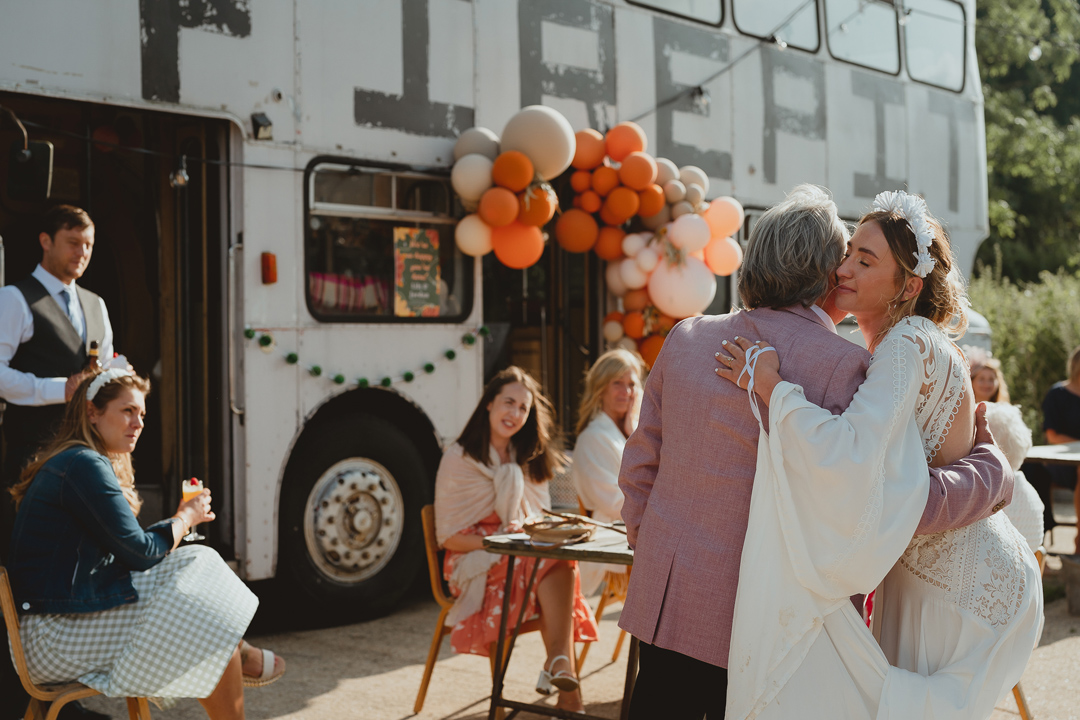 "Now that weddings are full steam ahead, everything and everyone is so booked up, there is a big back log of weddings to get through, as well as the new ones, so of course, demand is going up."
"We just would not of been able to afford the wedding, or possibly our suppliers would not have had the availability, if we had waited to book once the COVID situation seemed more stable."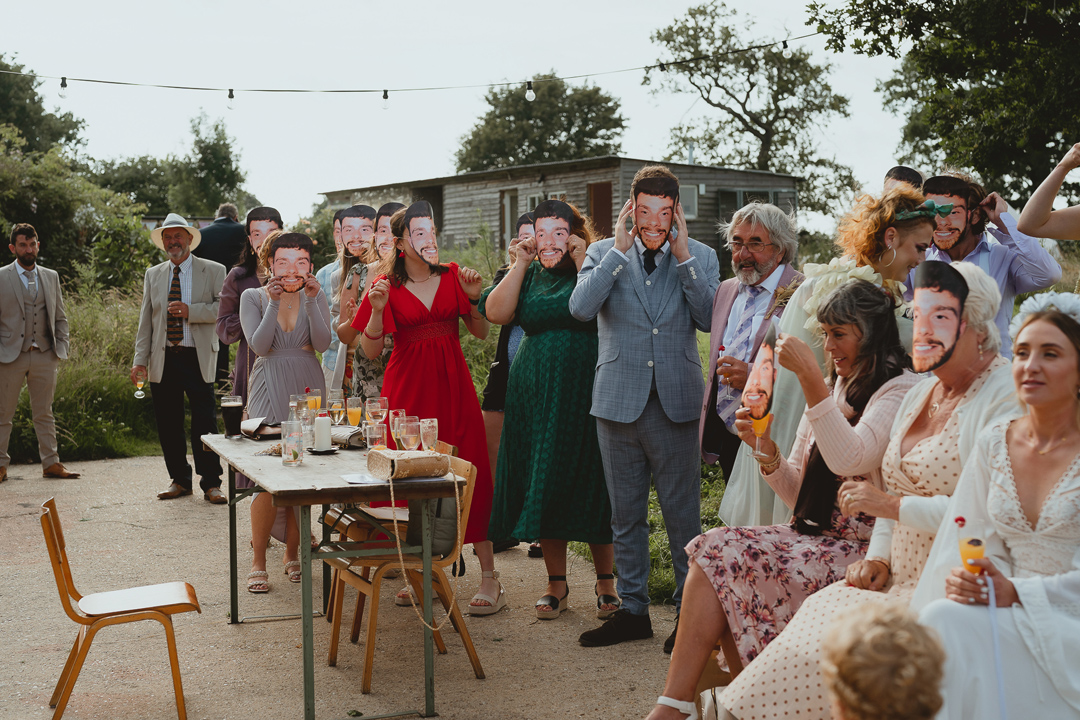 "Our venue offered a 'micro wedding' package, which was a 30 guest limit. I think this was a package created for covid weddings, and we were happy to have this small, intimate amount for our day."
"Whether we were in a lockdown or not. It was perfect for us. I think also because we had such an outdoor venue, we felt kind of protected/safer knowing that guidelines of being outdoors were much more lenient regarding Covid restrictions and mask wearing etc."
Stay in the know – join our mailing list.
"I think in a weird way, you just have to kind of embrace it and think of it as a moment in history that we should all actually feel really proud that we have survived in, and are continuing to live through."
"It's been so tough on so many of us. Covid 19 is something we cant ignore, something we cant really stop from happening and we have to adapt to."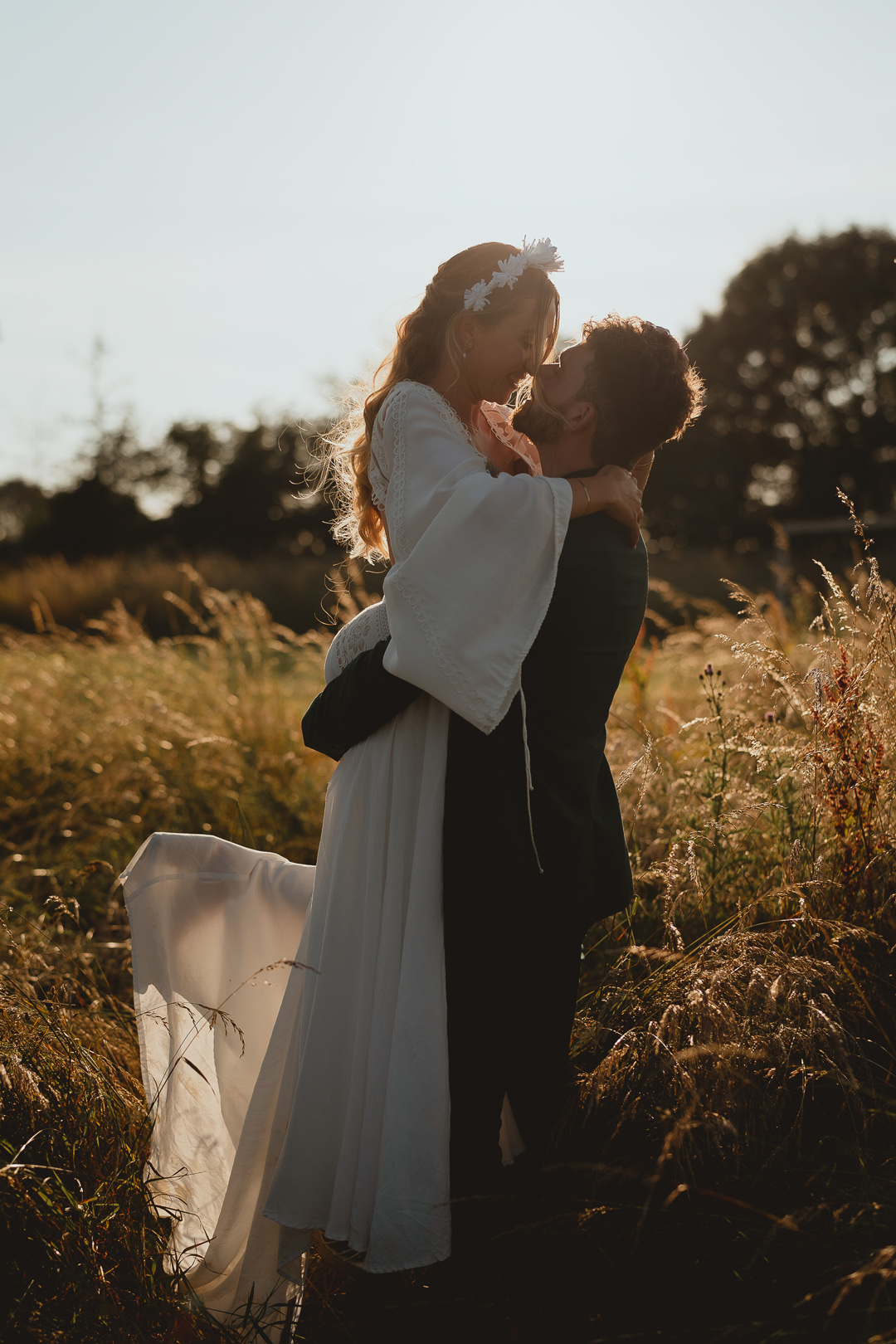 "A wedding picture with all the guests wearing face masks isn't ideal, no-but it will be such an event in history to look back on and be like 'wow, look what we did-even through a pandemic."
"Think about the amount of love, joy and togetherness your wedding day will bring to everyone after such time apart."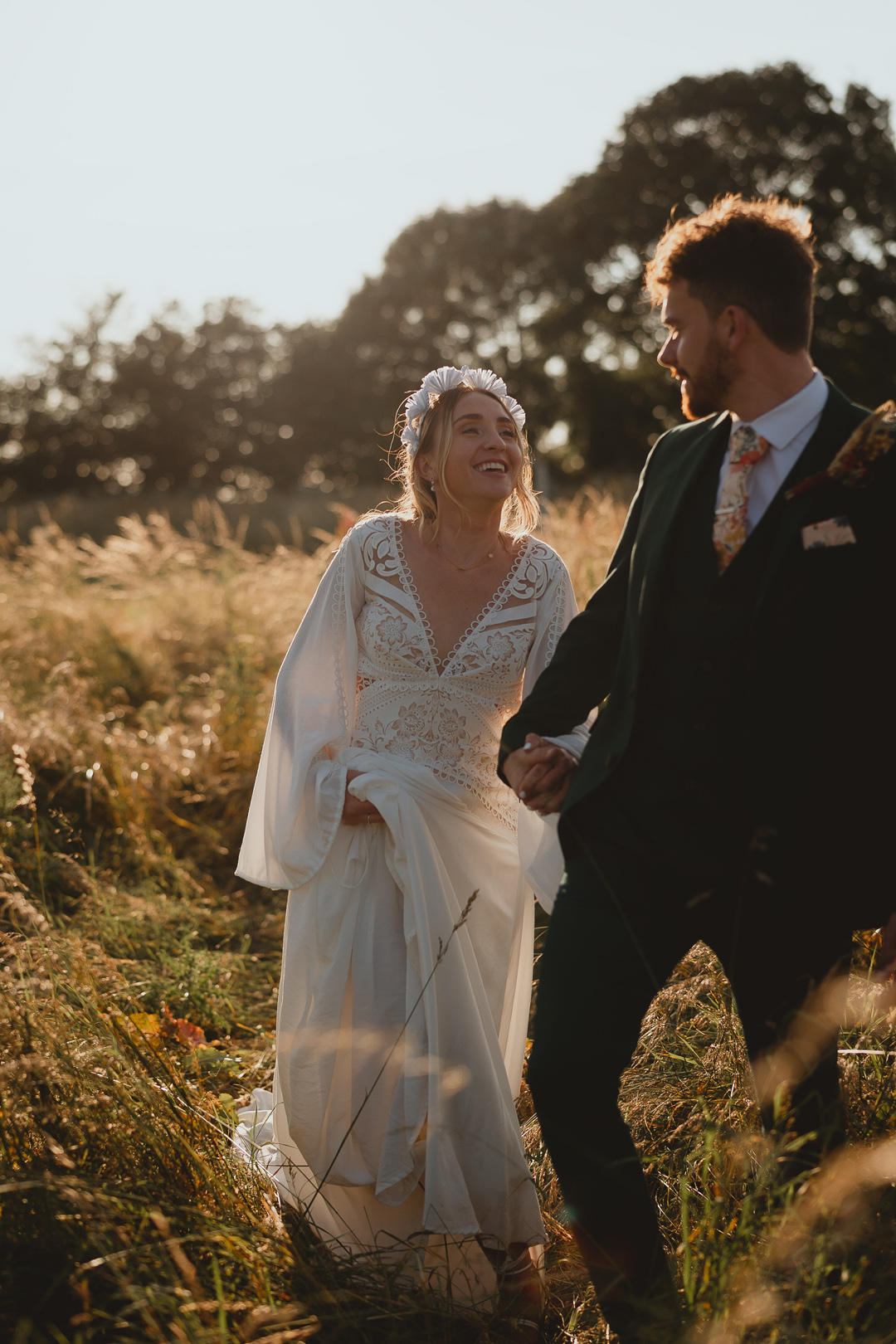 "Our day felt like not just a celebration of our marriage, but also a massive opportunity to have the best party with everyone we had so deeply missed seeing because of covid."
"It intensified the love, emotions and togetherness of the day. I didn't think that would be possible, but COVID made us all soppy, loved-up, dreamy romantics dancing the night away with even more vigour."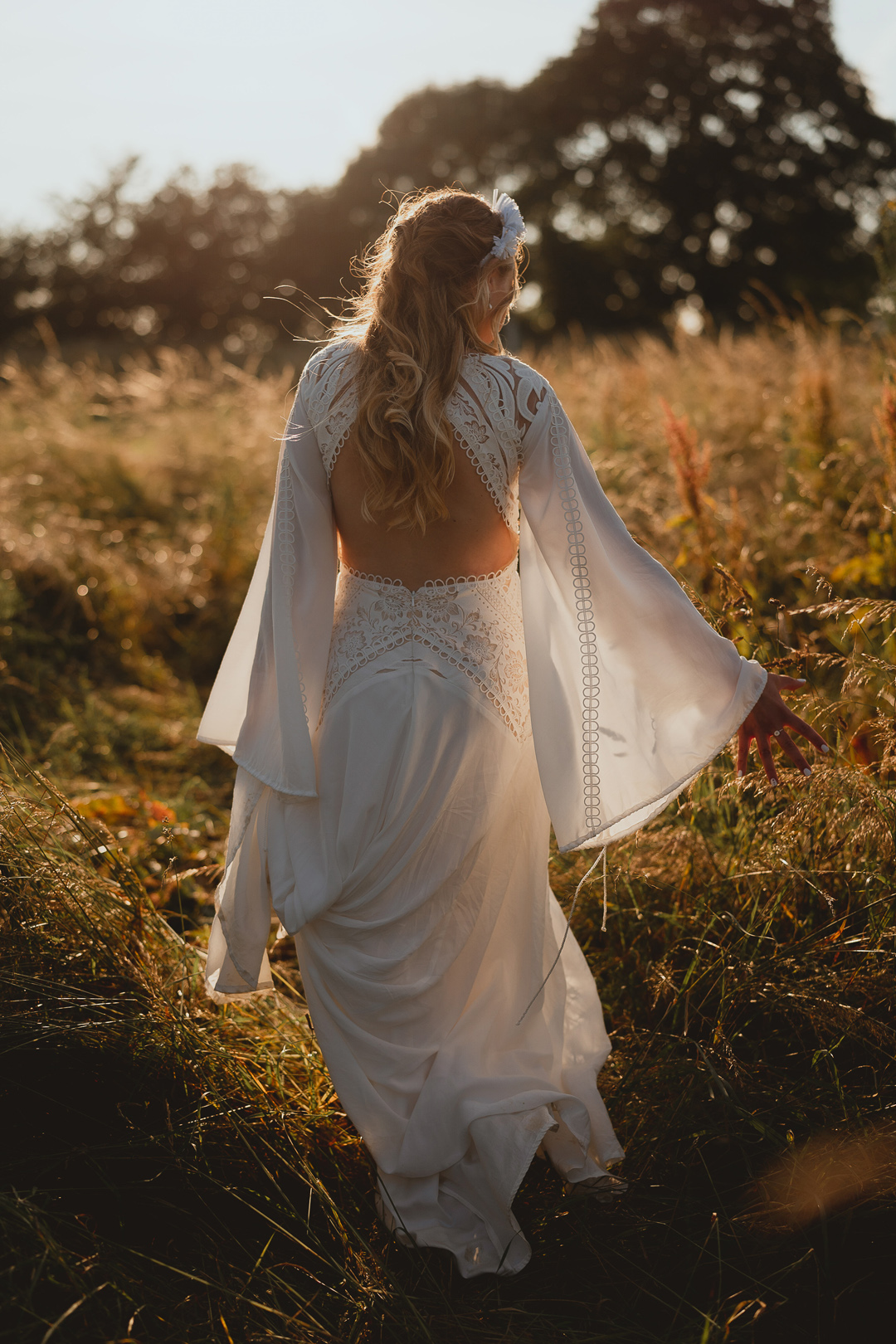 "Both myself and Jordan wore the same scent – it's a LUSH fragrance called Karma, one of our favourite's. It is a real heady, spicy, earthy, alluring smell."
"I actually purchased a new bottle of it for Jordan, as a gift before our wedding day when we spent the night apart, and I remember writing in the card, 'I can't wait to smell this on your fuzzy beard tomorrow' and I absolutely did."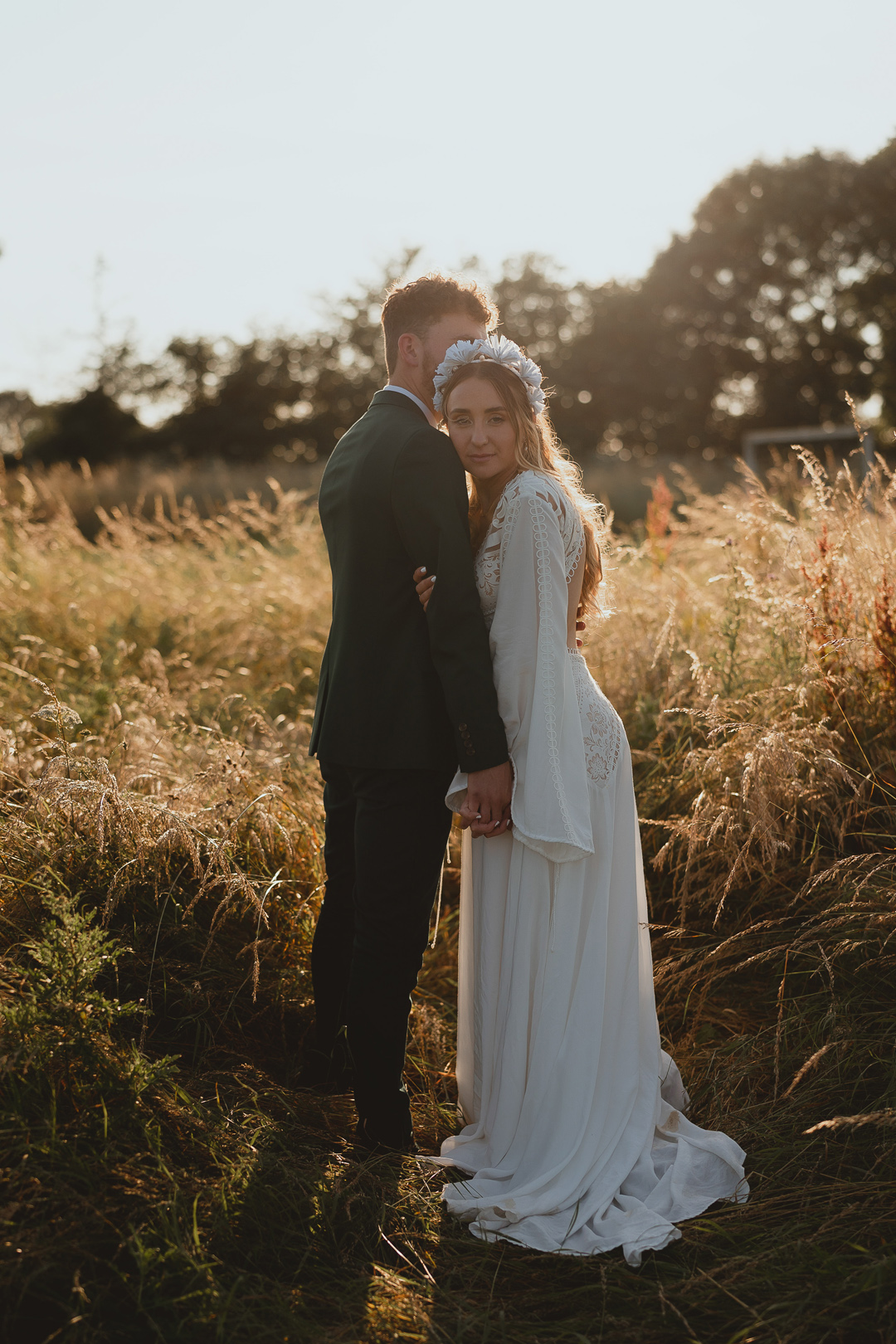 "I nabbed it when I was getting ready in our Wrens nest on the day and misted myself with clouds of the intoxicating patchouli, orange and refreshing fir oil scent. Divine!"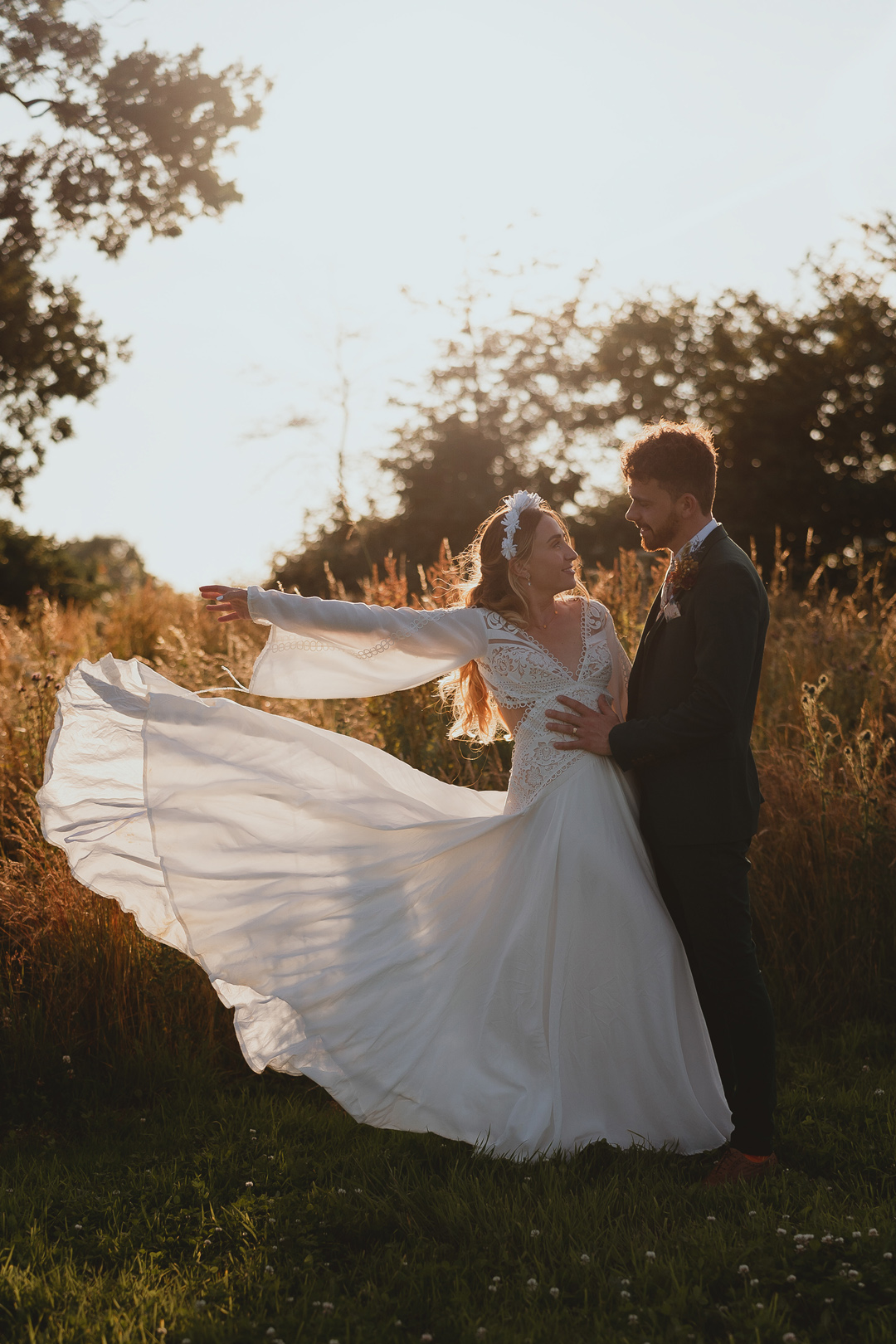 "Our first dance was to 'You Got The Love', by Florence & The Machine. We actually had a choreographed dance routine for it-we practiced and trained once a week, for several months before our wedding."
"My mum was the only other person who knew about it-so it was a total surprise to our guests."
"We began by slow dancing in the generic, boring husband and wife way, and then POW! We pushed apart explosively to then perform out routine! It even had a lift at the end!"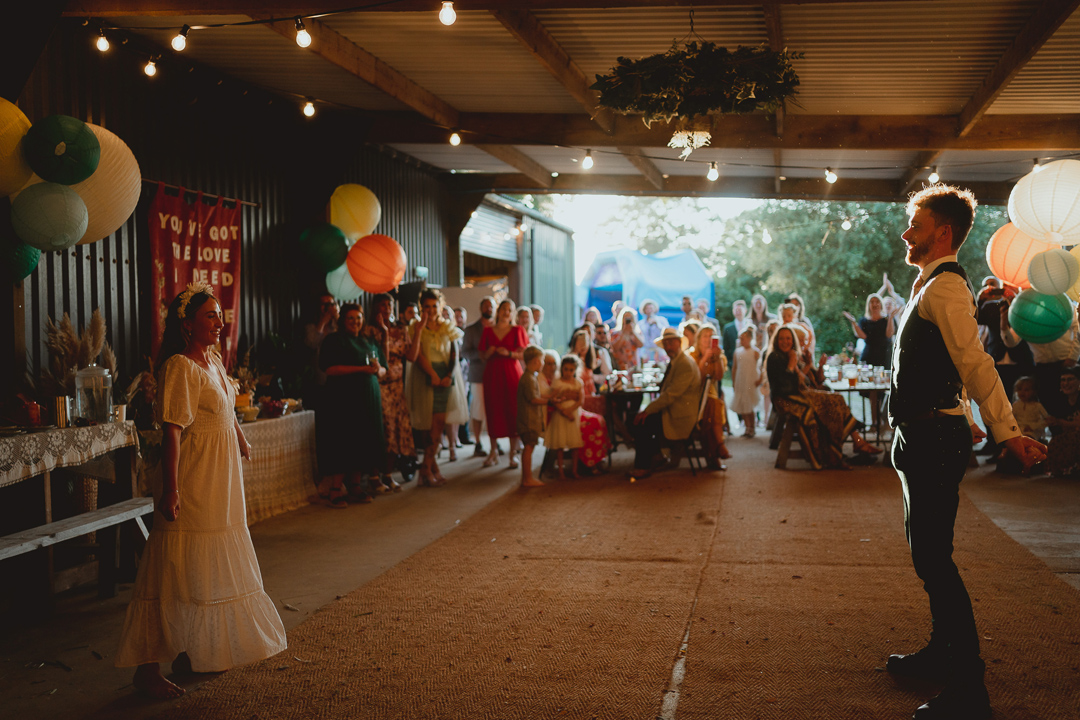 "We have some awesome pictures and videos of it captured by our photographer, videographer, friends and family too."
"The sun was just starting to set, and it felt so atmospheric. Everyone went mad for it and some shed tears, laughs and so much roaring applause and whooping at the end."
"It was so lovely to do this together and learn something new. Jordan is such a good dancer too! I didn't think it was possible, but I loved him even more."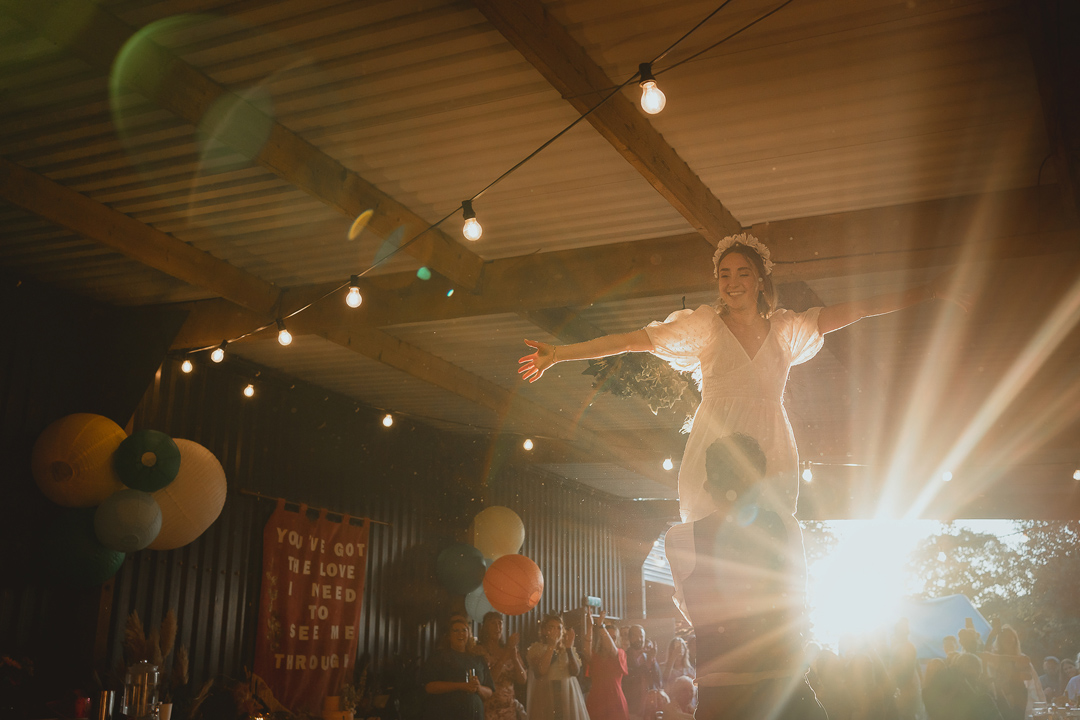 "It was full of rhythm and energy. We all felt like children being told how to dance, grabbing our partners, swinging and skipping up and down on the outdoor dance floor."
"I cannot stress enough the pure joy having the ceilidh band brought to our guests, the young, the old, the slightly tipsy, the sober."
"It was enjoyed by all and was the perfect choice for our venue and evening entertainment."
"I wished they could have stayed longer as I was just not ready to stop listening to the Irish, Scottish and English folk music they played so beautifully.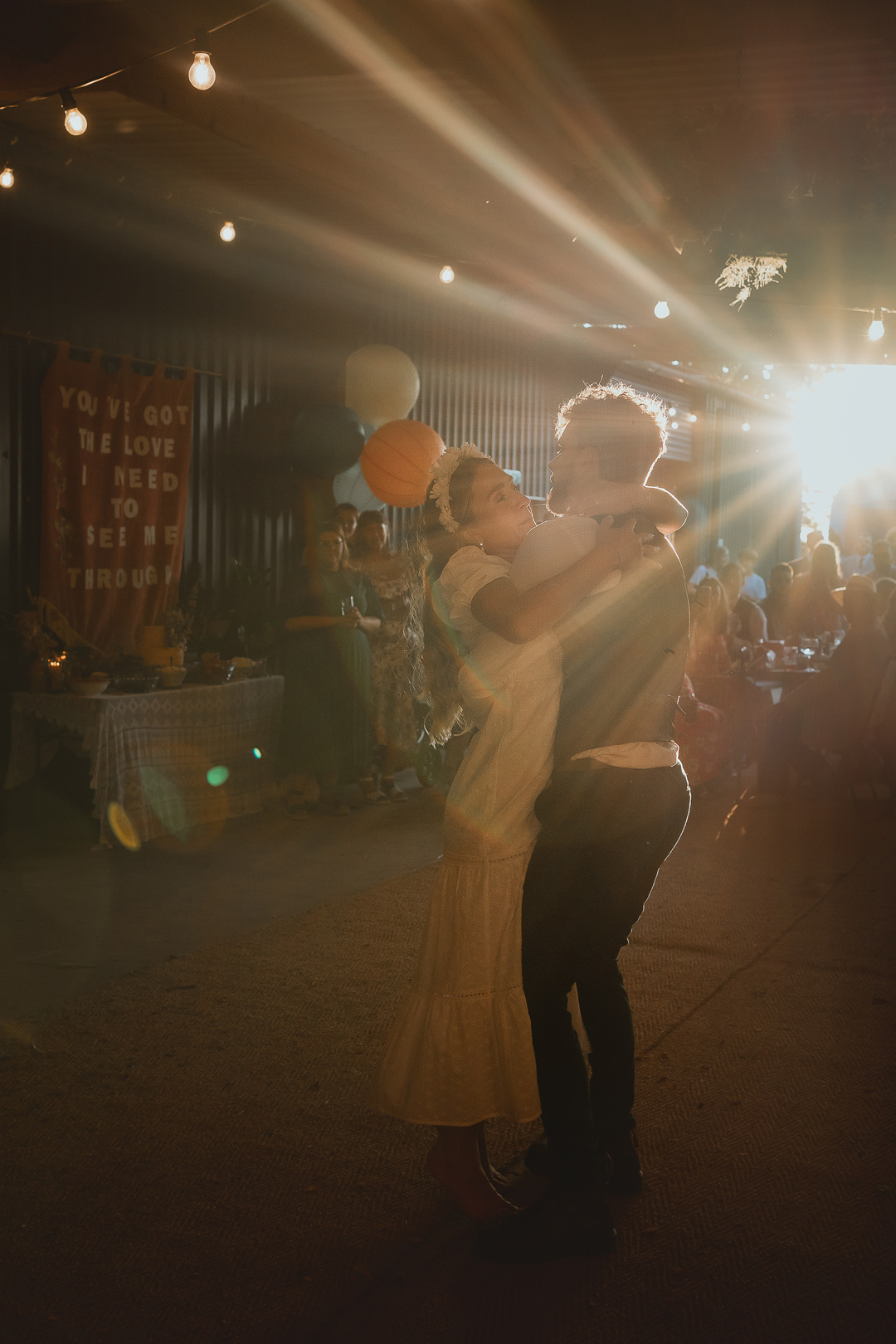 Words of Wedded Wisdom
"I would have held our ceremony time earlier. so that we had more hours in the day with everyone. We had our ceremony at 2pm, but in hindsight, I wished we had it earlier at 12.30 or 1pm, just so we"could have more time to party."
"It is inevitable that the stress and worry of your day as it approaches does start to affect you. But really try not to let this happen. I remember the week before feeling so overwhelmed and panicky and I really didn't need to."
Stay in the know – join our mailing list.
"Delegate jobs to other people and ask for help. Most people love being involved with it anyway – so don't feel bad about needing help from your friends and family. But also, remember to thank them afterwards for it too, giving them a little gift is a nice way to show your gratitude-writing up some thoughtful words in a card or gifting them with something simple like a free print of their choice from your wedding album is a great gift option."
"Don't let the way you look, or how perfect you want to look on the day overwhelm you either. True beauty really does come from within, so let it radiate from you in your face and your smile every time you look into your partners eyes."
"Spend time with your guests and make opportunities to talk to them, I loved being with them all and let the children be wild. It's the best way. I do think its sad when couples don't allow children to attend wedding. It's such a shame, as its such an important life event they should be allowed to be a part of it too."
Children at weddings. To have or have not? Read all about it here…
"Children always lift and bring such a vibrant youthfulness and laughter to a wedding. Yes, they can cry and talk through the ceremony, but I personally loved having all my nieces and nephews, friends children and our own two little darlings at our day. They played, they danced, they cartwheeled and finally crashed in the bell tents, later than some of the adults."
"Make sure to keep yourself and partner hydrated. The amount of talking/dancing/nerves can really bring on de hydration and headaches, which you just do not want on your day."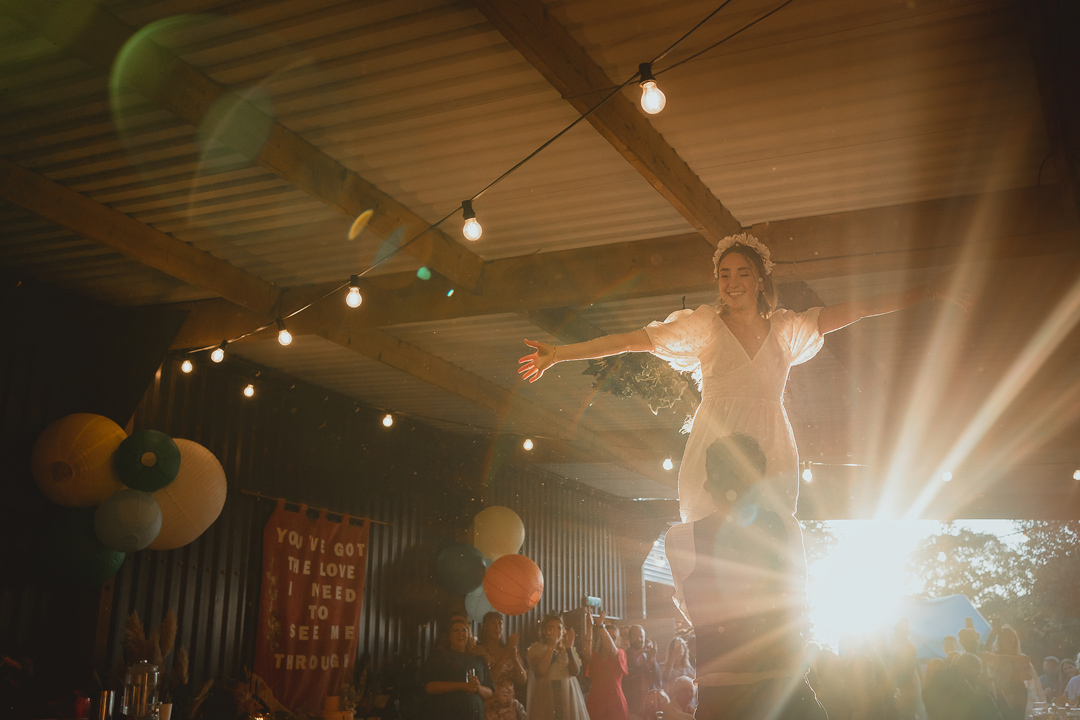 "I would be sure to make it clear (to the small businesses we ordered from) that I want the orders at least a week-or two before our wedding date, to avoid that last minute madness and rush we experienced."
"Create a funny hashtag for you day so that all the images and videos can be seen in one place. Our day passed, as those special ones so often do, in a whirlwind and were just so pleased we went with such an awesome photographer."
"Make sure you pick a photographer who gets your vibe, and who you feel confident will help make those memories last forever."
"Don't be afraid to do a lot of it yourself, or afraid to use second hand and pre-loved. The décor and styling of our wedding was really all down to us and we pulled it off pretty well I think."
"Big savings can be made, if you have the time and energy to put effort and thought into it."
Stay in the know – join our mailing list.
"I would have held our ceremony time earlier, so that we had more hours in the day with everyone."
"We had our ceremony at 2pm-but in hindsight, I wished we had it earlier at 12.30 or 1pm, just so we could have more time to party."
"And finally, the day is your day. You must make your wedding about you as a couple. Do your day as traditional, religious or whimsical as you like. Never forget that, and keep marching, dancing and getting married to the beat of your own drum."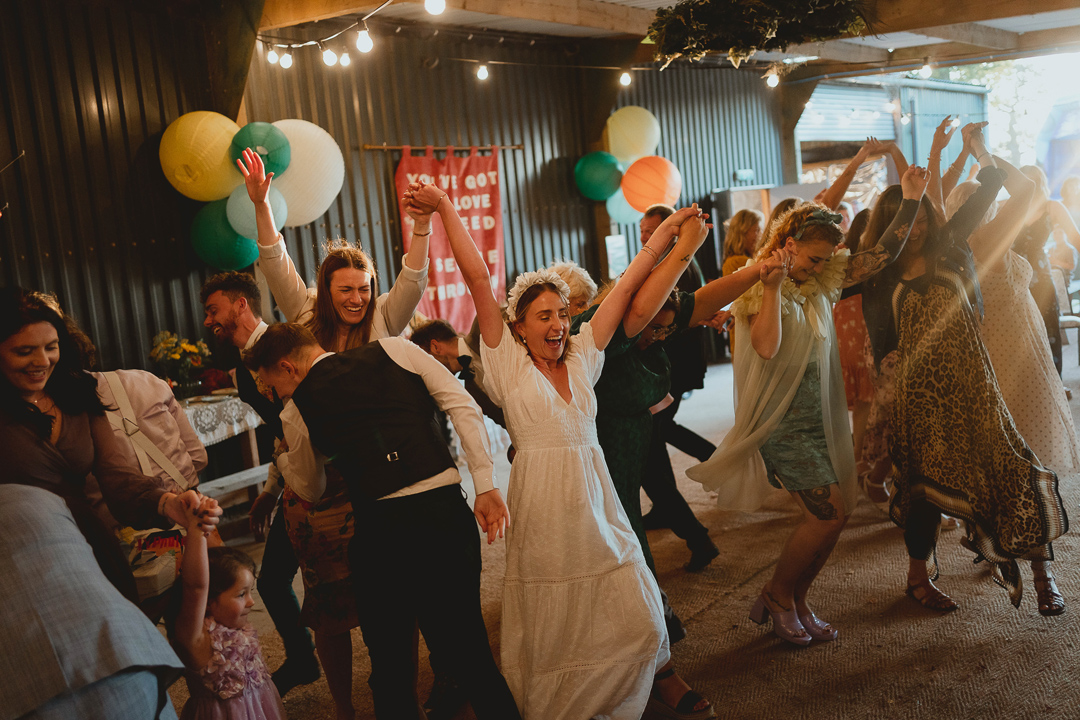 Stay in the know – join our mailing list.