Jess and Ian tied the knot on 18th May this year at the Little White Chapel in Las Vegas.
We adore this fun and vibrant wedding anyway but we love it even more because Love My Dress recommended supplier, London based Kate Edmondson, created Jess's incredible dress.
The couple had a huge party in the UK on 25th June (this weekend just gone!) with all their families and friends who couldn't make it, along with thos who could. We're keeping fingers crossed we get to share that celebration too.
Photography by Albany Katz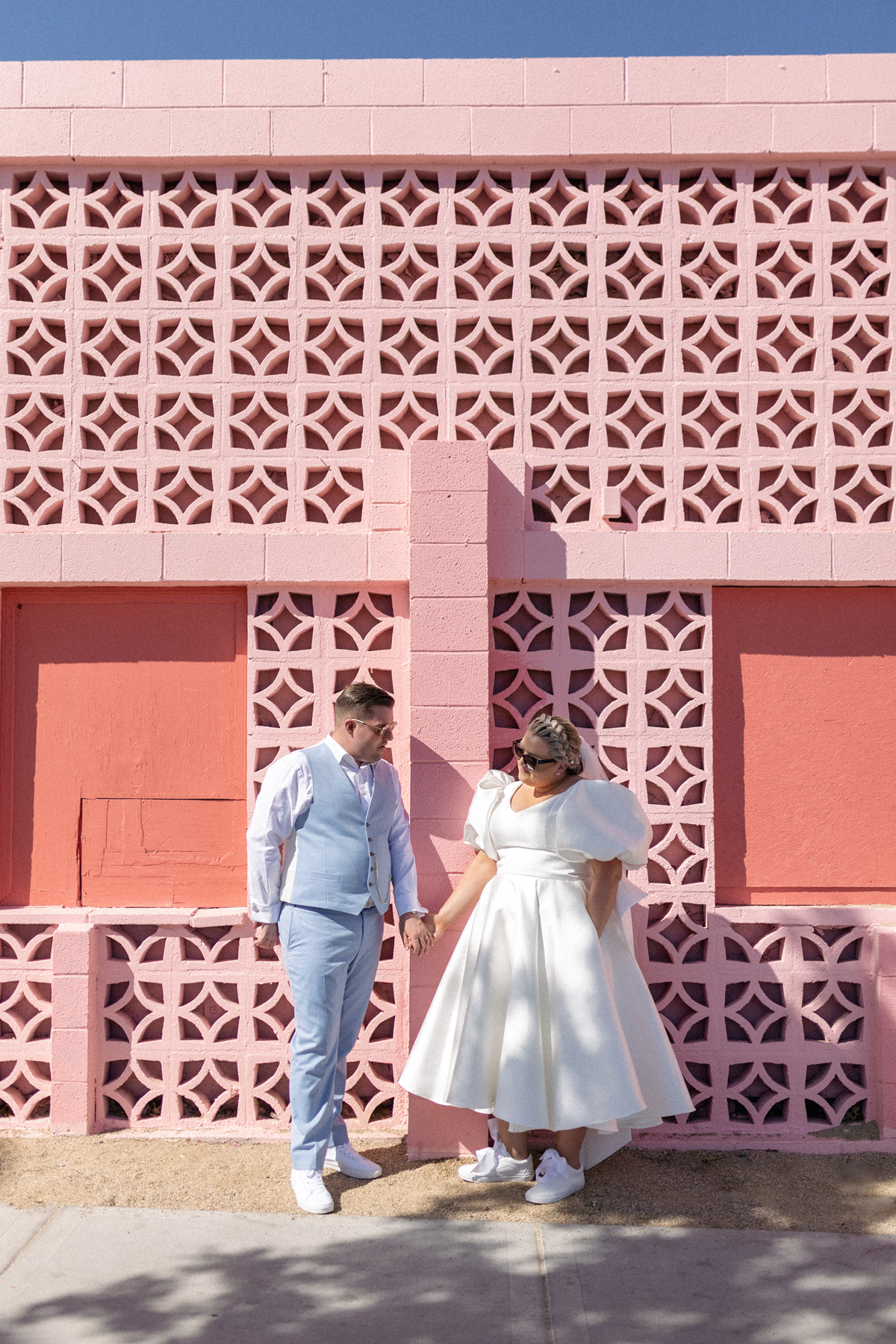 The Dress
My mum, my sister and I fell in love with Kate Edmondson from the moment we met her. We felt so relaxed and in safe hands from the get-go.
Being heard and feeling understood is SO important, especially in the early stages – and especially since I hadn't tried on any dresses at all (I'm not your average bride!).
Having the vision and ability to bring my ideas to life whilst keeping my expectations in check & advising on what would and wouldn't work, Kate was ultimately, inadvertently, responsible for helping us figure out the rest of our theme.
I loved the fact my dress was made for me. A big skirt that didn't drag along casino floors or susceptibility to being stood on, pockets and something flattering to my figure were the main features.
The sleeves and the bow were part of the brief originally and I was delighted to have those incorporated.
This dress was like no other and it fitted so perfectly.
I also wore a veil, custom made by Kate.
My shoes were by Irregular Choice. I also wore a pair of Vans. My scent was Chanel Coco Mademoiselle.
How They Met
We met through work but we're friends for three, maybe four years before we got together. We got engaged in June 2021 so we're engaged 11 months. I guess you could say working in sales meant we closed that deal down quickly!
Ian wore a 3-piece suit made to measure through Moss Bros. I bought him a Tag Hauer watch as a wedding present. He also wore Gucci sunglasses with gold pocket watch and shoes from Walk.
The Vibe
I have always had a fascination with post WW2 through to the 1950's. I love the vibe, pastel colours and the sense of freedom that came as part of that era, celebrating after such a long period of oppression. That era is fun yet glamorous which is exactly what I wanted our wedding to be.
Neither of us are particularly religious which meant we had a bit more flexibility with the venue too.
The Ceremony
My Dad accompanied me into the ceremony. We were serenaded by Elvis – he sang 'Can't help falling in love'. On the way out/after our vows he sang 'Wonder of you' and was awesome!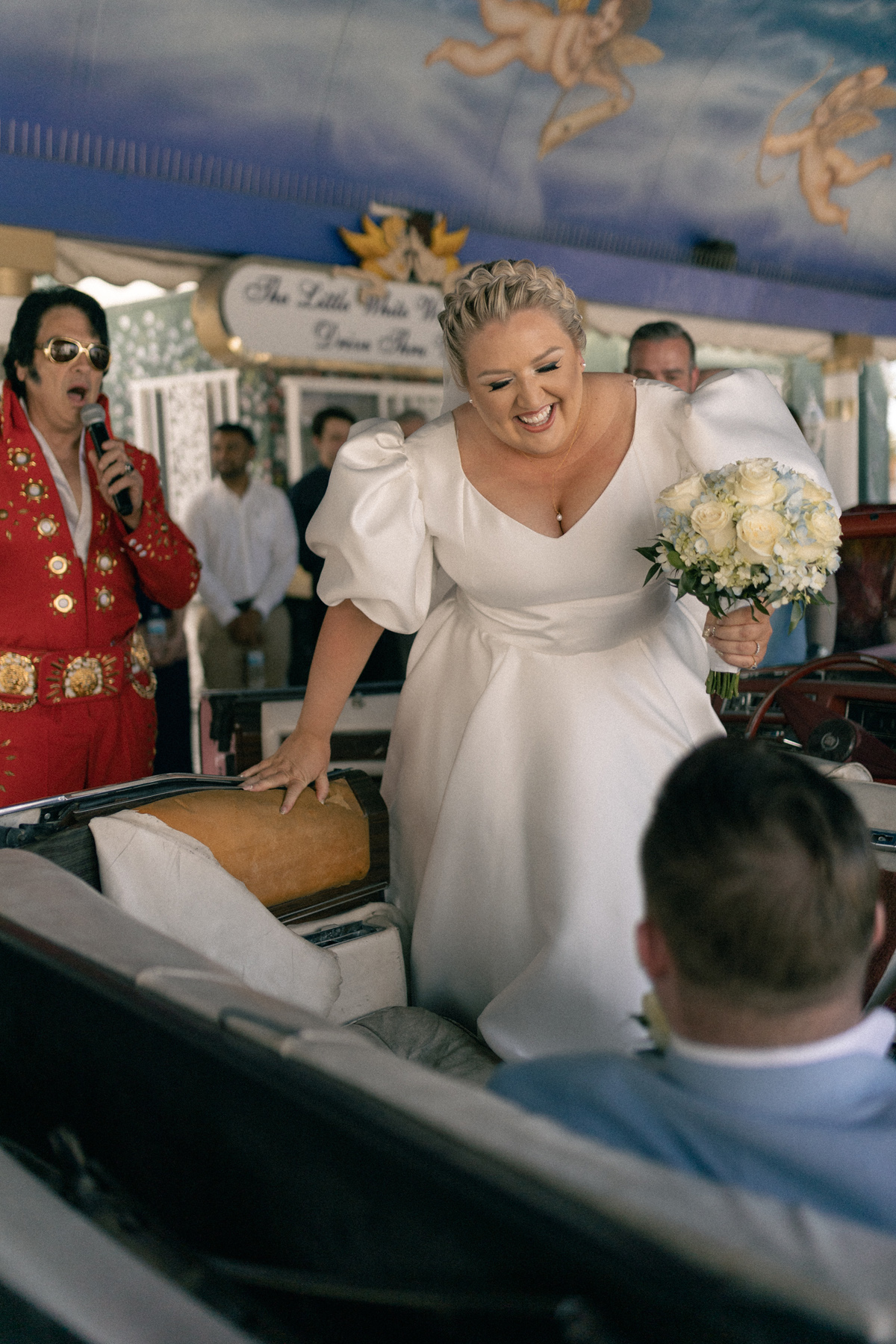 Elvis also officiated our wedding ceremony – it turns out he isn't dead!
Elvis had a unique set of vows for our wedding.
The Photographer
Albany Katz is a friend of a friend whose Instagram spoke for itself. I loved the mixture of film/modern photography. Soft focus & retro images seemed so romantic; something she does amazingly well. On the day she worked her socks off capturing a variety of awesome shots which were beyond delighted with.
In the run up to the wedding she communicated with us amazingly well and I felt we'd met long before we actually met! I couldn't recommend Albany more!
Flowers
My friend in Seattle offered to take charge with flowers; that's her thing! She found 'A Garden Floral' in Vegas who provided boutonnière and corsages for the wedding party and of course my bouquet.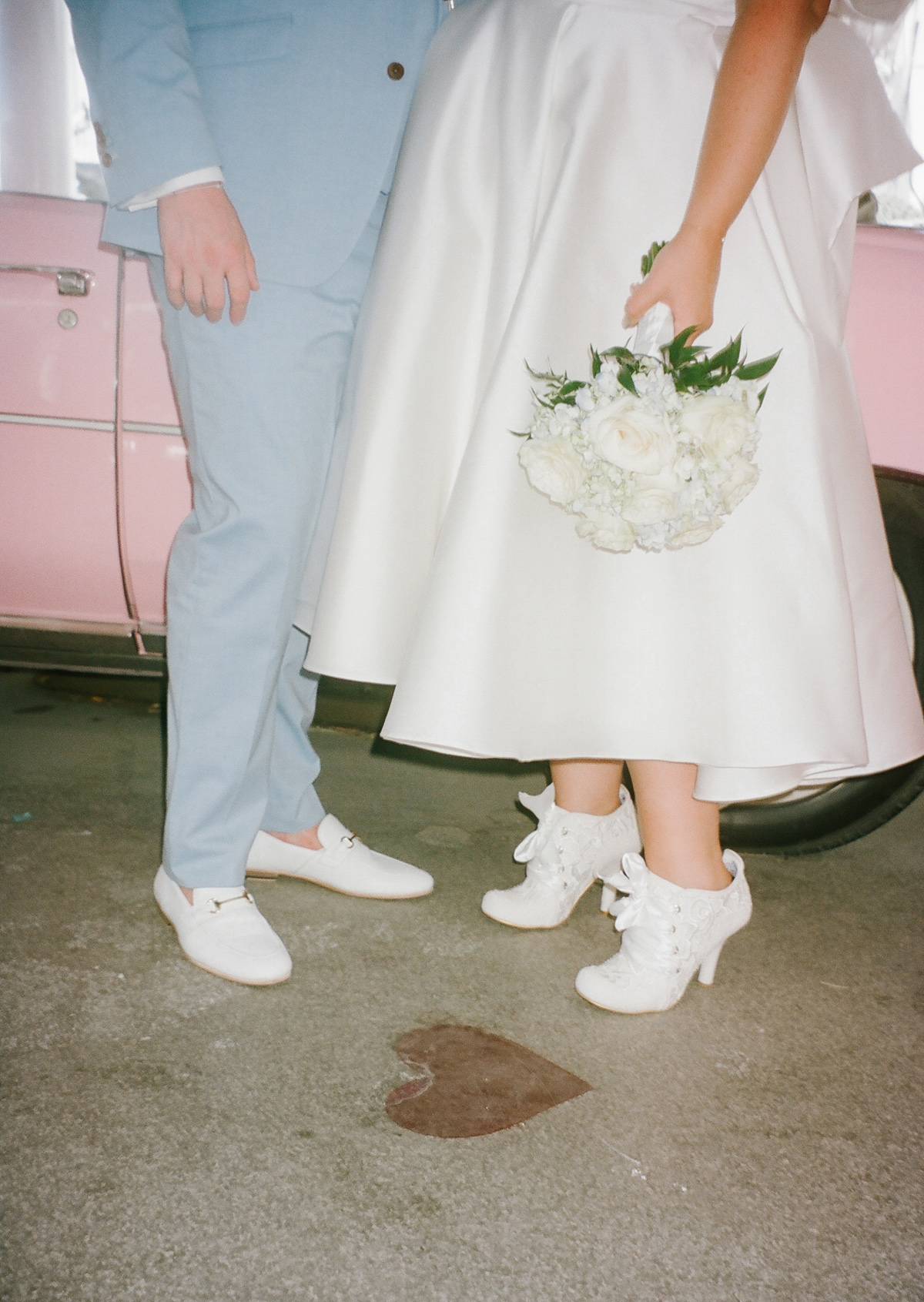 Knowing the chapel had a pink Cadillac there was a pink/blue vibe going on so we went for white(with a slight pink tint) roses and pastel blue flowers to compliment what we both wore.
Favourite Moments
We will both say the same thing – 'marrying my best friend!'. That aside, the fact everything flowed perfectly with no hiccups and the food/champagne/after party was better than perfect!
I had bespoke, made to measure lingerie from Rigby & Peller in Knightsbridge. They provided an awesome and efficient service; the ladies there deserve a huge shoutout! I had a nightmare finding good underwear so this was a game changer.
Words of Wedded Wisdom
Don't get stressed. It's one day. Yes it's a special day and an important one but obsessing over making it 'perfect', will ruin it and you'll be worried about all the details on the day that no one else will care about.
Keep it simple and instead, make it ALL about what's important; getting married and celebrating with your nearest and dearest; eat good food, drink plenty and dance like no one is watching!
We regret literally noting. Maybe we'd have had a videographer, but we streamed the ceremony for family and friends back in the UK which was recorded.
There was no budget. All up the two ceremonies cost (includes flight and spending money for Vegas and honeymoon) is around £65k.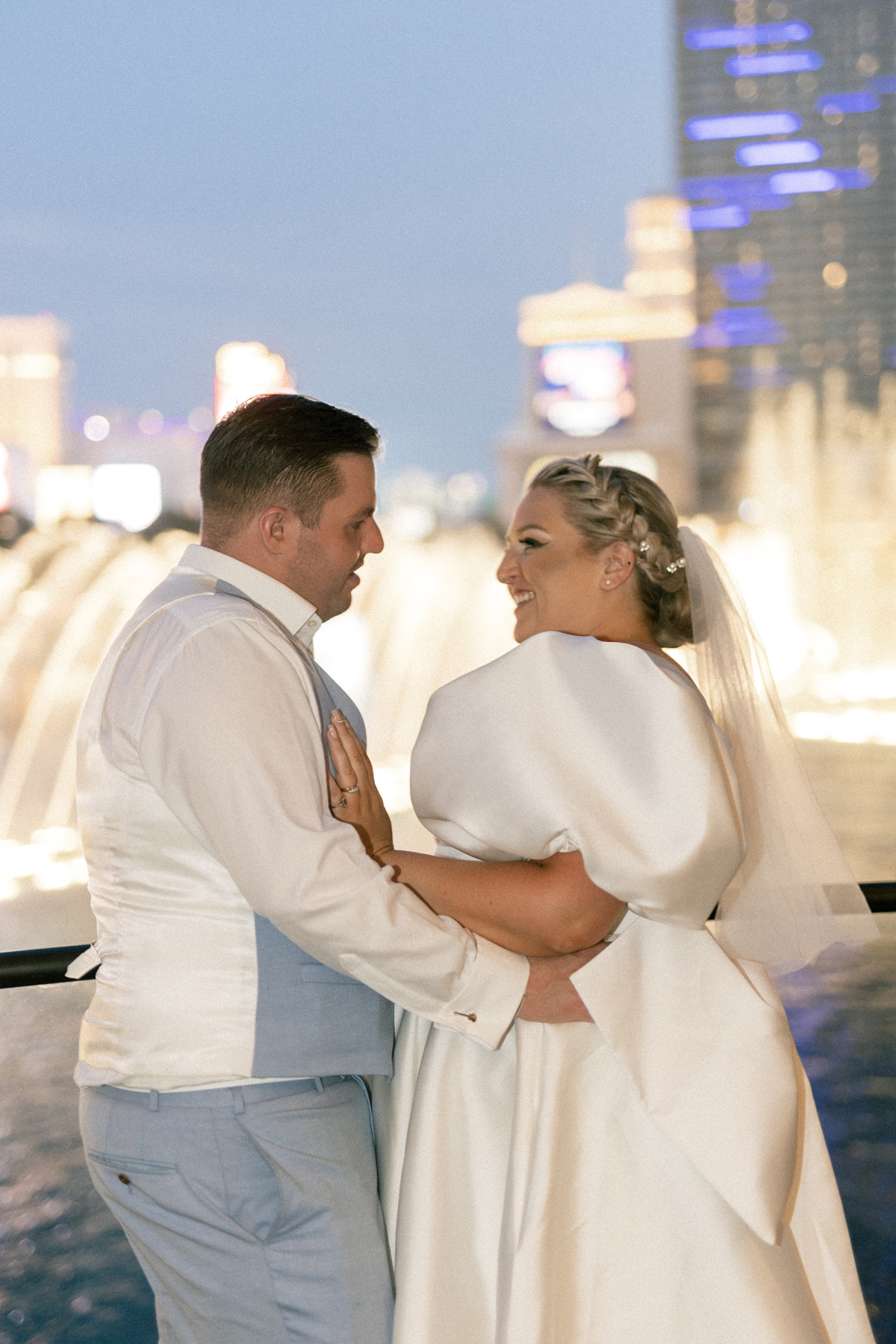 A Note From The Editor
Kate Edmondson is a really wonderful human being and talented designer. It has been such an honour to watch her grow her business over the past decade to the point where her dresses are now in demand and some of the most stylish brides out there are seeking her gowns. Take a look here and make sure you're following her on Instagram if you're not already.
You will find Kate in the Love My Dress Wedding Directory here.
Love Annabel x
Credits & Thanks